Yanaka-Ginza is a town with down town atmosphere crowded with tourists wanting to buy souvenirs. Moreover this town is famous for eat-and-walk "Tabearuki". Flavors of grilled cuttlefish "Ika-yaki" or "Tai-yaki" tempt your appetites. Tourists will enjoy small bites.
In this issue we will introduce "Yanaka-Shippoya" established with a motif of cat's tail.
Further, you will find popular souvenir shops in Yanaka-Ginza in the article "5 best street food in Yanakaginza."
"Yanaka-Shippoya"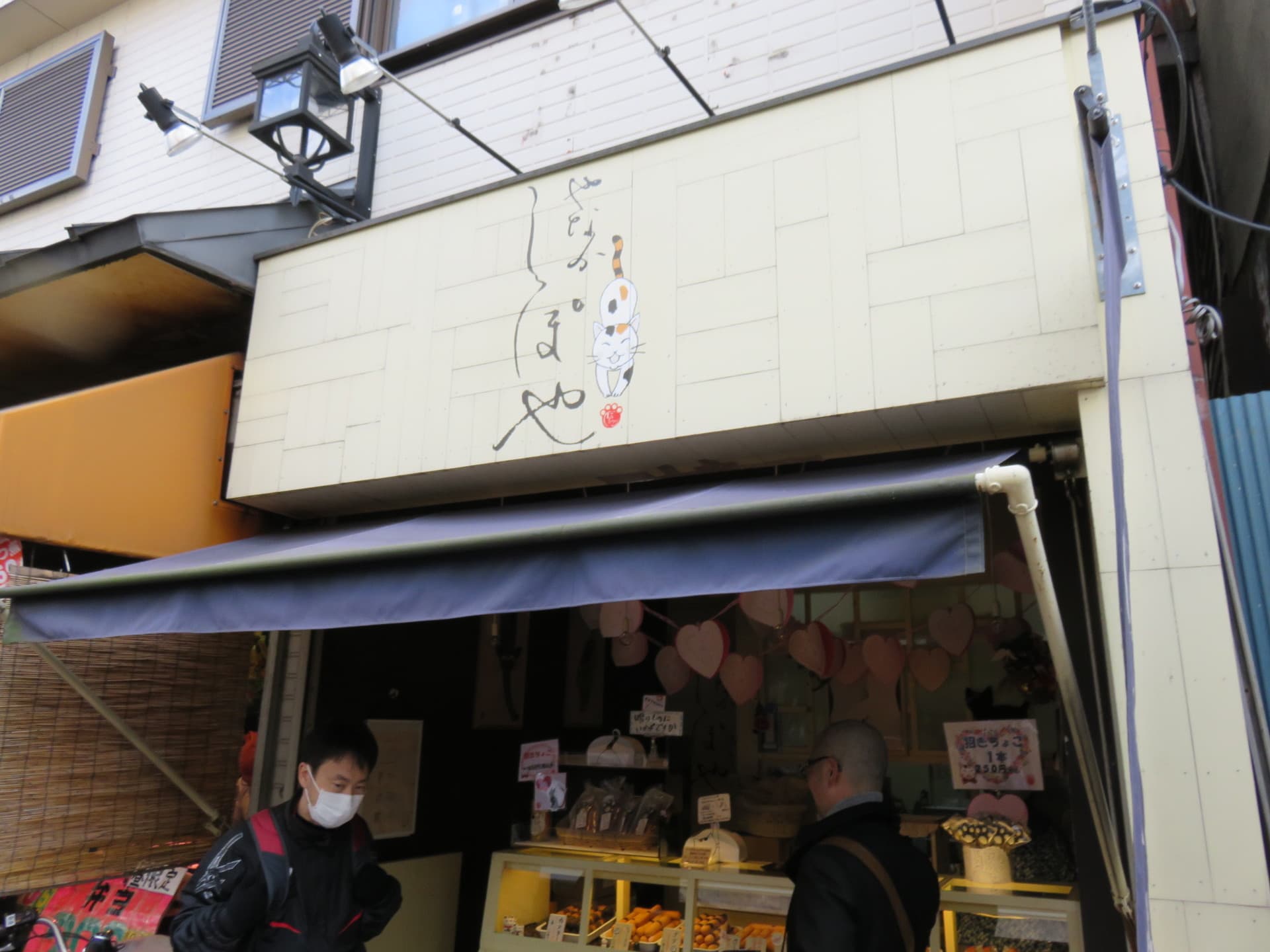 "Yanaka-Shippoya" is a shop in Yanaka Ginza specialized for baked doughnuts. Its concept is hand-made snacks of down town. Of course they are very particular in every detail like its recipe and ingredients. Ingredients such as wheat, sugar and baking powder are of the very best quality. You will find the taste with nostalgia. The simple snack is loved by all ages from children to seniors. It is also popular among foreign tourists. You can enjoy the doughnuts while walking around and it is good for a souvenir as well.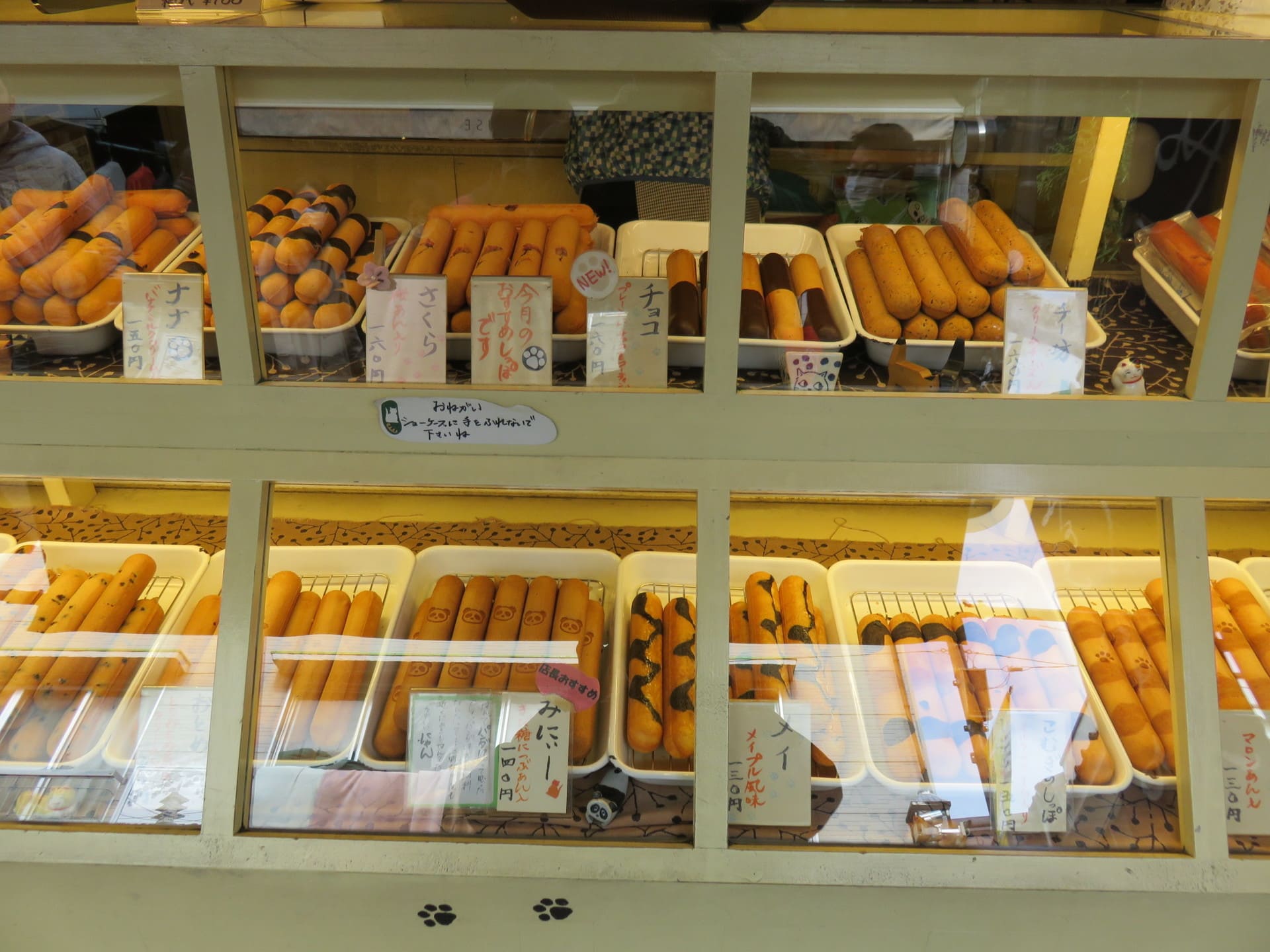 People in Yanaka-Ginza love cats. So that, the doughnuts at Yanaka-Shippoya is made with a motif of cat. You will generally imagine doughnuts like a round shape with a hole in it, but the one at Yanaka-Shippoya is a stick in the form of a cat's tail. Its funny shape is unique in the world. Not only the doughnuts but also ice cream is sold there. Why not try!
Best Selling, Cat's tail? Or Tiger's Tail? – Baked doughnuts "Tora"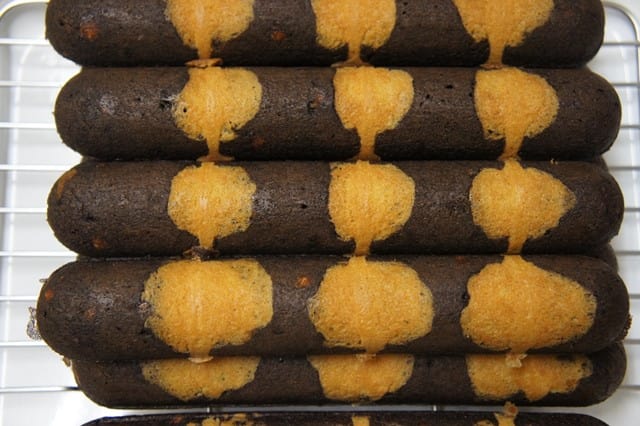 The best selling at Yanaka-Shippoya. It rather looks like a tiger's tail than a cat's tail. The combination of a little bitter dough and sweetness of a chocolate, by adding a lot of white chocolate chips to a dough flavored with black cocoa, makes it splendid.
If you want to go to this shop, you can also join our tour, "Nostalgic Town Walk Yanaka". You can go to Yanaka, old and famous town of Tokyo, walk around Yanaka-Ginza and enjoy your time at a traditional Sento.
Futures of "Yanaka-Shippoya"
・Main products
Baked doughnut, baked snack, soft ice cream
・Hours
10:00~18:00
10:00~19:00(Sundays and National Holidays)
・Closed days
None
Access
Yanaka 3-11-12, Taito-ku, Tokyo 110-0001
03-3822-9517
5 minutes walk from "Nippori" JR station
10 minutes walk from "Sendagi" subway station, "Chioyoda" line
15 minutes walk from "Nishi Nippori" subway station, "Chiyoda" line or JR
Travel time from Haneda/Narita Airport
51 minutes from Haneda Airport
45 minutes from Natira Airport
19 minutes from Tokyo Station
Map
If you want to go to Yanaka with the local person, you can also join our tour, "Nostalgic Town Walk Yanaka". The local guide bring you to Yanaka shopping street and really good shops and cafe not many people know about, and you can try to take Japanese bath (Sento).