There are plenty of things to do in Tokyo in the day time but what about at night? This guide will give you some insightful information on some Tokyo nightlife activities, places to eat, and where to have a good time in the city.
Romantic Tokyo Night Views

Photo by Alex Knight / Unsplash
When the sun sets on the land of the rising sun, the city scape lights up to reveal a whole new side of Tokyo. At night in Tokyo, there are many beautiful lovely views you can enjoy such as observation decks at Tokyo Skytree, Tokyo Tower, Tokyo Metropolitan Government Building or Rainbow Bridge near Odaiba and the Starbucks deck/bar in Harajuku. Most of these areas require a entrance fee however you can find a few places around the area that are free and provide an awesome night view of the city.
Tokyo Nightlife Food & Drinks

Photo by Tuân Nguyễn Minh / Unsplash
At night all over the city you can find many places to eat and enjoy delicious food in Tokyo. The types of places to eat varies from family restaurants to high class three-star Michelin restaurants.
Tokyo Nightlife Pubs, Bars, and Alleyways
In addition there are many izakaya which are Japanese style bars in Tokyo. Many of which can be found in Yokochos which loosely translates to alleyway street in English. Popular Yokocho destinations to grab a bite to eat and enjoy local food/drinks are:
Niku Yokocho
Located in the heart of Shibuya and very hard to find unless you are good with directions or have a guide take you there. Niku Yokocho houses many different types of Izakaya shops with different types of food ranging from Japanese food, Italian, Thai, and BBQ style sit and eat. This hidden meat alley popular among locals in grabbing a bite to eat and chilling in the busiest area of Tokyo.
Ebisu Yokocho
Next to Shibuya, about one stop away is Ebisu Yokocho which is famous among locals as being the best nampa place or best place to find a date/chill with locals. Ebisu Yokocho offers mostly Japanese style food, however you can find hidden dishes in their menu and the place even houses a wine bar style Izakaya. A little fun fact also is that Ebisu is the district where many AV, adult film studios, are located so keep an eye out and maybe you'll see a star walking around.
For any traveler interested in exploring these alleyways, Magical Trip offers Tokyo Bar Hopping Night Tours where a guide will take you to these areas and enjoy local food and drinks. Currently available for Shinjuku, Asakusa, and Shibuya areas of Tokyo.
Party at Tokyo Night Clubs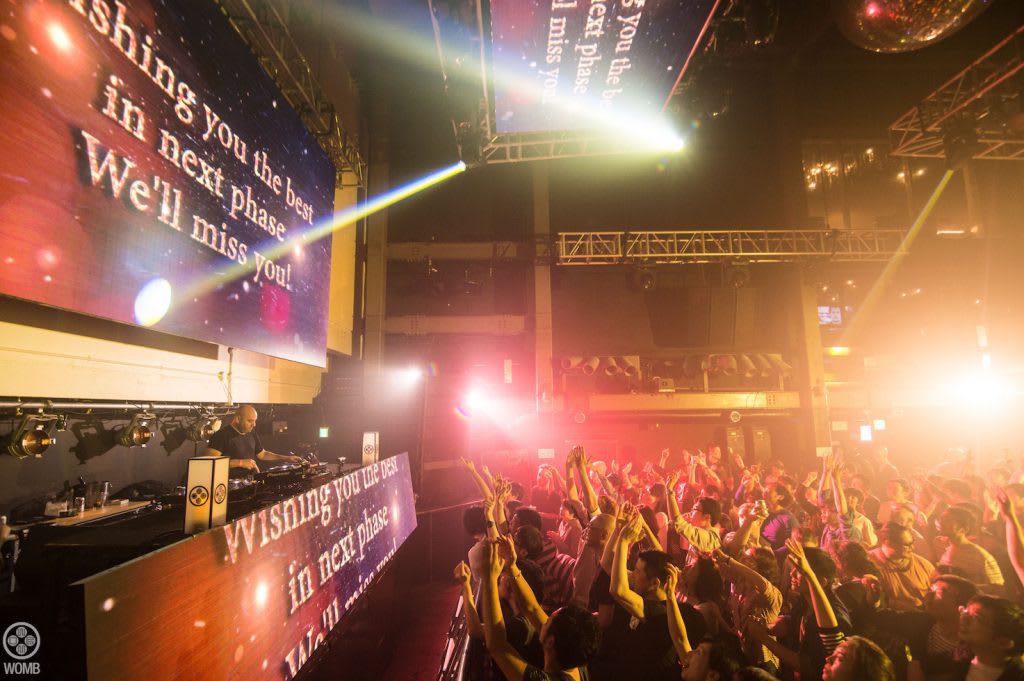 Photo by WOMB
Like in every big city, the night club scene in Tokyo is insane! Tokyo boasts over 15 clubs and the number continues to rise every year with new night clubs popping up all over the city. The two most populated areas where clubs are located are Shibuya and Roppongi districts of Tokyo. Night clubs in Tokyo offer a wide variety of good music and entertainment, ranging from techno, hip hop, rap, and rock. Most notable clubs are:
Ageha
The biggest of Tokyo's night clubs is Ageha which is located on the outskirts of Tokyo and includes a swimming pool area and is considered more to be like a rave at night. Access to this club is through a night bus from Shibuya or you can take a train to the club.
WOMB
Considered to be one of many local people's most favorite club, WOMB is located at the heart of Shibuya. Many young college students go party here every night and it also has a splendid selection of music that they play often. The sound system, laser lights, and mirror ball room is off the charts which makes the nightlife party all the more crazier.
Whatever your tastes may be, you'll definitely find a night club in Tokyo that will fit your preference.
Resting in the Tokyo Night

Photo by Bill Anastas / Unsplash
Tokyo is home to hundreds of hotels, hostels, and various other accomodations. If somehow you miss the last train at night, it's OK! Most likely you can find a place to stay for one night in the area that you are at. The main accomodations that are usually famous among travelers in Tokyo are love hotels, capsule hotels, and internet cafes.
Love Hotels
Tokyo love hotels are a themed type of hotel. You may have guessed it right, it is a place where couples go and enjoy themselves. However it is not restricted to only couples, you can get a room for one person at night. These hotels offer rooms for a set time period. Generally the two most common plans are "Rest" and "Stay". A "Rest" plan is up to 3 hours of stay which will cost around 2000 - 6000 yen depending on your room. A "Stay" is an overnight stay which is from the time you enter until 10 am in the morning and usually cost around 7,000 yen or higher.
Capsule Hotels
The most famous place to stay among travelers is a capsule hotel. If you're not claustrophobic then these hotels will offer a affordable place to stay when our out and about in the Tokyo nightlife. Rooms go for as little as 3000 yen and these types of hotels are scattered throughout Tokyo so you can be sure to find one near you.
Internet Cafes
Probably one of the more unknown to travelers are internet cafes. Internet cafes in Japan offer a variety of options to suit you. If you choose to stay overnight, you can simply pick a computer and they usually become your personal private booth where you can just ly down and take a nap for the night.
These love hotels, capsule hotels, and internet cafes are usually open 24 hrs so if your looking to get a couple hours of sleep after partying all night, then definitely check out some of these accomodations. Prices are pretty reasonable, as you can find a room for as little as 2000 yen.
Tokyo Nightlife Districts

Photo by Benjamin Hung / Unsplash
Tokyo is a big city so it may be hard to decide where to go at night especially if it is your first time in the city. Tokyo's best known nightlife districts are Shinjuku, Shibuya, and Roppongi. These areas offer a wide variety of things to do at night and are often the most explored areas of Tokyo for travelers. To learn more about these areas, we've compiled a list of informative articles and stories for each place below: