"Maneki Neko" are lucky charms unique to Japan. They were originally embraced by business owners who believed that maneki neko would bring good business fortune, but these days people also buy them as talismans for love and safety.
In this article, we'll introduce Kaiun Yanakado, a famous maneki neko specialty store, located in Yanaka Ginza. It's a must-see spot for cat lovers!
If you want to know other popular souvenir shops, see「Yanaka-ginza for cat lover 6 places」
Kaiun Yanakado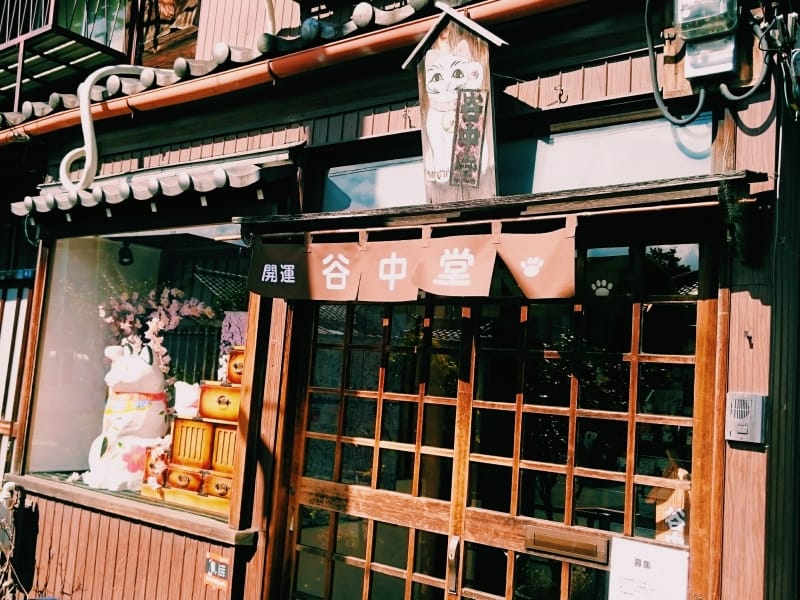 Source: trip note
Kaiun Yanakado is located past the Yanaka Ginza shopping street and along "Sansakizaka" street. Heading towards Kaiun Yanakado, you'll experience the "cat town" side of Yanaka Ginza; in addition to souvenir stores decorated with cat motifs, you'll see plenty of cats walking around.
Follow the cats and you'll soon notice large displays and signage of maneki neko – you've arrived at Kaiun Yanakado.
Yanaka Ginza initially prospered as a temple town. Kaiun Yanakado blends into this historical neighborhood with its classic Japanese residence-style facade that oozes a quiet charm.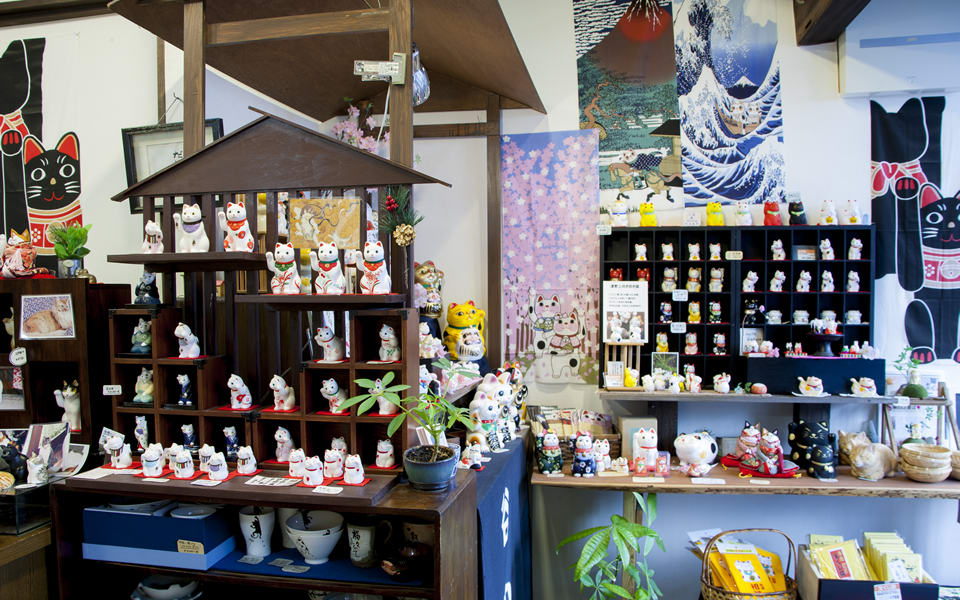 Source: Kaiun Yanakado
Stepping into the store, you are surrounded by maneki neko of different shapes, sizes and designs. Look carefully and you'll notice each maneki neko has a unique expression.
All maneki neko sold at Kaiun Yanakado are original designs, meaning you won't see the same maneki neko elsewhere. So, if you happen to visit Yanaka Ginza, we highly suggest you stop by Kaiun Yanakado and take home a little "luck".
Look Out for Yanaka Neko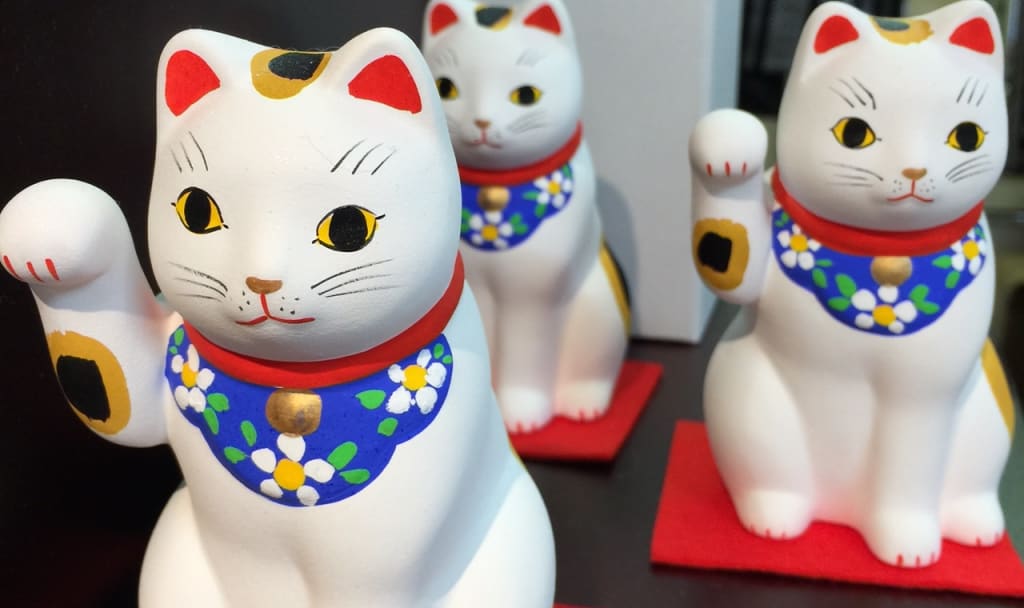 Source: Kaiun Yanakado
Kaiun Yanakado offers six types of maneki neko in its standard lineup. While they are all enticing in their own right, we suggest checking out Yanaka Neko.
Yanaka Neko is an original design for Yanaka Ginza. Yanaka Neko look similar to regular maneki neko, but are blessed with "cuter" features. A Yanaka Neko goes for approximately 2,000 yen.
You'll notice Yanaka Neko are posed with a raised right paw to "beckon good fortune". They make for great souvenirs from Yanaka Ginza.
Also Consider Seasonal Maneki Neko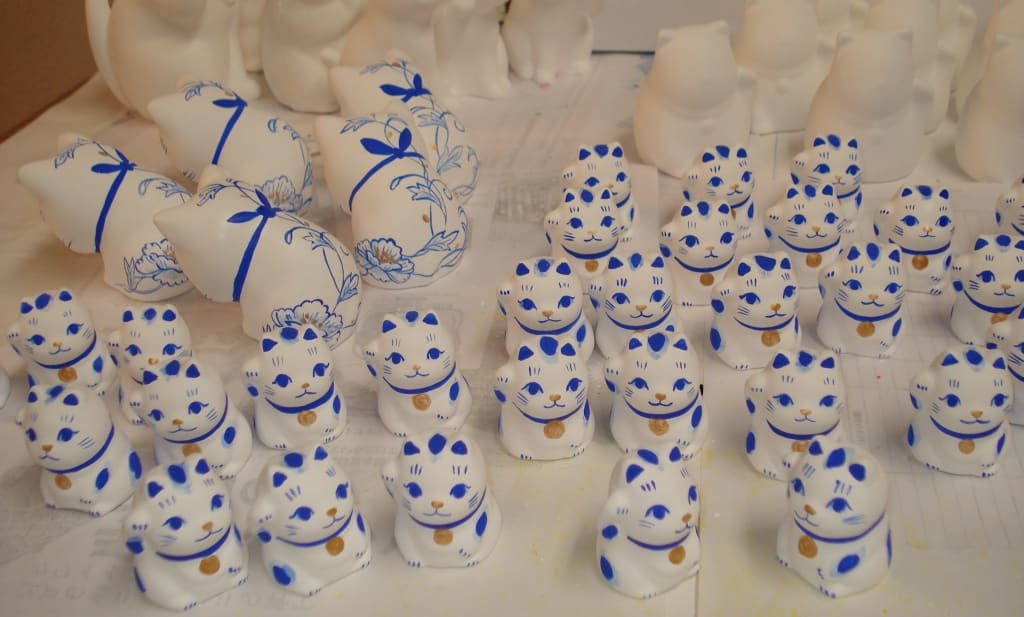 Source: Kaiun Yanakado
Kaiun Yanakado also offers seasonal maneki neko – one for each season. Prices range, but the cheapest ones are available from 800 yen. If you have the opportunity to visit Kaiun Yanakado, we suggest checking out these seasonal maneki neko too.
Overview of Kaiun Yanakado
Products sold: original maneki neko, including seasonal and standard ones.
Store hours: 10:30 – 17:30
Closed: select dates for summer holiday and year-end/new year's.
Directions
Address: Yanaka 5-4-3, Taito-ku, Tokyo
Phone number: 03-3822-2297
Train directions - 6 minute walk from Sendagi Station (Exit 1) on the Tokyo Metro Chiyoda Line.
10 minute walk from Nippori Station (South Exit) on JR (Keihin Tohoku, Yamanote, Joban), Keikyu and Toneri Liner Lines.
Directions from Airports and Tokyo Station - Travel time from Haneda Airport: 45 – 50 minutes
Travel time from Narita Airport: 60 – 70 minutes
Travel time from Tokyo Station: 20 – 25 minutes
Website: http://www.yanakado.com/index.html
Map
If you want to go to Yanaka with the local person, you can also join our tour, "Yanaka Historical Walking Tour". The local guide will bring you to Yanaka shopping street and really good shops and cafe not many people know about.