In Fukui, you can enjoy nature tour while riding Segway, and Fukui's nature-rich scenery with Jam Sports Paraglider Experience. Tojimbo Pleasure Boat and Katsuyama Forest of Dinosaur also allow you enjoy with your family. Why don't you have a memorable time in Fukui?
1. Segway Experience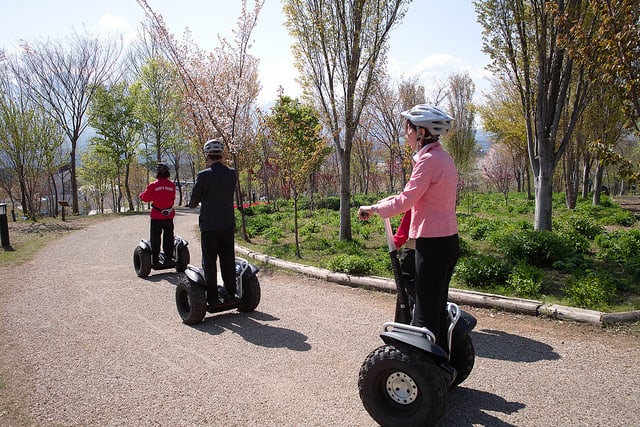 Source: flicker
Sky Jam Katsuyama is biggest sky resort in west Japan. Since this resort has work partnerships with Sky Ground Company and Hotel Company, here you can enjoy sky and hot spring in winter season, highland's activity in summer season, all the year over with your family. Since it has opened in 1993, this resort has gotten a lot of visitors every year. Among these activity out there, the Segway activity is the newest one. You can enjoy sightseeing around course of nature-rich while riding Segway in this highland resort. There are many kinds of tour here, our recommendation is Segway Experience for trial for 1,800 yen that even uninitiated person can enjoy easily. Another tour is also affordable to get. 「Light Tour」 from 3,000 yen, and 「Forest of Jam」 tour from 8,000 yen per 1 person.
You don't need to hesitate here. Anyone who is over 16 can join the activity, so let's have a new experience and findings with your family or friends.
Why don't you ride a Segway and go sightseeing around this highland resort with beautiful scenery. The attractive point of Segway is it's appearance that has near-future atmosphere. Segway has been invented in USA as Electric Motorcycle. We control our own weight and keep a balance while riding on Segway and turn in the direction we want to go. In addition, Segway doesn't need Gasoline to work, but all electric. Very Eco-friendly vehicle. Easy operation for riding, slowly enough to enjoy sightseeing are also good points for it. And in this tour, you can become one with nature. This is perfect gateway from the noises of cities. Why don't you forget the time and release the stress with this combination of Segway and nature in Sky Jam Katuyama.
Access from the main station
Closest Railway Station: Echizen Railway Katsuyama Station
It takes about 54 min from Fukui station to Katsuyama Station by Katsuyama Eiheiji Line. About 40 min by free shuttle bus from Echizen Railway Katsuyama Station to Hotel Harvest Sky Jam Katsuyama.
Reservation is required for shuttle bus.
Address
Tokyu Resort Service Sky Jam Katsuyama
〒911-0000 170-70, Katsuyama-shi, Fukui
TEL
TEL : The Tour Activity  TEL. 0779-87-6109 (Reservation Require)
Hotel  TEL./ 0779-87-0081 (Reservation Required)
Official Website
http://www.skijam.jp/green/segwey/
Price
「Forest of Jam」Tour: 8,000yen per person
「Light Tour」: 3,300yen per a person (for 45 min)
「Segway Experience」: 1800 yen per a person(for 30 min)
Map
2. Jam Sports Paraglider School

Source: flicker
Have you ever feel like fly in the sky once? Let's have the experience of flying with paraglider! This is fun activity that anyone can do. This Jam Sports Paraglider School will provide you with simple pre-training before getting the experience, and you can practice for flying for yourself. You could even get the Paraglider License after completing the half-day practice course on every weekends for a year. In half-day course, you can practice flying whatever times you like for 2 hours in the morning time. The important thing for Paraglider is "The Wind". The way the wind blows is also important so you should ask that to school in advance.  The more perceptive you become about the wind, the better Paraglider you will be. You can turn right or left, and even floating when you take off by controlling the wind. The charm here are that you can see wonderful view from sky that you would never see on the ground, and the fact that you try to get used to it, it is challenge to yourself. It should mean a lot to you. Let's have an experience of Paraglider with your friends or family.
Access From the Station
Close Railway Station : Echizen Railway Katsuyama Station.
It takes about 54 min from Fukui station to Katsuyama Station by Katsuyama Eiheiji Line. About 40 min by free shuttle bus from Echizen Railway Katsuyama Station to Hotel Harvest Sky Jam Katsuyama.
Reservation is required for shuttle bus. About 6 min walk from hotel to Jam Sports Paraglider School.
Address
Location・Business Hour・Information
〒911-0000  170-70, Katsuyama-shi, Fukui, Sky Jam Katsuyama-nai Rental Plaza, 2F
TEL
0779-87-6311
Official Website
https://www.jamsports.jp/taiken/half
Price
Half-day course : Capacity only 10 persons.
The normal price: 7,500 yen + Tax
Advance booking discount: 6,000 yen + Tax
(Equipment fee is included, Insurance fee isn't included)
Map
3. Tojimbo Pleasure Boat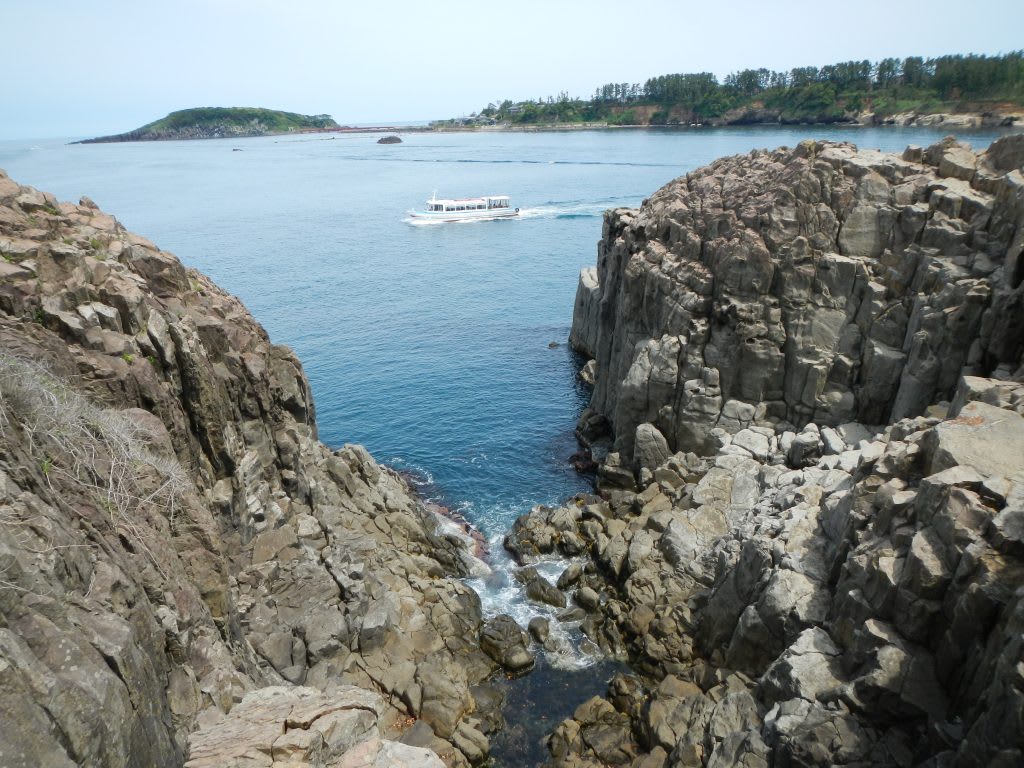 Source: Happy Touring
The Pleasure Boat Cruising departs from Tojimbo will give you various superb view of rocks. Each rocks has it's own name, some are as huge as 25m. Tojimbo is located in the middle of sightseeing area. If you are with your children, Tojimbo Tower is also good spot where you can enjoy shopping and some good dishes.
The Cruising will take about 30 min for 1 round, and the price is 1,400 yen for adult, 700 yen for child. The business hour is from 9:00 am to 16:00 in April to October, from 9:00 am to 15:30 in October to March winter season. Echizen Matsushima Aquarium Discount Set is available here. So if you have a plan to go there with your family in near future, let's check this Discount Set in advance. There are 2 landing points of this cruising, it is located Tojimbo and Mikuni Sunset Beach. You can check each day's service status on twitter.
Why don't you make a wonderful memory of Art of Nature standing still on the sea with you family through this Tojimbo Pleasure Boat Tour.
Access From The Station.
Just close by 「Tojimbo」 bus station by Keihuku Bus Tojimbo Line.
Connected 3 stations on Echizen Railway Mikuni Awara Line.
About 10 min from Mikuni bus stop / About 5 min from Mikuni-ko bus stop / About 30 min from Awara Yunomachi bus stop.
From Fukui station:
It takes 16 min to Awara Onsen / Awara Onsen station by JR Hokuriku Line. (Bounce for Kanazawa)
Then, 43 min from by [Keihuku Bus] 85 Tojimbo Line (Bounce for Mikuni)
Address
〒913-0064
64-1, Anto, Mikuni-cho, Sakai-shi, Fukui
TEL
6776-81-3808
Official Website
http://www.toujinbou-yuransen.jp/
Price
Normal Price : Adult / 1,400 yen Children / 700 yen (Adult includes junior high school student and older, Children includes elementary school students. Children younger than elementary school students can enter for free, but it is limited 1 child, per 1 adult.)
Grope Price :  Adult / 1,260 yen  Children / 630 yen(Grope is defined by more than 15 persons)
Student Discount Price(Junior high school students and older) : 980 yen
Handicapped discount : Adult / 700yen, Children / 350 yen  700 yen(Only A judgement of Patient cognitive impairment )
Echizen Matsushima Aquarium Set Ticket
Adult 3,400yen → 2,900 yen
Junior High School Student 2,100 yen → 2,100 yen
Elementary School Student 1,450 yen → 1,450 yen
Advance Ticket For Children younger than Elementary School Student 500 yen → 400 yen
Map
4. Katsuyama Forest of Dinosaur

Source:ウィキペディア
Katsuyama Forest of Dinosaur is theme park that allow you to enjoy some activity throughout the year with your children and dinosaurs. First of all, Tyrannosaurus Plaza's dinosaur play equipment is very popular among children. We can enjoy water play and BBQ for 1,000 yen in the summer season. Next, we can experience of excavation of dinosaur at Exciting Dinosaur Excavation Land. It is exciting adventure that we could not know what would be excavated until we find it. In the Chamagon Plaza, we can enjoy playing with Tarzan Rope and Sugiyama Dragon Slide and other things that will make the children exciting more. The big Tarzan rope in Tyrannosaurus Plaza is as twice length as that of Chamagon Plaza, so let's enjoy with all family. In addition, there is a museum and café restaurant where we could rest and have some food in the park. The last, there is Dinosaur tour that allow you enjoy sightseeing in the park for only 500 yen at the Katsuyama Dino Park inside of the park. The children who are dinosaur lover cannot miss it. These activities are all stunning. Please try that with your family.
Access from the station
Get off the train at JR Fukui Station, then change the train to Echizen Railway Katsuyama Eiheiji line bounce for 「Katsuyama Station」(It will take about an hour)
After getting off at Katsuyama station, and another 15 min by community bus or 10 min by taxi.
Address
51-11, Terao, Muraoka-cho, Katsuyama-shi, Fukui. 〒911-0023
TEL
0779-88-8777
Official Website
Price
Entrance Free
But Katsuyama Dino Park needs 500 yen for entrance fee (free for younger than 3-year-old child)
Grope(over 30 persons)400 yen
Map
5. Nagaihama Beach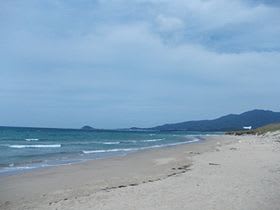 Source:ウィキペディア宗像市
Summer is about beach. With your family, friend, no matter how are you with, it is good to have a memorable time in white sandy beach. This long beach has gotten a lot of visitor since it opened in 2005. The huge car parking space allows about 600 cars to park. Besides, the shower and toilet, dressing rooms are available for free. There are 20 rooms that each has shower and dressing room so it doesn't take much time to change the cloth and refresh to take shower. We can enjoy BBQ and clam gathering for ourselves. You should visit this long white sandy beach with your family if you have plan to come to Fukui. There are also some sightseeing spot like Children Family Hall and Aoto Cruising around this beach. If you are planning for stay there, of course there are some accommodations that allow you enjoy good dishes and night beach. We must visit this beautiful Nagaihama Beach when we travel around Fukui.
Access from the station
20 min by Taiyo Traffic Bus from JR Nippo Honsen Yukuhashi Station.
From Fukui Station, get on Express Shirasaki No. 60 (bounce for Maibara station), will take 9 min to get Tsuruga, then change the line to JR Kohama Line (bounce for Higashi Maizuru), about 85 min to get Wakasa Hongo, and 35 min by walk.
Address
〒919-2104 2-1-1, Seiwa, Oi-cho, Oi-gun, Fukui
TEL
080-4257-4200
Official Website
none
Price
Free
Map