Yokohama has a population of approximately 3.7 million people, followed by Tokyo, the second largest city of Japan. It is located about 40 minutes by train from Tokyo which makes it perfect for a daytrip. There are many sightseeing spots like the attractive cityscape of the port town, spectacular night views, local cuisine, theme parks and many amusement facilities. Let's go to Yokohama and enjoy another fun time different from Tokyo. We'll recommend you 10 spots which are located near the bay and you can make many nice photos to share with your friends on social media.
What is Yokohama?
source: zekkei japan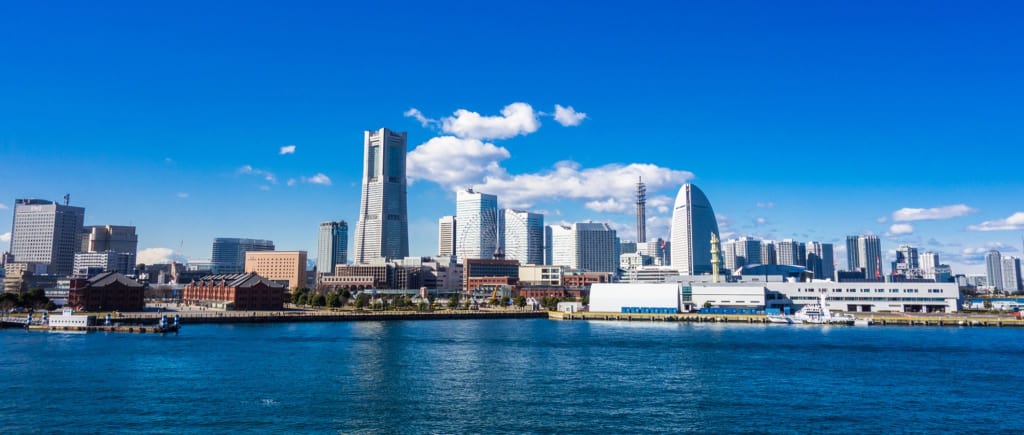 source: grandpark-inn
Yokohama used to be a small fishing village till about 150 years ago. After the Port was officially opened in 1859, Yokohama quickly became the base for foreign trade in Japan. There are many places where you can have a nice photo shoot. Such as **Yokohama Station – **the largest train station for JR, private railways and the subway. Minato Mirai 21 – bay area where you find many sightseeing spots. **Kannai area – the place for many historical buildings. Chinatown – one of the largest in the world. Yamashita Park – one of the best spots to view the bay area. Kanazawa・Honmoku・negishi area – **locations where you will find many historical buildings and Japanese garden.
Access to Yokohama
From Tokyo Station:JR Tokaido  Line, Yokosuka Line, Keihin-Tōhoku Line,
Shōnan–Shinjuku Line about 30 minutes
From Shibuya Station:JR Shōnan–Shinjuku Line (To Zushi) about 30minutes
From Haneda airport: keihinkyuko – bus about 30minutes
Keikyu Line(Keihinkyuko) about 30 minutes
Sankeien garden
About Sankeien garden
Sankeien is a traditional and typical Japanese-style garden designed and landscaped by Sankei Hara, once a wealthy businessman in the silk trade.
He reconstructed 17 buildings of great historical importance from places such as Kyoto and Kamakura in this garden. The garden first opened to the public in 1906. This garden is well-known for the beautiful Ume (plum blossoms,) Sakura (cherry blossoms,) Tsutsuji (azalea) and Momiji ( maple).
<< Read more detail about Sankeien garden
Yamashita Park
About Yamashita Park
This park opened in 1930 build on the rubble of the Great Kantō earthquake (1923). You can enjoy wonderful view of buildings such as Yamashita-futo (wharf), Yokohama Bay Bridge, Yokohama Red Brick Warehouse, Yokohama Landmark Tower and landscape.
This park is also well-known for its collection beautiful roses in Yokohama.
<< Read more detail about Yamashita Park
Osanbashi (Pier)
The main international passenger pier at the Port of Yokohama. This pier can accommodate up to four 30.000-ton class ships or two more than 30.000-ton class ships at the same time. You can enjoy nice view of the Yokohama Bay Bridge, Yokohama Marine Tower, Yamashita Park and of the huge wooden deck of Hikawa Maru.
<< Read more detail about Osanbashi
MARINE&WALK YOKOHAMA
source:panoramio
About MARINE&WALK YOKOHAMA
Designed as an open-air mall, recreating the ambiance of pedestrian-friendly streets through a waterfront warehouse district and with a seamlessly blending greenery by the seaside. Enjoy cozy atmosphere and attractive scenery.
Here you can enjoy shopping, taking a walk, or eating and drinking while enjoying the nice view of bay.
<< Read more detail about MARINE&WALK YOKOHAMA
Yokohama Red Brick Warehouse
About Yokohama Red Brick Warehouse
This historical buildings are built during end of Meiji period and begin of Taisho period (early 1900 ) as customs houses. There are two sections: Warehouse No.1 use for concerts or events. No.2 there is a shopping mall and restaurant arcade. At night, these buildings are lighted up and fantastic.
<< Read more detail about Yokohama Red Brick Warehouse
Yokohama three towers
About Yokohama three towers
The Yokohama three towers are Kanagawa Prefectural Office (The King), Yokohama Port Opening Memorial Hall (The Jack) and Yokohama Customs building (The Queen).
It is said that these nicknames named after play cards which were given by foreign sailors. There is a legend; if you go to three places where you can see all three buildings at the same time your wish will be granted.
<< Read more detail about Yokohama three towers
Yokohama Landmark Tower
This high building opened in 1993 and is located at the old shipyard. 296 meters high and 70 floors above ground giving a magnificent view on the bay area. There are offices, a hotel, and a shopping mall in the central tower as well as a variety of facilities such as an observatory, a multipurpose hall and an outside area accentuated by a restored stone dock called the Dockyard Garden.
<< Read more detail about Yokohama Landmark Tower
Yokohama Cosmo World
About Yokohama Cosmo World
This amusement park is divided into three zones. "Wonder Amuse Zone" , " Brano Street Zone" and "Kids carnival Zone". Visiting the park itself is free of admission. You need a ticket for each attraction.
<< Read more detail about Yokohama Cosmo World
Sea Bass
source:http://yokohama-sozokaiwai.jp/access
About See Bass
Designed for frequent passenger services between Yokohama Station east exit and Yamashita Park. You can enjoy a view of Yokohama bay, famous buildings which are located at bay area from the large windows of the ship. We'll recommend you to take photos with the famous buildings as background. It'll be also nice night cruise on Friday, Saturday and Sunday.
<< Read more detail about See Bass
Yokohama-kanteibyo
About Yokohama-kanteibyo
This Byo (Chinese temple) is located in Yokohama Chinatown. It worshiped warrior Kanu who was a hero of the 3rd century in China. Places to pray for peace and business prosperity for Chinese who live in Yokohama. It is well-known as a power spot where you can enlighten yourself with spiritual power.
<< Read more detail about Yokohama-kanteibyo
Recommend in Yokohama!
Swap your clothes for a kimono. Go for a walk at Sankeien Japanese garden then to Yamashita park where it located at Kaigan-dori (sea-front street). Feel the wind from the bay and enjoy nice view of Yokohama. When you arrive at the Osanbashi Yokohama.(International passenger terminal), you'll see beautiful sunset and night view.