In Fukui, various types of accommodations are available such as luxury hotels and ryokans which are equipped with a private hot spring bathroom in the guest rooms. There are attractive sightseeing spots and foods in Fukui: Tojinbo, a famous cliff wall with a great view, Eiheiji temple which is Fukui's representative historic site, and juicy and plump Echizen-gani (crab). In this article, we'd like to show some recommended  accommodations for your next visit to Fukui.
1. Fukui Phoenix Hotel

Source: 福井フェニックスホテル公式HP
The greatest attraction of this hotel is it's accessibility. Because its location is only 3 minutes away from Fukui station, everyone can find this hotel easily. Convenience stores located around the hotel add to this hotel's advantage. This hotel welcomes you with various types of rooms according to your budget. We recommend the royal room of this hotel; the room is equipped with luxurious furniture and amenities that will provide you with a comfortable stay. Free speed wi-fi and internet room is another plus for this hotel.
In addition, there are famous sightseeing spots located in walking distance; you can visit Fukui castle which is selected to Japan's top 100 castles and Yokokan garden, famous for its beautiful landscapes and quiet atmosphere.
If you are looking for a hotel close to many sightseeing spots and convenience, this hotel will suit your needs.
Access from train station
Nearest train station: JR Fukui station
Exit Fukui station west gate, and turn right at the main street in front of you. Turn left at the first traffic light and you will see the hotel on your left as soon as you walk about 30 seconds. It takes about 3 minutes to walk from Fukui station.
Address
2-4-18 Ote, Fukui-shi, Fukui 910-0005
Phone number
0776-21-1800
Website
Price
Single room:None
Double room: ¥4,000 per person and up
Twin room: ¥4500 per person and up
Japanese style room: ¥12,000 per room and up
Map
2. Hotel Fujita Fukui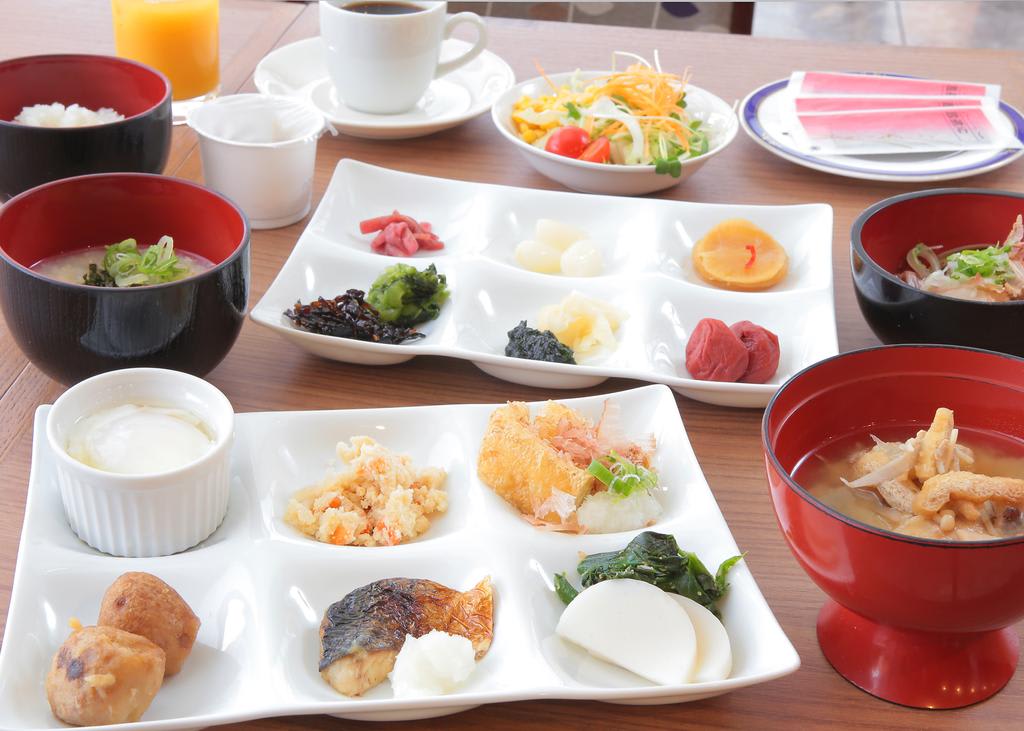 Source: Booking.com
This hotel is popular for its delicious breakfast and the view of the Asuwagawa embankment. The hotel chefs are particular about breakfast, and they put in a lot of time and effort for every dish. The recommended dish is crab croquette. Fukui prefecture is well known for fishing crabs. The croquette uses a lot of plump crab meats, and the taste is exquisite. Besides crab croquette, you can enjoy smoked cheese omelets, regional cuisine made with plenty of Fukui prefecture specialities, and more that will satisfy your appetite in the morning. You can make your own dish from Japanese foods and western style foods, so it's stress free for guests who are picky eaters or kids.
In front of the hotel there is the levee of Asuwagawa flowing in the center of Fukui, and you can enjoy the lush landscape during your stay. The most recommended time to stay is the cherry blossom season. A cherry blossom flower street is made along the river, which makes you feel like you go through a pink tunnel. This place is famous and sometimes ranked in top 100 for cherry blossom spots.
Because the price is relatively reasonable, it will be worth staying at least once.
Access from train station
Nearest train station :JR Fukui
From the West Exit at Fukui station, walk straight on the road named Chuo Oodori (meaning Central Avenue). You can find HIS travel agency on your right on your way. After a 2-3 minute walk, take a right turn at Nikko Cordial Securities. Walk straight on the street where a police box at the corner and you will see the hotel on your left. 10 minutes walk from Fukui station.
Address
3-12-20 Ote, Fukui-shi, Fukui 910-0005
Phone number
0776-27-8811
Website
http://www.hotel-fujita.jp/fukui/
Price
Single (room with 1 twin bed): ¥4,512 per person and up
Double (room with 1 full bed): ¥2,650 per person and up
Twin (room with 2 twin beds): ¥4,500 per person and up
Map
3. Hotel Riverge Akebono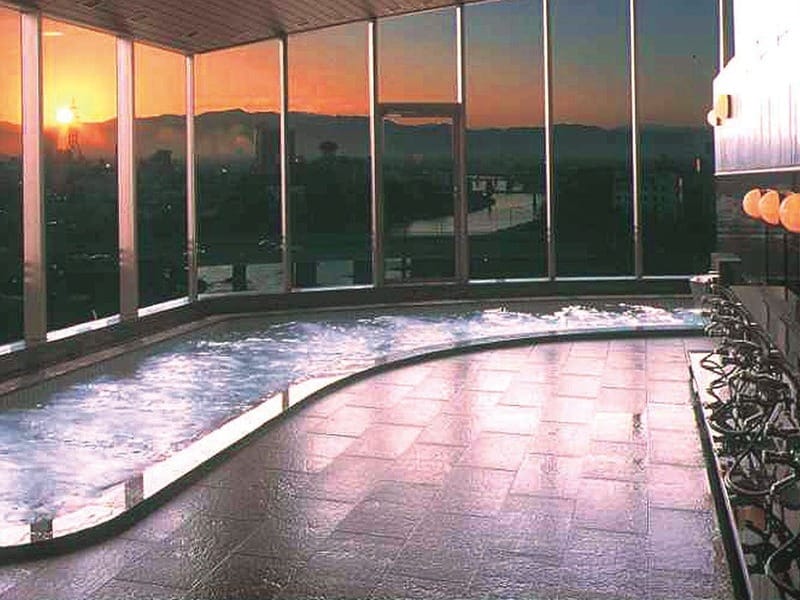 Source: ゆこゆこネット
The biggest feature of this hotel is the Tenku (sky) public bathroom. The bathing area is located on the top floor of this hotel, so you can enjoy a great view of cherry blossoms and lush greens at Asuwagawa and Hakusan mountain ranges. While you enjoy the great view, the water of the bath makes your skin and hair smooth. Recommended time for the bath is during sunset; it is superb to see the 180 degree view of red-dyed sky.
The hotel Reverge also pays attention to its guest rooms. Sound absorbing walls are installed, so it is perfect for people who want to quietly sleep. You can feel traditional Fukui culture during your stay with room decor, such as lacquered lamination lamp which is traditional culture of Fukui and painting with world famous dyeing techniques. Furthermore, the hotel has adopted a design that is easy to use even for infants and the elderly, such as lower step downs and preparing toilet seats with heating. A high quality hotel with low price that will satisfy your needs and enjoyable sightseeing in Fukui.
Access from train station
Nearest train station:JR Fukui station
Exit the West gate of Fukui station and walk towards the skyscraper on the left (Happiring). After passing Happiring, go through the shopping street. Go straight ahead while Seibu department store is on your left. Turn left at traffic light when you see the sign of 「土谷の家具」(Tsuchiya furniture), and walk about 50 meters. It's a 10 minute walk from Fukui station.
Address
3-10-12 Chuoh, Fukui-shi, Fukui 910-0006
Phone number
0776-22-1000
Website
Price
Single (room with 1 twin bed): ¥4,600 per person and up
Double (room with 1 full bed): ¥5,250 per person and up
Twin (room with 2 twin beds): ¥4,600 per person and up
Map
4. Hokuriku Awara Onsen Mimatsu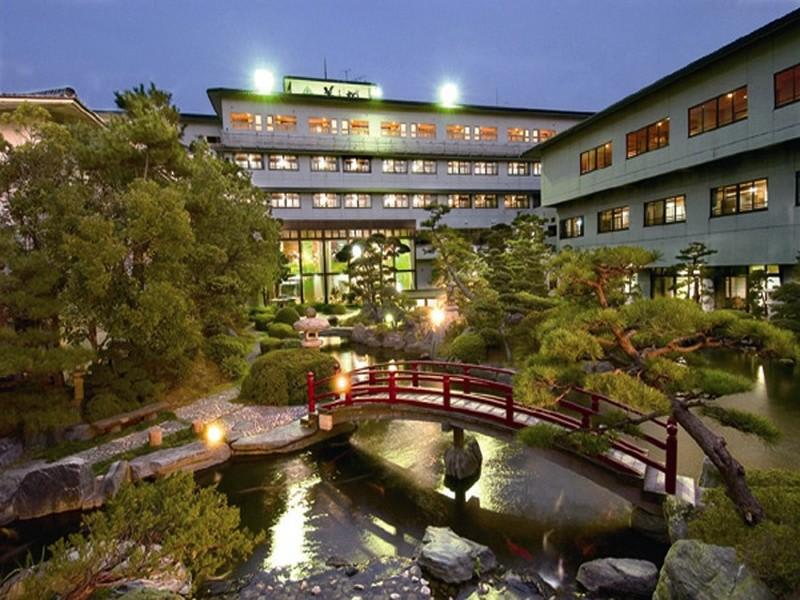 Source: JTB
Awara Onsen (hot spring) is known as one of Hokuriku's leading hot-spring districts, and Mimatsu is the most popular ryokan style accommodation. This ryokan has various types of hot spring baths. The guest room with private hot spring bathroom is the most popular and receives high satisfaction ratings from customers, especially families and couples who are looking for privacy. In addition, Mimatsu ryokan provides a variety of baths to entertain guests such as an open-close dome-style bathroom with a corridor garden, a rock bath, a large public bath in the shape of a semicircle, and more. You can try all these baths and note that males and females have different bathing times for each bath.
In general, employees at the ryokan are required to have high customer service skills. And Ryokan Mimatsu is known for great customer service as well; they have such a high service spirit that they will meet your expectations and more. You will be impressed by the wonderful hospitality if you never stayed ryokan before. Those who are having trouble choosing accommodations in Awara Onsen should definitely consider Mimatsu as a candidate.
Access from train station
Nearest train station:Awara Yuno-machi station
Transfer to Echizen train from JR Fukui station. Arrive at Awara Yuno-machi station in about 40 minutes. The inn provides free shuttle bus service between the station and the inn every 30 minutes between 2pm to 6pm. Takes 3 minutes by the shuttle bus. You will need a reservation for the shuttle bus in advance.
Address
26-10 Funatsu, Awara-shi, Fukui 910-4105
Phone number
0776-77-2600
Website
Price
Single: None
Double: None
Twin (room with 1 full bed): ¥6,480 per person and up
Japanese style room: ¥5,400 per person and up
Japanese room+ flooring with beds(includes breakfast and dinner): ¥27,540 per person
Map
5. Seifusou: The inn of Hokuriku's largest garden outdoor bath

Source: 一休.com
Seifusou has the largest garden outdoor bath in Hokuriku region. There are lots of famous hot spring places in Hokuriku region such as Kaga Onsen in Ishikawa and Unazuki Onsen in Toyama prefecture. Among those hot spring places, this inn is popular and great hot spring baths. There are 3 different garden outdoor baths at Seifusou. "Hanamiburo(meaning flower view bath)" is the bath which you can enjoy flower blooms  in front of you. " Tohkiburo (porcelain bath)" has unique shaped bathtub that looks like a shigarakiyaki's pot. And "Hakkaku koshikakeburo (an octagonal seated bath)" is a deep bath which has a fantastic night lighting. Saunas, foot baths, and reserved private baths are at this inn, and it is a perfect place to stay to enjoy hot spring.
Another attraction is a buffet style dinner that can be eaten in a private room. Buffet in a private room is unique and convenient so even people with small children can enjoy it without hesitation. You can eat the Echizen crab and fresh seafood with this buffet, and your heart and stomach will be satisfied. It is an ideal accommodation to forget busy everyday life and enjoy a little bit of luxury.
Access from train station
Nearest train station: Awara Yuno-machi
Take Echizen train from JR Fukui station, arrive at Awara Yuno-machi in 40 minutes. After exiting the gate, take a left turn and walk along the train line. You will see Seifusou on the right after turning right at second traffic light. A 5 minute walk from Awara Yuno-machi station.
Address
3-803 Onsen, Awara-shi, Fukui 910-4198
Phone number
0776-77-2500
Website
Price
Single: None
Double: None
Twin (room with 2 twin beds): ¥7,560 per person and up
Japanese room: ¥6,480 per person and up
Japanese room+ flooring with beds (includes dinner and breakfast): ¥ 20,220 per person and up
Map