"Tsukiji" Market is a tourist spot composed of two parts: the Inner Market and the Outer Market. Marine products are brought here from all over Japan. In this issue we introduce "Konparu-yu" located very close to "Tsukiji". The history of the "Sento" goes back to the "Edo" Period. You can relax in "Sento" while watching the paintings on tile walls.
Do you want to know other sentō near Tsukiji? See "Sentō (public bathhouse) you can visit this bathhouse by walking from the Tsukiji market  5 selection".
About "Konparu-yu"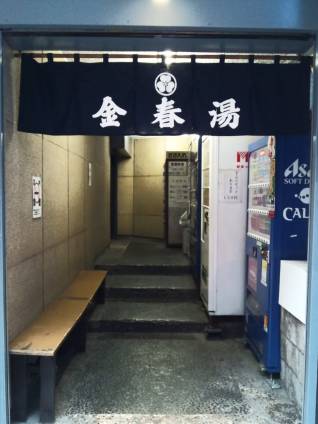 source: "Kokosil Ginza"
"Konparu-yu" is located in posh "Ginza" area where you find many gourmet restaurants. Although it looks just ordinary "Sento", it has been established since the "Edo" Period with a long history of 155 years. It was founded in 1863. It has been loved by local people for a long time. Recent years the number of "Sento" has decreased but "Konparu-yu" survived supported by people. It is situated in 15 minutes walk from "Tsukiji" so that you can visit after a gourmet tour in "Tsukiji".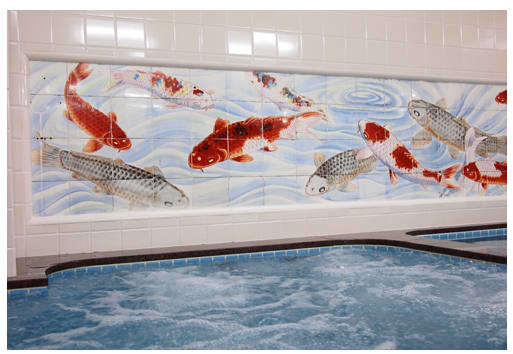 source: "Let's enjoy Tokyo"
In "Konparu-yu" there are charming tile paintings on the walls and ceilings.  Mt. Fuji was painted by Morio Nakajima who is a rare painter in Japan of this kind. Red Fuji in the men's bath chamber and blue one in the ladies'. Also 12 beautiful carps are painted. The hot water is well maintained at comfortable 43 degrees Celsius (109 degrees Fahrenheit), which is a kind hospitality for guests by the owner. "Konparu-yu" is a charming spot near "Tsukiji".
How to take "Sento"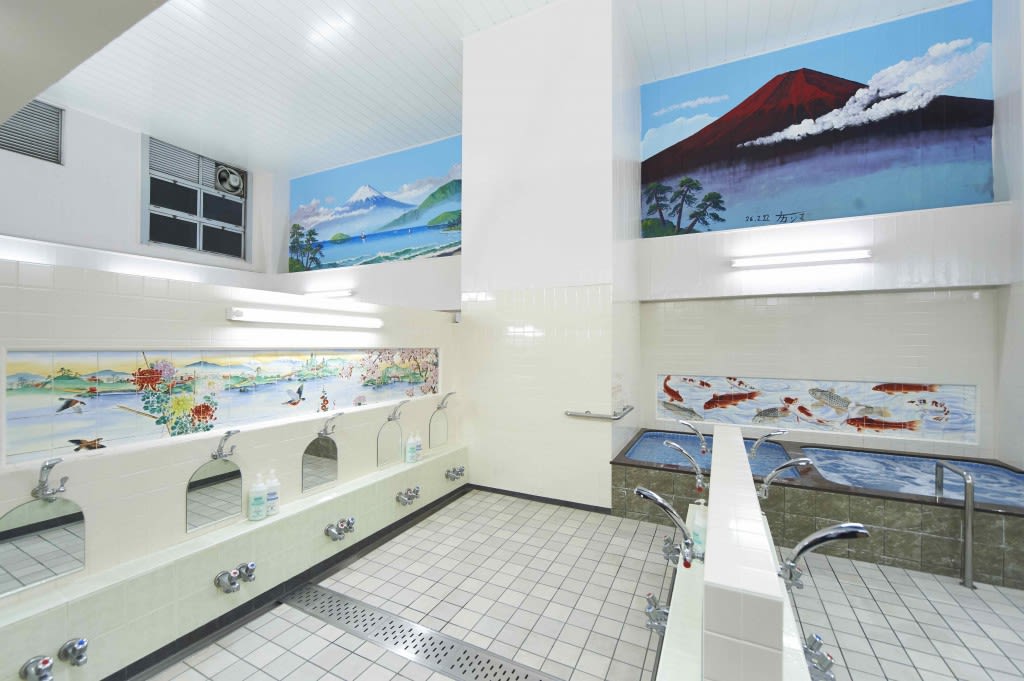 source: "Ginza Konparu-dori"
There are certain rules for taking "Sento". For example you should neither wash cloths nor take towels in the pool, get in the pool after a shower, not take bath when you are drunk and no smoking. Being a foreigner, you are not exempted but to follow these basic rules like the locals. Since you can buy at "Sento" the necessary items for bath (towel, soap, etc.), many people drop by on their way from work. You can enjoy "Konparu-yu" with a little money and as long as you follow the basic rules.
Information about "Konparu-yu"
Address: 8-7-5 Ginza, Chuo-ku, Tokyo 104-0061
Telephone: 03-3571-5469
Hours: 15:00 – 23:00
Closed on Thursday
Direction: 5 minutes walk from "Kiba" Station, Tokyo Metro "Tozai" Line
Travel Time from Haneda Airport: about 48minutes, from "Tokyo" Station: about 14 minutes
URL:  http://www002.upp.so-net.ne.jp/konparu/
Map