Yokohama is conveniently located, which with Minato Mirai Line you can go from Shibuya to Yokohama in about 40 minutes without a transfer. It is easy to access from Tokyo. Since the opening of the Yokohama port about 150 years ago, the city developed accepting Western culture. Yokohama is a city with various tourist attraction spots such as their historical buildings, museums, gardens and parks. Therefore, there are many hotels located in the area. In this article, we will introduce InterContinental Yokohama Grand, one of the recommended hotels is Yokohama.
>> For more information about hotels in Yokohama, please visit the page of "Best 6 hotels in Yokohama".
InterContinental Yokohama Grand (Minato Mirai)
About InterContinental Yokohama Grand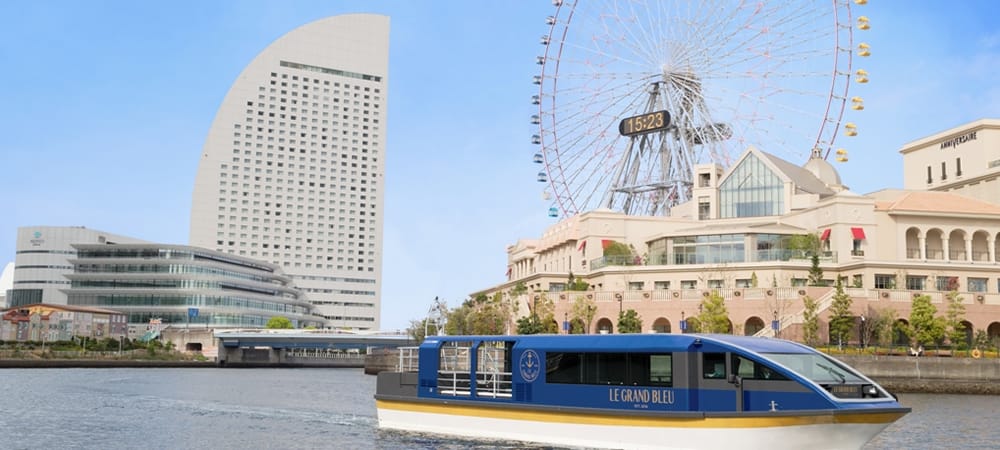 Source: InterContinental Yokohama Grand
With the exterior shaped like a yacht under sail, the hotel has become the most popular luxury hotel in Yokohama. The hotel and the Cosmo World Ferris wheel next to it are one of the iconic symbols of Yokohama. InterContinental Yokohama Grand is located within "Pacifico Yokohama", the International convention center and exhibition hall along the harbor. Therefore, in addition to being an "International hotel", it also provides feelings of a resort despite located in the city center.
About the Room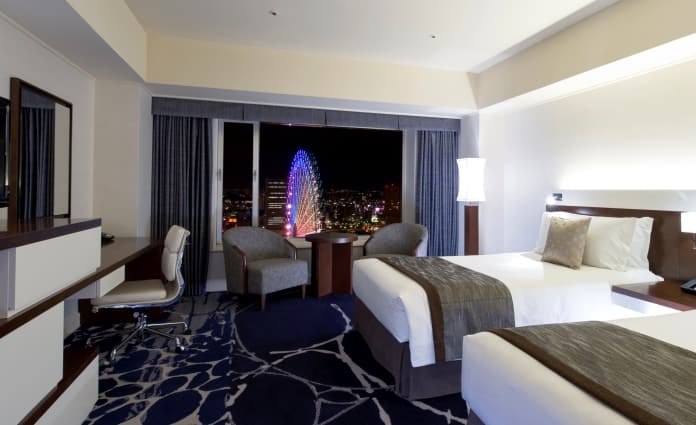 Source: InterContinental Yokohama Grand
The 140 meters height hotel has 600 guest rooms. The large windows offer bright and airy guest rooms. All the rooms provide a spectacular panoramic view of Yokohama harbor and nighttime city lights. There are about 11 types of guest rooms available for gests to choose: business, families, luxury and others, ranging in size from 38 ㎡to116㎡. Children are welcomed, and baby beds are available at no extra charge.
The price is from 15,000 (a room per night).
About Hotel Facility
There are varieties of restaurants in the hotel including Japanese, Chinese, French and a bar with beautiful Yokohama bay view. A shopping space is also included in the facility. Free Wi-Fi is available in the hotel and a business center on the first floor offers use of computers and a printer.
Access
Check-in: 2:00pm
Check-out 0:00pm
Access:Five-minute walk from Minato Mirai Line "Minato Mirai Station" Queen's Square exit
About Yokohama

Since the opening of the port, Yokohama has been adopting a diversity of Western culture creating a uniquely exotic atmosphere. Yokohama is full of attractions such as Minato Mirai area with tall buildings where you will be able to view the spectacular Yokohama scenery, Kannai area with historical buildings, Yamashita Park, well known for its beautiful roses and ocean view, the exotic Chinatown and Yokohama Station area with a lot of amusements. Do stop by and enjoy Yokohama, the city of a mixture of Japanese and Western cultures.
Access to Yokohama
From Tokyo Station
About 45 minutes to "Kannai Station" by Keihin Tohoku Line
From Shibuya Station
About 45 minutes to "Yokohama Station" by Tokyu Toyoko Line
From Haneda Airport
About 30 minutes to "Keikyu Kamata Station" by Keikyu Airport Line, or to "Yokohama Station" by Keikyu Honsen
Best Places to Visit in Yokohama
Romantic Kimono Photo shoot – Yokohama Tour
Yokohama is full of diverse attractions such as the historical buildings, towering buildings and Yokohama port where you can feel the ocean breeze. There is a tour of visiting popular Yokohama sightseeing spots and take pictures in kimono. You can choose your favorite one and you will be dressed in a gorgeous kimono. You don't have to worry about not knowing the area. A professional guide will take you to the famous sightseeing spots in Yokohama.