The autumn is a season that a lot of festivals are held in various places in Japan. Kyushu area also has traditional festivals around that time. In addition to traditional festivals, sports events, cultural experiences and history leaning events are held there. Kyushu is also popular as the tourist spot. Not only sightseeing, but also attending the events would make your trip much better. Let's have a quick check the nice event held in Kyushu in October.
The Traditional Festival
Chikouzu-Kashima shrine 「Festival of Hinokami」
Source:http://www.dydo-matsuri.com/archive/2014/chikoudu/
「Hinokami Festival」 has been passed down since ancient times in Chikouzu-Kashima shrine located at Matsuo-cho, Nishi-ku, Kumamoto-shi, Kumamoto. This festival has come from the history that people there repelled the pirates from Korean peninsula more than 1,000 years ago.
In this festival, people faithfully reflect the scene that ancient people repelled the pirates by throwing the raw wood got from in the mountain with the fire on it.
During the festival, the married male of Ujiko becomes the offence and throw the fire wood into the worship hall, and the single becomes the defense and hit down it with an oak branch.
The fierce fire battle is commanded there, sparks leap around the shrine, people cheer.
Praying for everlasting safety from the pirates, people enshrined the gods of Kashima-no-miya.
Around this shrine, there is the Shimada Art Museum that has stored the history books related to Kumamoto's Samurai Culture, Reigando and Gohyakurakan known as mysterious sacred site in the hill of Ungazen Temple.
Let's enjoy this festival and sightseeing as well.
Schedule
Oct, 10th in 2017 9:00 am ~ 21:15 pm
Access & Address
About 10 min walk from Shimo-chikatsu but station get from JR Komamoto station
Chikatsu-Kashima Shrine 953, Chikatsu, Matsuo-cho, Nishi-ku, Kumamoto-shi, Kumamoto
Latitude: 32.806307 degrees, Longitude: 130.611138
Price & Reservation
Free
No Need To Reserve
100 Years Anniversary of Village System Uken-son Yakeuchidonto Festival Vol.39.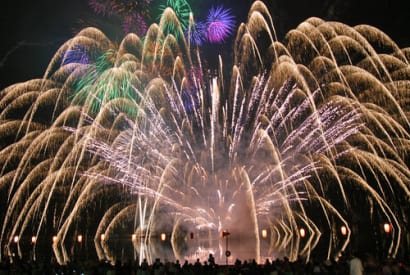 Source:http://www.kagoshima-kankou.com/event/20387/
This is the festival includes the No.1 fireworks display of Amami archipelago, the character show and boat rowing contest. Since it is the 100 year anniversary, the festival will be celebrated much more with up to about 7,000 shots of fireworks.
In the fireworks display, message fireworks and music fireworks will light up the night sky and sea. Especially the number of shots of fireworks will be over doubles than that of ordinary years. The scenery of fireworks launched from the place close to your seat would be beyond a doubt the best part. It seems that they are planning to revive the Niagara fireworks for the first time in 13 years! Can't miss it.
There crowded by a lot of people who live not only in this island but also other cities. You can also enjoy local food in row of stalls.
Since this festival's location is surrounded by the hills, you can listen the sound of fireworks reverberate through the place. You could enjoy the beautiful sound and light of fireworks.
Schedule
Oct, 22nd in 2017 20:00 pm ~ 21:30 pm
※Rainy weather : No postponement for a light rain or decided after discussing in the event of  stormy weather.
Access & Address
About 1 hour and 40 min by car from Amami airport.
About 5 min walk from Yuwan bus station.
Yuwan, Ukenson, Kagoshima
Latitude: 28.279431 degrees, Longitude: 129.295873
Price & Reservation
Free
No Paying Seat
Official website
http://uken.kashoren.or.jp/hsrc/maturi.htm
Yoron Jugoyaodori
Source:https://www.pref.kagoshima.jp/ab10/kyoiku-bunka/bunka/museum/shichoson/yoron/jyugoya.html
Yoron Jugoyaodori will be held to pray for good health in Kotohira shrine and Jinushi shrine. It is the entertainment dedicated to the god in March, August, and October by the old calendar.
This entertainment was made by lord of Yoron In 1561. He had made people learn about the entertainment of Shimauchi・Ryukyu・Yamato and get these together as one. It is origin of this entertainment. So it seems to have some local characteristics and history of cultural exchange. It is very strange and unusual
The dancers are divide into 2 groups, and dance one by one to the god. The origin of the first dancing came from this island, looks like the skit. They use verbal lines from old dialect during dancing with big mask made from papers and bamboos.
The second one came from Ryukyu. They dance in the group with waving their hands and fans. They are wearing the hood named Shupa and sing a song for the love and nature. It is elegance and beautiful.
Schedule
Apr, 11th / Oct, 4th / Dec, 2nd in 2017  The Ritual 15:00 pm ~ , Dance to the God 16:00 ~
Access & Address
About 15 min by car from Yoron airport.
3308, Ojiriccho, Yoron-cho, Oshima-gun, Kagoshima
Latitude: 27.03012 degrees, Longitude: 128.430525
Price & Reservation
Free
No Need to Reserve.
The Event For Traditional Culture And History.
Nagasaki Chinese Town Chushusetsu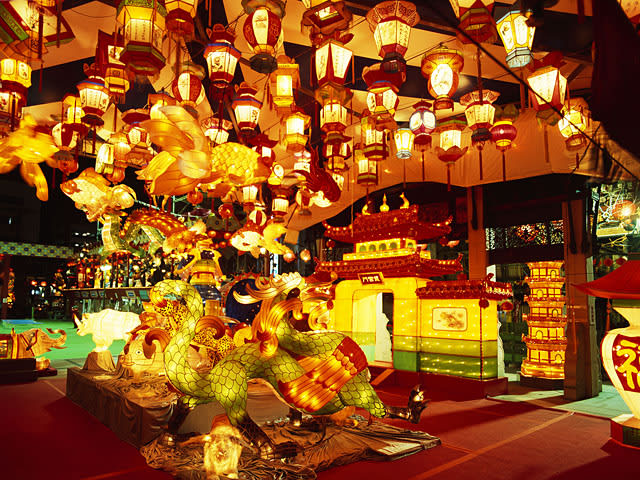 Source:http://www.nagasaki-chinatown.com/
Chushusetsu is one of the 3 big Boy's festival in China (other 2 are Shuns and Tangosetsu), also familiar as Otsukimi in Japan. People Pray for harvest in this festival, and has been taking root among people lives there and visitor as well. This festival is Nagasaki original but includes Chinese culture atmosphere. It is going to be the 13 times in 2017.
The location where this festival will be held is Chinese town in new Nagasaki area. In the town lighten up with yellow paper lantern regarded as the moon, you can get special service by each shop. You can also enjoy foreign atmosphere by Chinese lion dance and dragon dance in Kanade Park.
The best part of this festival is a thousand of full moon lantern lighted up all around this Chinese town. Besides, you can enjoy the special service「Original Otsukimi」and stamp Rally only in Chushusetsu. You can get Tsukimoti as a gift when you complete the stamp.
Schedule
Sep, 30th ~ Oct, 4th in 2017  17:00 pm ~21:00 pm
Access & Address
Just nearby Tsukimachidentei station from Nagasaki station bound for Shokakuji station
Shinchi-cho, Nagasaki-shi, Nagasaki
Latitude: 32.741559 degrees, Longitude: 129.875276
Price & Reservation
Free
No Need To Reserve
Official Website
http://www.nagasaki-chinatown.com/
The Event for Traditional Culture and History
The 1300 Years Celebration for Founder of Rokugomanzan.
The Special Viewing of the Cultural Properties.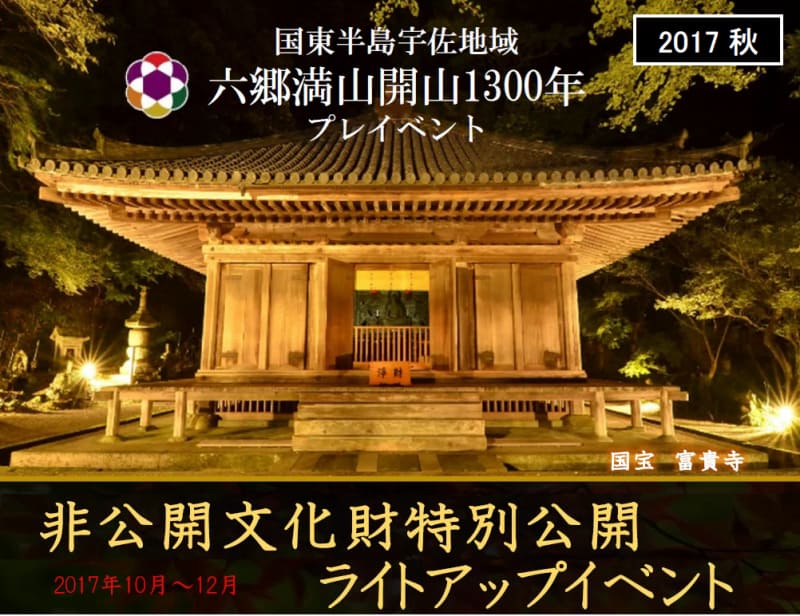 Source:https://www.showanomachi.com/events/detail/153
Rokugoumanzan Culture, it is uniquely developed including Buddha and Christ culture in Kunisaki city. Rokugoumanzan is the name of temple in Kunisaki Peninsula's level 6 degree. Almost of these temples have history that these had been opened by Ninmon-bosatsu who is said to be an avatar of the Usa-hachiman god.
The special event will be held at a temple of each Kunisaki Peninsula in 2018 as a celebration for the 1300 years founder of Rokugomanzan.
In the autumn of 2017, the cultural properties that ordinarily kept hidden from view will be all and specially opened among the 8 temples in additional to Usajingu,
Besides, light up and special event will be also held in the 8 temples at the same time. You could enjoy the different atmosphere from daytime of the temple that has believed in since long time ago.
There remains beautiful stone statues adopted in the scenery around them in hills and valleys, various place in Kunisaki city. It is said that as many as 80 % of Ninnou stone statues stay in Kunisaki city. A pair of Ninnou stone statue plays the role of protecting the Buddhism. Some of them shape muscular with the beauty of form, or some has a humorous atmosphere.
Why don't you focus on the statues when you walk around?
Schedule
On Saturday, Sunday, National Holiday in Oct, 7th ~ Dec 10th 2017 (Depends on the temple) 9:00 am ~ 16:00 pm
※Close in the event of stormy weather and Buddhist service
Access & Address
About 9 min by Oita-kotsu bus Bound for Nakatsu station or Yokkaichi station from Nakatsu station on Nippohon line Usa station, then about 10 min walk from Usahachiman station,
2859, Minami-usa, Usa-shi, Oita
Latitude: 33.526026 degrees, Longitude: 131.374713
Price & Reservation
Entrance Fee / 500 yen (Depends on the temple)
Official Website
http://www.millennium-roman.jp/rokugou1300/
The Enjoyable Event with Nature.
Kujukushima Pearl Queen「Sunset Cruise」
Source:https://cp.jorudan.co.jp/coupon/spot/TRV00348/
The gracious cruise, Pearl Queen is made resembling Queen of sea that has a beautiful white body. Huge rooms and barrier-free structure inside of the ship. There are woody taste decorations as well.
The cruising departs and arrives on Kujukushima Pearl Sea Resort. You can feel the beauty of South Kujukusima islands closely.
During summer to autumn season, you can enjoy sunset cruise departs on the sunset time with an hour trip. Hope you enjoy the romantic time on the cruise with beautiful sea and scenery dyed in a sunset color.
By the way, the arrival and departure point, Kujukusima Pearl Resort is the resort facilities where you can have experience of Seikai national park Kujukushima, the Kayak activity, the landing on desert island activity, addition to cruise.  The Aquarium「Umikirara」show you the various sea creatures.  It has one of the largest whale exhibition, acrobatic dolphin show, and full of interesting parts. This place has also restaurants and shops. Let's enjoy elegant cruising and resort atmosphere..
Schedule
Mainly in weekends of Aug, 5th 〜 Oct, 29th
※Inquiry required about the departure time.
Access & Address
About 25 min by city bus 「Pearl Resort・bound for Kujukushima Aquarium」from Sasebo station on Sasebo line. Just nearby the destination.
1008, Kakomae-cho, Sasebo-shi, Nagasaki
Latitude: 33.161331 degrees, Longitude: 129.67905
Price & Reservation
Basic price : Adults (high school students or older) 1,400 yen / Children (from 4 year old〜 junior high school students)
※Free under 3 year old.
Official Website
http://www.pearlsea.jp/cruising/
Cup Beach Volleyball Tournament in Gunkanjima in 2017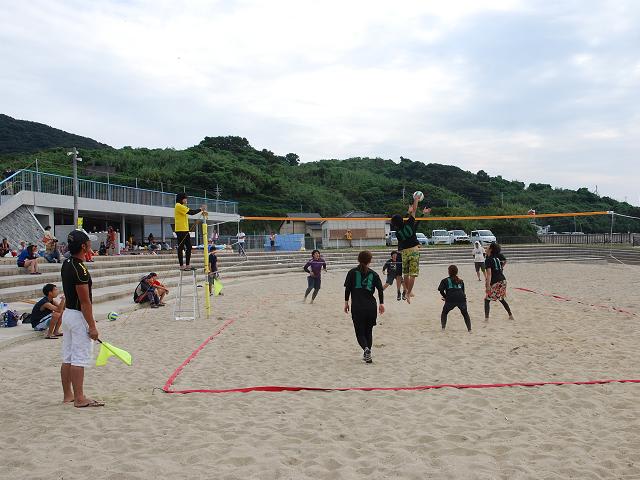 Source:http://minamisci-imp.jugem.jp/
The beach volleyball tournament is held in Takahama beach where The World Cultural Heritage Gunkanjima can be seen from there. Although you need a reservation in advance, anybody can join the tournament If you love the sea and beach volleyball. In the tournament, about the 40 teams make hard fights over the top.
Gunkanjima's real name is 「Hashima」. It is the desert island located 19 km away from Miyazaki port in a southwestward direction. It had thrived as the base of the seabed coalmine. It has become famous with the name「Gunkanjima」, means warship island in English,  since the island has lot of concrete building and looks warship.
When the period that Gunkanjima has the largest population in its history, it was almost equal to 9 times as many as that of Tokyo city.
There used to be schools, hospitals, Pachinko parlors as well.
Currently Gunkanjima allows the visitor only in some part of island.
In addition to beach volleyball, why don't you enjoy strolling Gunkanjima?
Schedule
Oct, 29th in 2017   The Tournament / 9:30 am ~14:30 pm
※No postponement for rain. (There are cases in cancellations due to the typhoon)
Access & Address
Just nearby Takahama Kaisuiyokujo bus station (About an hour way from JR Nagasaki station)
Takahama Kaisuiyokujo Takahama-cho, Nagasaki-shi, Nagasaki.
Latitude: 32.604738 degrees, Longitude: 129.786249
Price & Reservation
Participation Fee / 8,000 yen (Maximum 6 persons that include 2 ladies for a team).
Advance reservation is required.
※Appreciation Limit / ~Sep, 30th (It will be closed when it comes to capacity)
Official Website
Sports Event
30th AnniversaryIzumi Tsuru Marathon
Source:http://outinlook.com/2016/05/17/post-4645/
The Tsuru Marathon is held in Izumi city at athletics stadium provides the starting and finish lines. There are courses as 3 km (for 4th-year elementary school student and older), 10 km (for the high school students and older),  the full marathon (for older than high school students).
The runner starts and arrives at Izumi city athletics stadium, runs through Hukoumeibi and Izumiheiya during the race.
Before the opening ceremony, the Japanese Drum players perform the powerful show to encourage the runners. The runners can also get the icing care and massage provided by 20 body-care staffs after the run, in addition to Udon and Onigiri food, a free ticket for Onsen in various cities. It is the perfect service.
But please make a note that the there is a limit of appreciation. When you failed, it would be also good to be a supporter.
Izumi city, the location of the marathon, is historic town where the world's best amount of cranes come from overseas. The crane come to Izumi's paddy field to passes the winter. You could see them with luck in the season.
Besides, there are various tourist spots like old-good scenic place Izumihumoto-bukeyashikigun, one of the 3 biggest Satsuma barrier, Nomanosekisho-ato and so on.
You could spend good time with sightseeing around the place.
Schedule
Oct, 22nd in 2017   Start 9:00 am
Access & Address
About 15 min by walk from Izumi railway station on Kyushu-Shinkansen・Hisatsu-Orange railway.
Sogo Undo Kouen Rikujo Kyougijo 24, Bunka-cho, Izumi-shi, Kagoshima
Latitude : 32.089108 degrees, Longitude: 130.344553
Price & Reservation
Participation Fee / Full Marathon : 4,500 yen, 10km・3 km : 4,00 yen,
Junior and senior high school students: 2,500 yen, Elementary school students: 2,000 yen.
※Appreciation Limit / Jun, 27th ~ Sep, 30th
Official Website