Chinatown, one of the most popular sightseeing spots in Yokohama. Yokohama Chinatown belongs to the largest three Chinatowns in Japan. This town was constructed in the middle of 19th century. Now this Chinatown offers many Chinese restaurants. In 2004, when "Minato Mirai Line" opened, Motomachi-Chukagai Station" is also open. This station is closer to Chinatown, more tourists come to China town. We'll show you Chinese restaurant Shimonsyuro in China town.
If you want to learn more about Yokohama Chinatown other restaurants, check >>Yokohama recommended Chinese restaurant best 10!
Shimonsyuro
About Shimonsyuro
source:tabelog
5 -minute walk from Motomachi-Chukagai Station. The name of the Chinese restaurant "Shimonsyuro" comes from lion which is seen as a gatekeeper of "kanteibyo". It opened in 1983 and loved by local people. Main menu is Cantonese food, sea food, and original menu with seasonal ingredients. Interior of this restaurant is simple and elegant. Sitting around table at 1st floor, there are 7 rooms for maximum 135 person at 2nd floor. You can enjoy meal at this restaurant for special occasion or daily use.
Hong Kong style grilled abalone wrap pie dough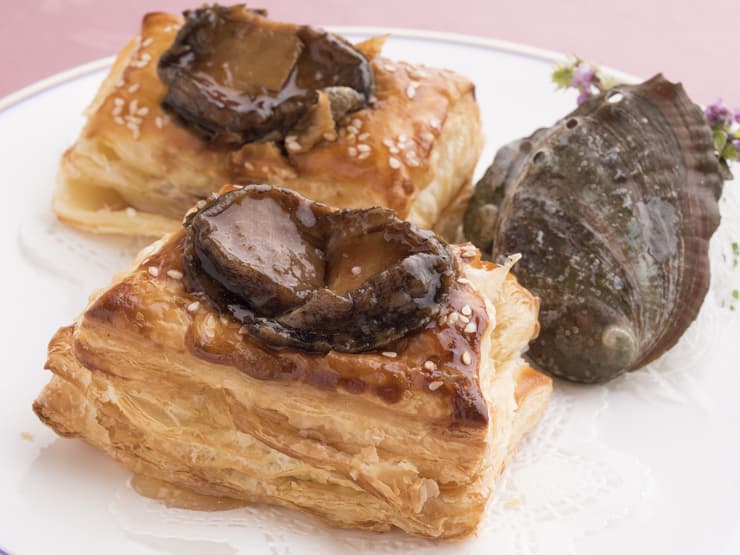 source: hitosara
Many original menus you can find at Shimonsyuro. Especially Chinese nouvelle cuisine, "Hong Kong style grilled abalone wrap pie dough". Rich butter flavor of the pie dough! Nice collaboration with Chinese and western cuisine. Combination of abalone and pie is excellent! In 2009, this menu won the price " Bishokusetsu-award". Let's try this and taste nice harmony of Chinese and western cuisine.
Ike (alive) yopparai ebi no yubiki ( 'Drunkard prawn' parboiled)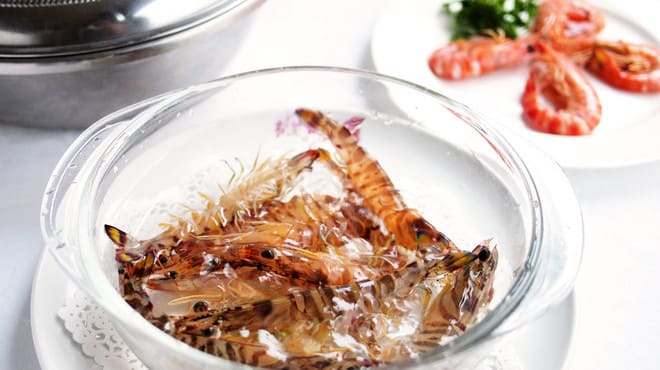 source: tabelog
"Ike yopparai ebi no yubiki" –combination of saimaki prawn and shaoxing wine (Chinese wine) is one of the popular menu of Shimonsyuro. Because of elegant appearance and sweet taste, Kuruma prawn is said that the top-class see food. Only differences between Saimaki prawn and kuruma prawn is different by size. More than 15cm of size called Kuruma prawn and smaller than 10cm size called Saimaki prawn. Because of cooking with shaoxing wine, prawn taste sweeter and more delicious. Let's enjoy the taste of sweetness & freshness of prawn, "Ike yopparai ebi no yubiki"!
Access
Address: 145 Yamashitacho ,Yokohama Naka-ku, Kanagawa
Opening Hours:11:30 – 22:00 (L.O.21:30) ※Irregular closing day once a month
Closing days:One irregular day a month
Access:" Motomachi-Chūkagai Station" Exit Nr.2 Chūkagai-odori turn to direction to
"Kaiteibyo" about 5-minut walk.
What is China Town?
### Access to China Town
From Tokyo Station (about 51 minutes)
Keihin-Tōhoku Line " Ishikawachō Station" 8 – minute walk
From Shibuya Station( about 45 minutes)
Tokyu Toyoko Line" Motomachi-Chūkagai Station" nearby
From Haneda Airport (about 31 minutes)
Limousine bus Haneda Airport Line " Yokohama ningyo no
Ie (Doll Museum )mae " about 8-minute walk
Recommend in Yokohama!
Romantic Kimono Photoshoot – Yokohama Tour
Let's join a special walking tour wearing Kimono and enjoying a photo shoot. Choose your Kimono yourself and the photoshoot at a historic building, beautiful Japanese garden and modern high-buildings, colorful China Town, as a background. The well informed guide will guide you. It must be fun!