Among the islands that compose Japanese archipelago, Shikoku Island is the smallest one. Shikoku Island has 4 prefectures, and each has attractive charm like art, Udon food, Onsen, Japanese good old days landscapes. As you actually go there, you could feel it would be much fun to travel since it is the island. Shikoku Island is the place where you could experience beautiful landscapes and country dishes. We recommend you to visit there when it's getting a little bit cooler. We made a list of event that we'd like to recommend to you in Shikoku Island below. You could find something new when you try there.
The event you could experience and know about traditional culture and history.
1. Osu-no-Ukai in Sep.1st ~ 20th.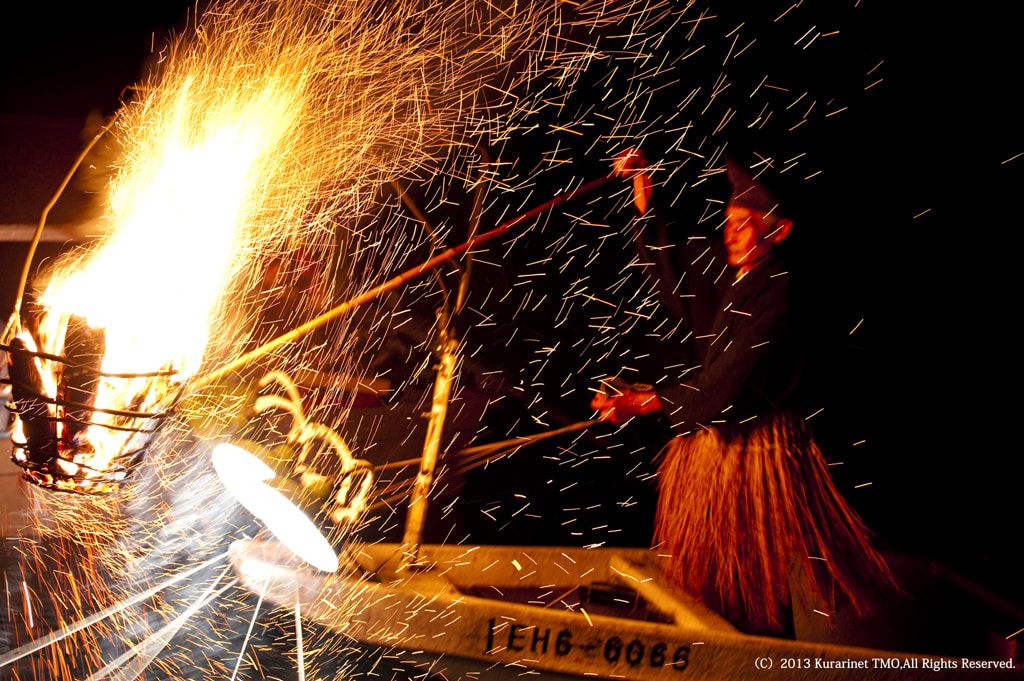 Source:大洲市
Ukai means Japanese traditional fishing method for sweet-fish using U (means a Cormorant). It's used to be held in Japan and China. Currently it tends to be held as the show event.
Ukai is old fishing method described in Japanese records of ancient matters like Kojiki and Nihonshoki. Ukai had helped people being able to catch the fishes with good condition because the cormorant stuns the fish in their esophagus quickly. The cormorant had been taken carefully as the gift for the Empire, the aristocracy, the feudal lord long time ago.
The Kojiki says Osu Domain had also used fishing method with cormorant in the Edo period. After Meiji period, modernization of fishing method had been proceeded but fallen into decay during some period. At the Showa period, fishing method had revived as tourism business. The amount of visitor to see the fishing method has been getting increased year by year. Currently it has become one of the summer features in Suigo-Osu city.
Osu-no-Ukai counts one of the three biggest Ukai, set beside Nagara River in Gifu and Misumi River in Oita. The Ukai held in Hiji River is so unique. People can watch the cormorant catching the sweet-fish from the houseboat surrounding the cormorant boat with bonfire.
Enjoying about 2 hours way, it is 2,7km of going down the gentle stream Hiji River on the houseboat, we are able to have Osu's local specialty and Sake. Besides, we can also enjoy the boat chief's demonstration of handing knife, the guide announce with interesting trivia, the demonstration of Ukai, there are full of what is Osu-Ukai's attractive charms.
Schedule
Jun, 1st .2014 ~ Sep, 9th .2014 6:30 pm ~ 8:30 pm
Access & Address
About 15 min by car from the Iyo-Osu station. Osu-no-Ukai Hijikawa, Osu-shi, Ehime
Price & Reservation
Passenger Boat / Normal Plan / Adult: 6,000 yen ~ Child: 4,500 yen ~
Other Plan.
Reservation Required.
Official Site
http://www.kurarinet.jp/ozu-ukai/
2. Kuribayashi – Kouen – Tsukigama -Sep, 10th (Second Saturday)

Source:観るなび
Kuribayashi Park is one of the most huge cultural property park designated as Special Place of Scenic Beauty. This park was made as the villa of the lord Takamatsu domain about 300 years ago, had been going through a lot of renovation by successive generation's domains.
It is called circuit style garden at the beginning of Edo period and has the 6 ponds and 13 artificial hills that are located artfully against the dark green Shiun Mountain.
Especially the south park, Hiraihou, is the best place where you can see the whole view of tea room called Kikugetsutei and an arched bridge called Engetsukyou. Besides, you can enjoy wonderful dishes at Hanazonotei, Kikugetsutei, Higuretei in this park.
There held a regular tea party at the tea room named Kikugetsutei in this garden.
Kikugetsutei is a historic tea room that the successive generation's domains loved it with calling it The Large Tea Room. You can enjoy having tea with the beauty of Japanese garden vary from season to season.
There are some types of tea party. It would be changed in every single time.
Although there are some roles to attend this party, you do not need to care too much and take part in freely. It would be the great pleasure for trip to experience and know the Japanese culture would. Having a tea while appreciating beautiful Japanese garden and seasonal flowers are also class time. It would be the wonderful memory of Japanese trip. Hope you to try that.
Schedule
Jun, 1st .2014 ~ Sep, 9th .2014 6:30 pm ~ 8:30 pm
Access & Address
About 3 min on foot from「Kuribayashi-Kouen-Kitaguchi」station on JR Kotoku line.
Just nearby「Kuribayashi-Koen-Mae」bus station using Kotoden bus from JR 「Takamatsu」 train station.
About 10 min on foot from Kotoden「Kuribayashi-Kouen」station.
「Kikuzukitei」Kuribayashi Kouen Tokubetu Meikatu 1-20-16 Kuribayashi-cho, Takamatsu-shi, Kagawa
Price & Reservation
Charge 700 yen
※Advance Ticket + Extra Entrance Fee
No Need to Reservation
Official Site
http://www.my-kagawa.jp/ritsuringarden
3. The Spark Joy ★ Awa Trip ~The Exhibition Of Awa Culture Experience~ -Sep, 9th ~ 30th

Source:徳島県観光情報サイト
「The Spark Joy ★ Awa Trip ~The Exhibition Of Awa Culture Experience~」 is held on various places in Tokushima to make Awa culture popular as destination campaign.
In this event, you can experience the「Awa-ai」on the handkerchief and scarf. In the end of the Edo period, Sukumo (the dye made of fermented indigo leaves, it is beautiful blue color) was already popular among all markets in Japan, Awa-ai use this Sukumo to dye. Awa-ai is getting a lot of attention recently because this blue color was nominated for "JAPAN BLUE".
You can also experience the Otaniyaki with Otaniyaki-Kamamoto Mori-touki. It is said that the origin of Otani-yaki was the pottery made by a potter of Bungo Province when he visited there as the pilgrim's journey in the end of Edo period.
Besides that, it also includes the 「Awa-Odori」one of the top 3 Japanese Bon-Odori, 「Awa-Ningyou-Joruri」the puppet show by Gidayubushi with 3 puppets, Narumon where the Beethoven has made a show for「Symphony No 9」 at his first time in Asia, traditional crafts Yuzanbako, popular anime event 「Machi★Asobi」. Thus, you could see and feel the Awa culture that Tokushima can be proud of.
You could feel Tokushima more closely by having the experience and knowing Awa culture than before.
Schedule
Apr, 1st ~ Sep, 30th in 2017
The term and time will be changed according to the place and event.
Access & Address
Each place from JR Tokushima station.
Tokushima-shi, Tokushima
Price & Reservation
The price will be changed according to the kinds of event.
Some events need the reservation.
Official Site
http://www.awanavi.jp/awabunka.html
The event enjoying the nature.
4. The Soft Rafting Tour in Niyodo River – In Sep, 1st – 30th

Source:よさこいネット
The Niyodo River running through the Ochi-cho has the clean stream from the source of Shikoku's highest mountain, Ishizuchi Mountain. The cleanness of the water is said as the TOP in Japan. In every season, a lot of people who love outdoor activity visit and enjoy Niyodo River with fishing and some activity. The gentle stream gives nothing trouble for beginner to enjoy. Since its located upper side of the river, you can see beautiful and magnificent natural scenery. There is no artificial building, it is Ochi-Cho's original natural place that has good old time scenery.
Ochi-cho's course of rafting tour is located in Kamaida district that has the most beautiful scenery in upper side of Niyodo River. This place has full of nature and is often used for some movies and TV dramas.
On the tour, you can experience the rafting along the Niyodo River up to about 3.5 km way down on the eight-seater gum boat. You can also enjoy some game activity while streaming on the boat and the activity diving from the rock as well. These would be quite exciting. Although this rafting is so easy that even a small child could attend, but sometime you can also have a thrilling experience at the rapid stream zone.
It is popular tour includes a lot of fun activity you can enjoy in a grope and with your family.
You would have a precious time that can be experienced only here with clean river and beautiful nature!
Schedule
Late Apr~Fist Oct, in 2017
Open All Year Round
※Cancellation in the event of stormy weather and high river level
Morning  9:00 am ~
Afternoon 13:30 pm ~
About 3 hours
Access & Address
About 25 min by car from Nishisagawa station on JR Dosa line
Meeting Place: Meiji high school, 8720-1, Kamaidahonson, Ochi-cho, Takaoka-gun, Kouchi
Price & Reservation
Adult 5,000 yen / Under Elementary School Kids (over 3 year old) 4, 000 yen.
※Reservation required before 2 days. (More than 4 persons)
Raft wear is included as a full-set.
Cancellation Fee
※On the day or a day before cancellation needs 100% of the total fee. (Please give us a call by 16:00 pm on a day before that)
※2 days before cancellation needs 50% of the total fee.(Please give us a call by 16:00 on  2 days before that)
※From 1 week to 3 days before cancellation needs 30 of the total fee.(Please give us a call by 16:00 on 7 days before that)
Official Site
http://www.ochi-kankou.jp/river/#raft
5. Hijikawa Pleasure in Sep,1st – 20th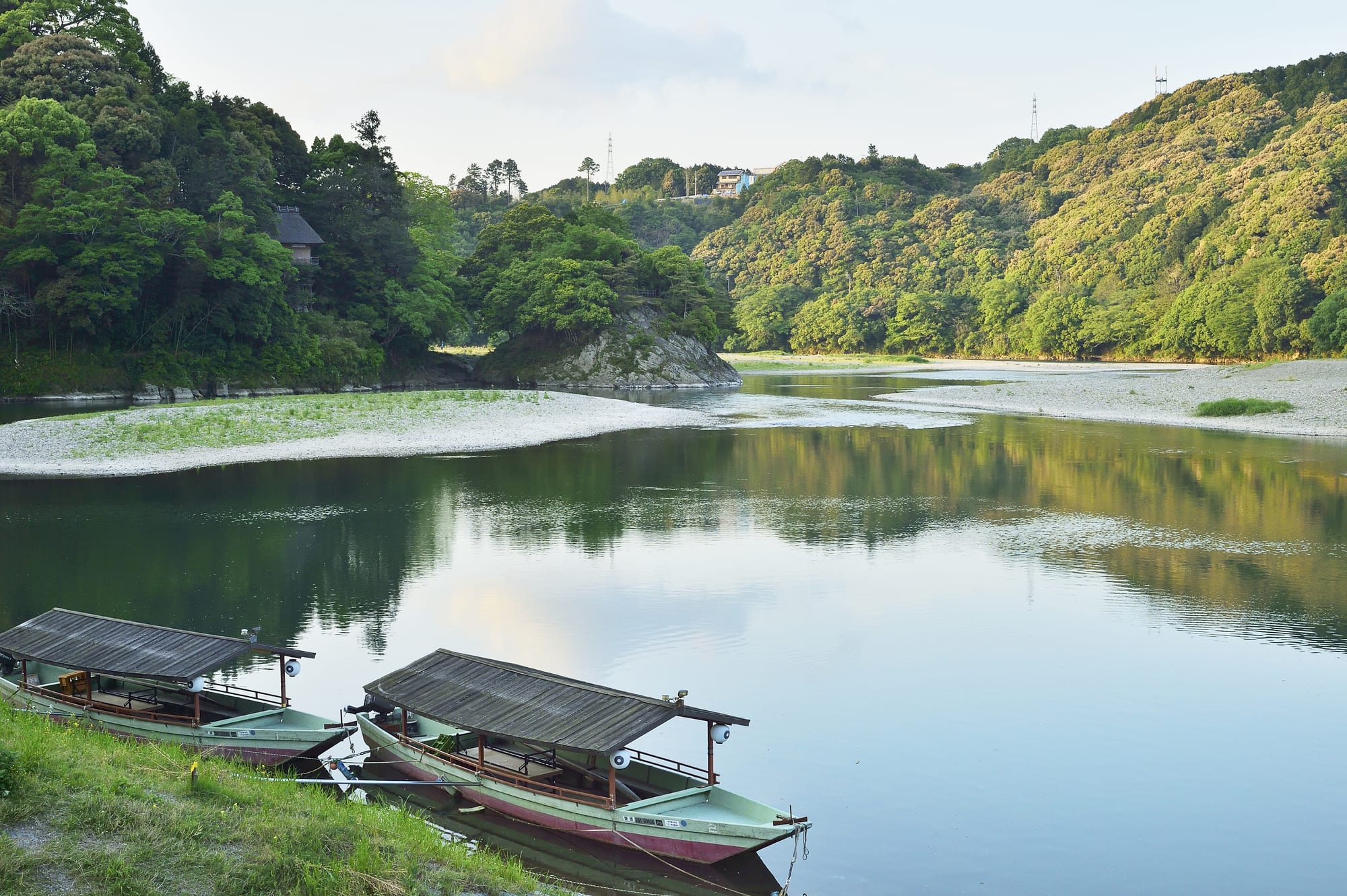 Osu-city is located in Nanyo districts of Ehime, and the Hiji River running through this area grandly flowing into Iyonada. There is the gentle hill in the middle of the river.
Osu area the Hiji river is running is old castle town that had been developed around Osu castle. Osu area still have a remnant of old town and the Meiji period days, often said as「Small Kyoto in Iyo」because of this retainment of romantic atmosphere.
The houseboat is the best for a stroll of Meiji city. You could enjoy gentle stream of Hiji river with 「Hijikawa Pleasure」
The 「Hijikawa Pleasure」60 min way of river trip start from Garyu-Sanso-moto up to the foot of Osu castle. You can enjoy the river scenery and breeze while having the Guide announce and light meal. Of course, you can stroll the town and enter the Garyu-Sanso as well.
Garyu-Sanso, located in the scenic spot of Hiji river「Garyu-no-Fuchi」, is made by the trading merchant named Torajiro Kochi. He built Garyu-Sanso as a villa, asking great craftsmen from Kyoto and Kobe spending 4 years of constructing with 10 years of planning before that. There is a grear garden and tea room against the Hiji river and Fuji mountain. It is like a consolidation of the beauty of Japanese traditional archtecture.
Currently, Garyu-Sanso has been granted as the rank of single star of Michelin Green Guide Japan. Why do you have a good experience of the boat trip in this magnificent stream river and historic town that has nostalgic atmosphere.
Schedule
Jun, 1st ~Sep, 20th in 2017  10:30 am ~
Open all time during the days above (Cancellation in the event of stormy weather and high river level)
Access & Address
About 10 min by car from「Iyo-Osu」station on JR Yosan line.
Meeting Place: Asamoya, Osumati-no-eki, 641-1, Osu. Osu-shi, Ehime
Price & Reservation
60 min 4000 yen
Extra fee for entrance to Garyu-Sanso
※Reservation only
Official Site
http://www.kurarinet.jp/asamoya/
The Fun Event can be attended with child.
6. Seto-Ohashi Anpan-man Torocco. -Sep, 2nd~3rd, 9th~10th, 16th~18th, 23th~24th, 30th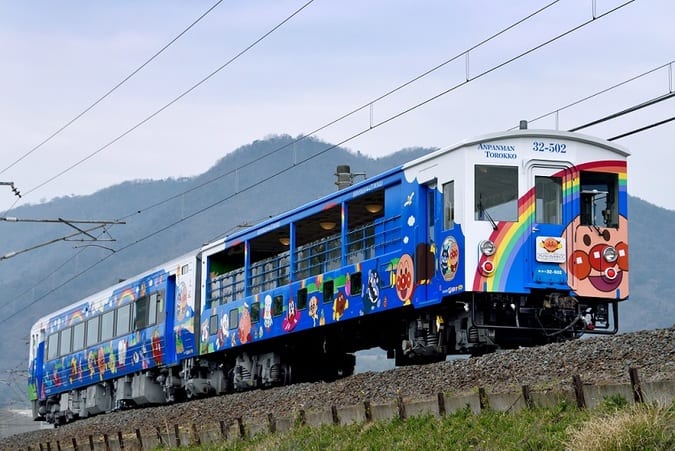 Source:いこーよ
You can enjoy the huge panoramic view of Seto-Ohashi acrossing JR Kotohira station and JR Okayama station on the Anpan-man Torocco. JR Shikoku has been managed 21 Anpan-man train. The Anpan-man Torocco, one of these Anpan-man trains, has paint arts of scenery of Setonaikai and his friends on his body, runs mainly in the holiday during summer vacation season.
Crossing the Seto-Ohashi, this torocco can connect Takamatsu station in Kagawa with Kotohira station in Okayama. He goes through the sightseeing spots like Umi-Hotaru, Marukame castle, Kenritsu-Touryo-Koen, Kotohiragu. It is good for you to be able to sightseeing on this torocco.
The inside of the train reminds us of the Forest. There are benches and ornaments made from wood that make us feel the warm of wood. Besides, there also many tricks that make us much fun, such as the spot of taking picture, see-through window on the floor that help us to watch the train-rail and sea.
You can buy the Anpan-man box lunch and Anpan-man bread set (need reservation in advance) at the shop inside of the train, it would makes kids so exciting.
Hope you to try this torocco for your trip with your children.
Schedule
May,1st ~ Sep,30th in 2017
Operate date in Sep : 2nd~3rd, 9th~10th, 16th~18th, 23th~24th, 30th
[An Up Train]
Departure from JR Takamatsu station at 9:10 am (The torocco is available between Sakaide and Kojima), Departure from JR Kotohira station at 13:16 pm (The torroco is available between Kotohira and Kojima)
[A Down Train]
Departure from JR Okayama station at 11:18 am (The torocco is available between Kojima and Kotohira), Departure from JR Okayama station at 15:21 pm (The torocco is available between Kojima and Sakaide)
※4 times of round trip per a day between JR Takamatsu station and JR Okayama station, JR Kotohira station and JR Okayama station.
※Operation could not work in the event of stormy weather.
Access & Address
Just nearby JR Takamatsu station.
Anpan-man Torocco Seto-Ohashi Hamano-cho, Takamatsu-shi, Kagawa
Price & Reservation
Price [Adult] 2,490 yen [Child] 1,730 yen
The case of getting on the train from Takamatsu to Okayama station. (one way)
※All Car, All Section, Green Reserved Seat.
Official Site