Kimono, one of traditional Japanese cultures, appeared in Japanese history long time ago. Nowadays Japanese people wear Kimono at formal occasion or festival. Also many people put them on as daily fashionable clothes. Recently more and more people enjoy going to "Chaya", which means a tea stall, with kimono on. "Chaya" is a Japanese style cafe where you can get Japanese sweets and lunch. Many foreign tourists visit this "Chaya". Inside of the café, you would feel as if you were in movie. How about visiting this place while your stay in Japan?
You can see more information about restaurants besides old Japanese-style house café at "Enjoy Japanese food with Kimono on   Traditional Japanese culture "Kimono""
Recommended "Chaya" to go with Kimono on!
<Tokyo Hamarikyu-oncho-teien>** Nakajima-no-ochaya**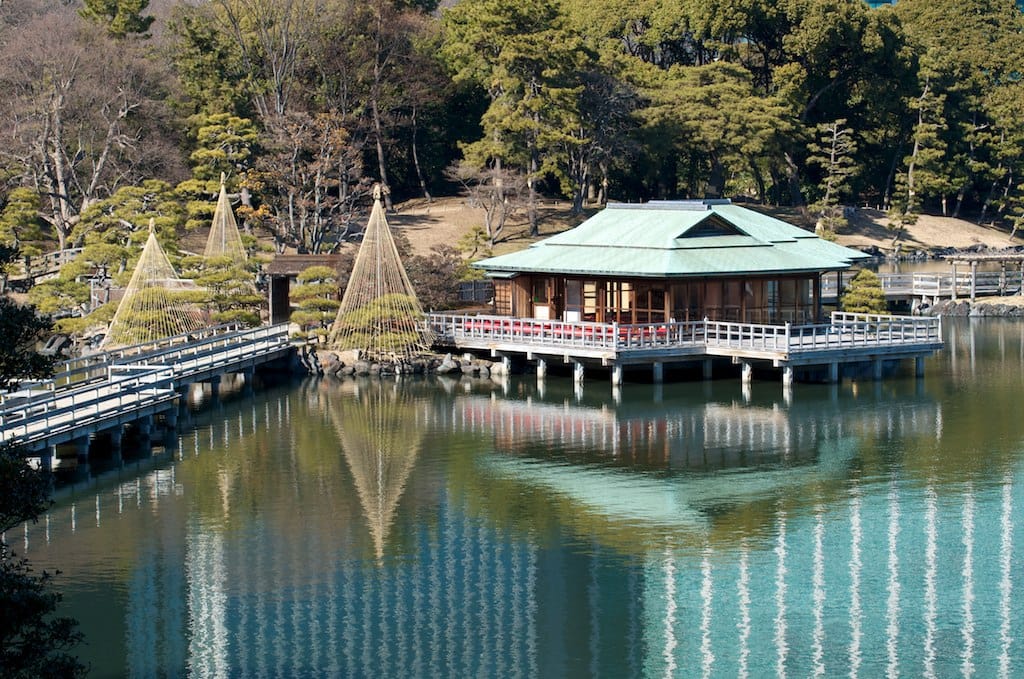 Source: Flickr
Hamarikyu-oncho-teien is a beautiful garden surrounded with many urban buildings along with Tokyo bay. A mansion located inside the garden is "Nakajima-no-ochaya". Red carpets cover large tatami room and balcony and visitors enjoy powdered green tea and simple but beautiful Japanese style sweets looking around beautiful landscape of the garden. How about taking a rest at this Chaya and walk around this historical garden with Kimono on?
About Nakajima-no-ochaya
Address: Hamarikyu-oncho-teien, 1-1, Hamarikyu-teien, Chuo-Ku, Tokyo-to
Open: 9:00 am 〜 4:30 pm
Close: Year-end and New Year holidays
Access:
(Ootemon-guchi)
7-minites walk from Chikatetsu-Oedo Line "Tsukijishijou"(E18), "Shiodome"(E19), Yurikamome "Shiodome" Station
15 minutes walk from JR/Chikatetsu Ginza Line/ Chikatetsu Asakusa Line "Shimbashi"(G08/A10)
(Nakanogomon-guchi)
5-minutes walk from Chikatetsu Oedo Line "Shiodome" Station 10th exit
15-minutes walk from JR "Hamamatsu-cho" Station
Water Bus (for Hinodesambashi/Odaiba)
Get off at Tokyo-mizube Line (for Ryogoku/Odaiba) "Hamarikyu-hachakujou"
** Starbucks Coffee Kyoto Ninenzaka Yasaka Chaya **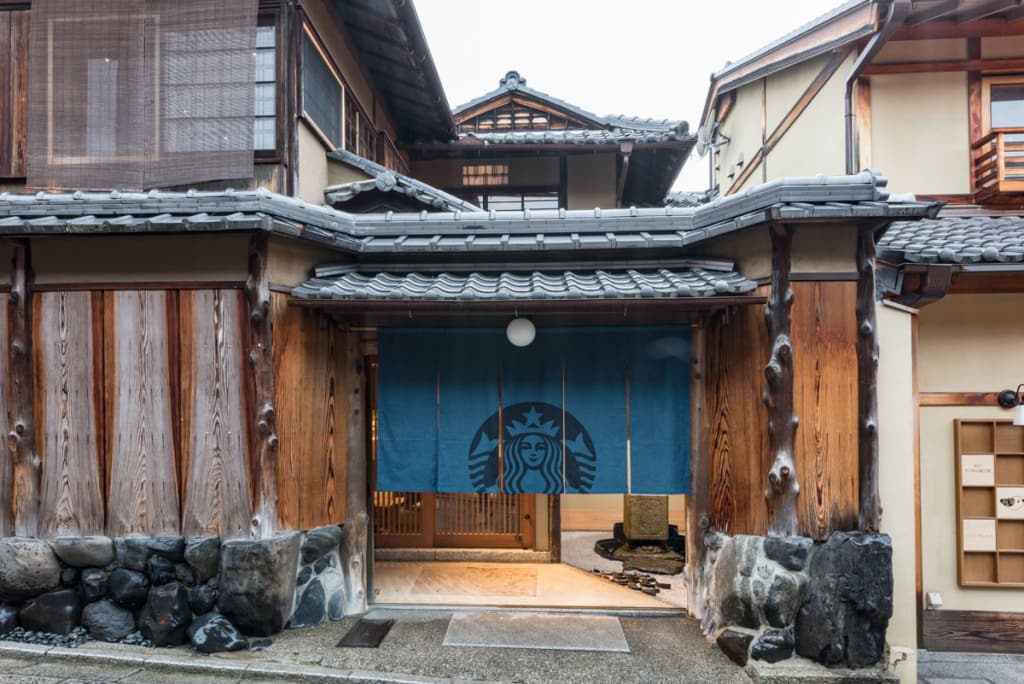 Source: 一念坂・二年坂店舗紹介
There are many Starbucks shops around the world. Although it's famous for the sophisticated interior, the inside of the Starbucks in Kyoto is a bit different from others. This Starbucks took advantage of over-100years old traditional building and made it a Japanese and Kyoto style cafe. That is why this Starbucks is good place to visit with Kimono on. There is old wood and tatami with coffee mixed smell that make you feel relaxed. Usual latte will became a special latte there!
About Starbucks Coffee Kyoto Ninenzaka Yasaka Chaya
Address: 349, Kodaiji-minamimondori-shimogawara-Higashiirumasuyacho, Higashiyama-Ku, Kyoto-shi, Kyoto-fu
Open: 9:00 am 〜 8:00 pm
Close: They close irregularly
Access: 18-minutes walk from Keihin Honsen "Gionsaijo Station"
City Bus: 10-minutes walk from "Higashiyama-yasui bus stop"
** **
Shima

Source: flickr
Traditional building Chaya "Shima" was built in 1820. This stall stands middle of the tasteful town Kanazawa. The building has not rebuilt yet and it is one of Japanese important cultural properties. The Chaya is on the first floor where you can get powdered green tea and Japanese style sweets while viewing beautiful landscape of the seasons. They also provide a guide tour about their traditional industrial art objects and interior.
About "Shima"
Address: 1-13-21, Higashiyama, Kanazawa-shi, Ishikawa-ken
Open: 9:00 am 〜 6:00 pm
Close: They open all year round
Access: 10-minutes walk from "Hashiba-cho bus stop" after getting bus at Hokutetsu "Kanazawa Station"
** **
Kasano-ie

Source: flickr
A chaya "Kasano-ie" is located in the front approach to Dazaifu-tenmangu in Fukuoka. This stall has a long history since 1922. There are stained glasses and a coarse oil-paper umbrellas that give the stall a relaxing but elegant atmosphere. People enjoy their sweets and the interiors at the same time. Everyday people make a line in front of the stall for their specialty "Umegaemochi".
About Kasano-ie
Address: 2-7-24, Dazaifu, Dazai-shi, Fukuoka-ken
Open: 9:00 am 〜 6:00 pm
Close: They open all year round
Access: 4-minutes walk from "Dazaifu Station"
What is Kimono?
You can get more information about Kimono at "What is Kimono?  A Traditional Japanese Culture "Kimono""