Kimono, one of traditional Japanese cultures, appeared in Japanese history long time ago. Nowadays Japanese people wear Kimono at formal occasion or festival. Also many people put them on as daily fashionable clothes. Recently more and more people wear Kimono to enjoy having Washoku, which literally means "Japanese food". Foreign tourists also love the Washoku for the healthiness and beautiful appearance.  Let's drop in some Washoku restaurant while sightseeing!
You can see more information about restaurants besides Washoku at "Enjoy Japanese food with Kimono on Traditional Japanese culture "Kimono""
Good Washoku Lunch and Café to Go with Kimono On!
Kasoyo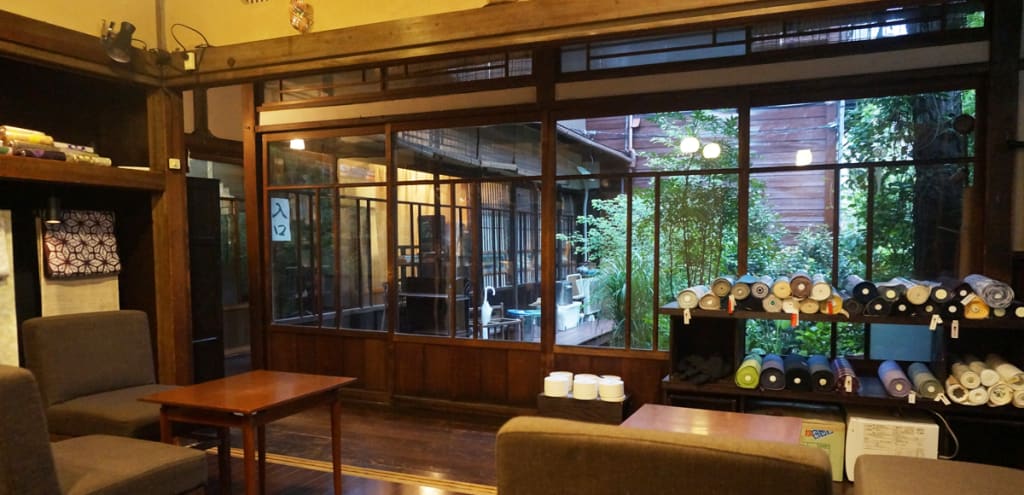 Source: Ikigoto living
A café Kasoyo is located in a comfortable town Mejiro in Tokyo. You can get Japanese drinks and so on inside the traditional building. This café used to be a Kimono shop. And so they have a school that teaches how to put on a kimono properly. You can of course buy Kimono if you want. The atmosphere inside is so relaxing where sofas are furnished and you don't have to sit erect with your legs folded under one.  How about visiting this spot with Kimono on?
About Tea Stall of Kasoyo
Address: 2-19-21, Shimoochiai, Shinjuku-ku, Tokyo-to
Open: 11:30 am 〜 6:30 pm
Close: Every Mondays, Tuesdays and national holidays
Access: 6-minutes walk from JR "Mejiro Station"
** **
Sanmi-kouan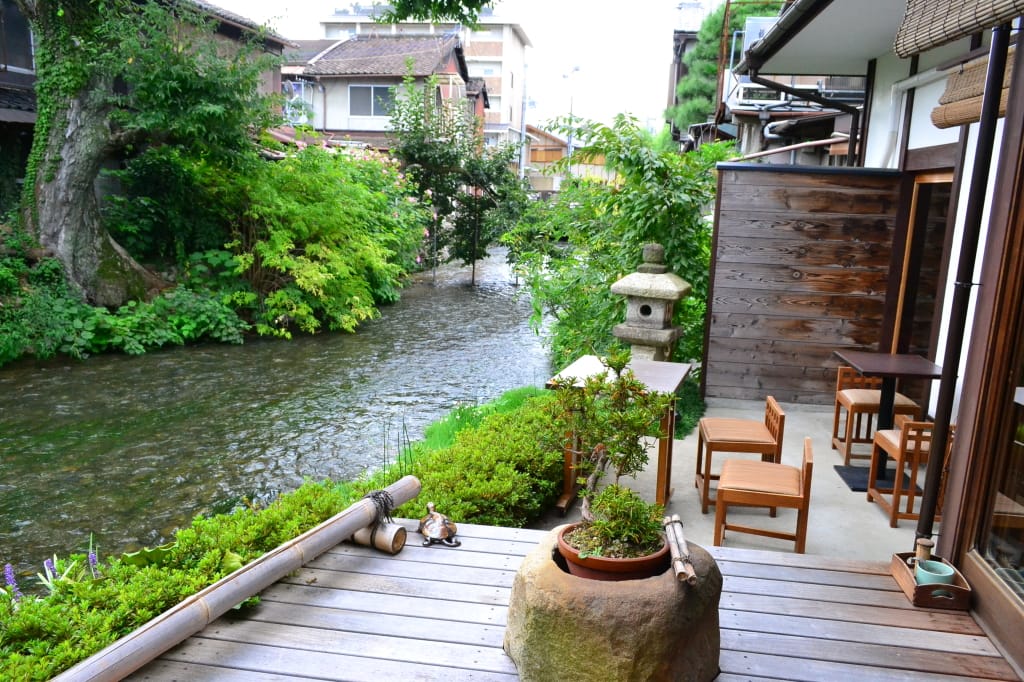 Source: 京小宿 古川みやび Kyoto Miyabi
A Kyoto style restaurant "Sanmi-kouan" is close to many famous touristic spots such as "Heian-Jingu". This restaurant opened 150 years ago. You can get traditional Kyoto seafood cuisines and popular casual dishes of selected ingredients. This restaurant with history and tradition serves you great lunch and Japanese sake of Kyoto. You would be satisfied with the relaxing atmosphere and their foods viewing beautiful river at the terrace seat.
About Sanmi-kouan
Address: 393, Sanjoudoori-Kitaurashirakawasuji-Nishiiruishiizumi-cho, Higashiyama-ku,Kyoto-shi
Open: (1st April 〜 9th December) 10:00 am 〜 6:00 pm
(10th December 〜 31st March) 10:00 am 〜 5:00 pm
Close: Every Mondays
Access: 1-minutes walk from Chikatetsu Tozai Line "Higashiyama Station"
** **
Tsuba-jin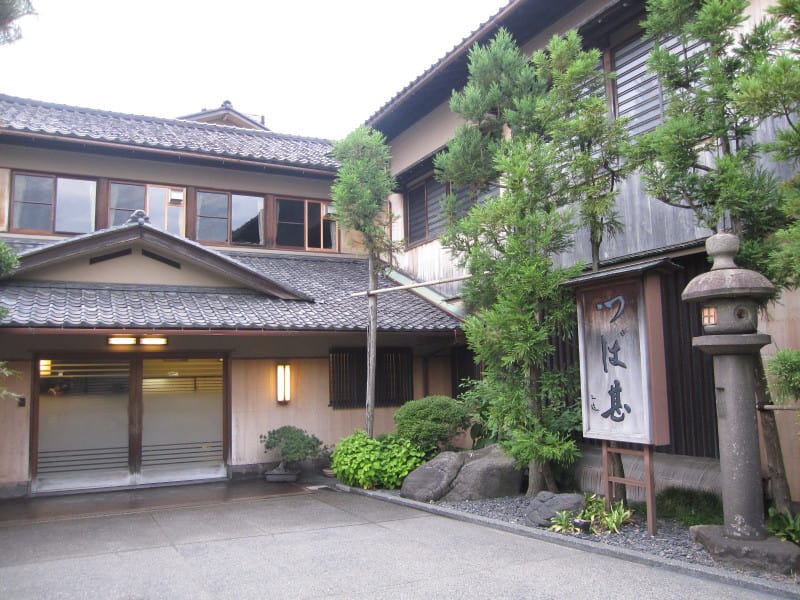 Source: Ameblo
"Tsuba-jin" is the oldest restaurant in kanazawa. This restaurant has 260 years history where many foreign tourists visit. This restaurant is sometimes used as a wedding hall and all visitors require reservation. Although this restaurant is not casual one, if you come to Kanazawa, this place is so recommended. They serve greatest cuisines. How about experiencing Japanese real "Omotenashi" at Tsuba-jin?
About Tsuba-jin
Address: 5-1-8, Teramachi, Kanazawa-shi, Ishikawa-ken
Open: 11:00 am 〜 9:00 pm
Close: Around the New Year's
Access: 15-minutes by taxi from JR "Kanazawa Station"
7-minutes walk from "Hirokoji bus stop"
** **
Yoriai-dokoro Tsushima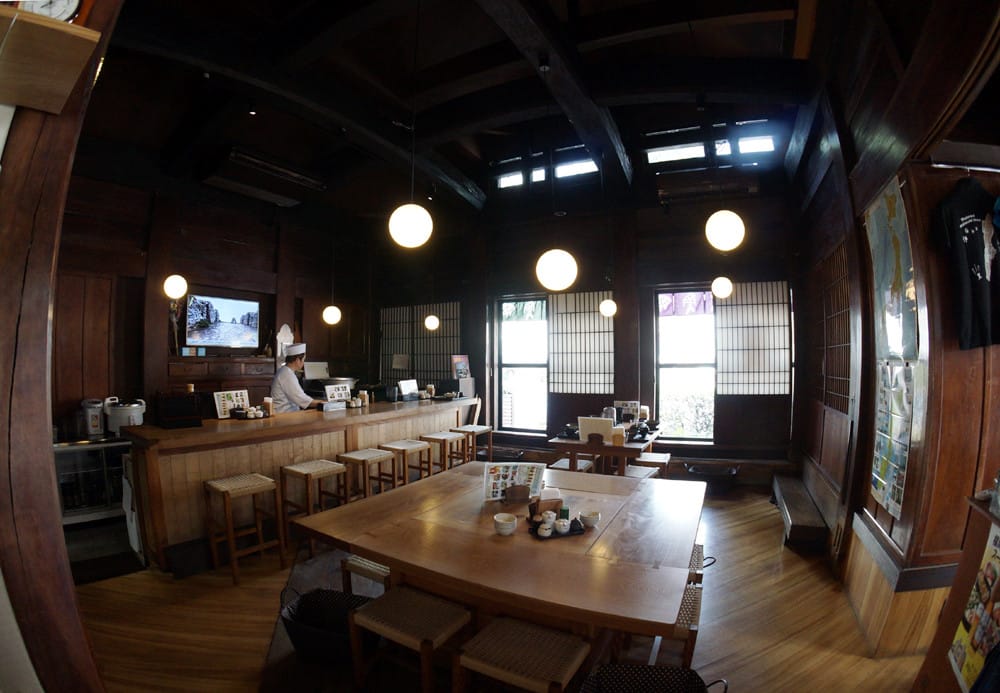 Source: 万太郎.net
The restaurant's name "Tsushima" comes from an island "Tsushima" that is located in a border in Nagasaki. In order to let many people know the island, they opened the restaurant in a bustling city Hakata where many tourists visit. You can enjoy flesh and simple taste of Tsushima's seafood in an old and historical building. You can also get touristic information of Tsushima at the restaurant. You would find there still are many appearing places in Japan.
About "Yoriai-dokoro Tsushima"
Address: 2-12-1, Hakataekimae, Hakata-ku, Fukuoka-shi, Fukuoka-ken
Open: 11:00 am 〜 10:00 pm
Close: Every Sundays and National holidays
Access: 5-minutes walk from Chikatesu-kuko line 1st line "Hakata Station"
What is Kimono?
You can get more information about Kimono at "What is Kimono?  A Traditional Japanese Culture "Kimono""