There are many delicious foods, mystical places, festivals that enhance the tradition of Japanese that you can enjoy in the nature and city side of Tohoku. There are not only famous sightseeing places in Tohoku, but also events that you can enjoy that represent the Tohoku today. We picked up some hot events including festivals that will help you feel the local culture of Tohoku that will be held in September. Check them out if you have some time to spare during your travels!
Events that can also be enjoyed by children
1.Misawa Port Festival Fireworks – September 3rd

Source:APTINET Aomori Pref
Misawa has the ocean, lake, and history along with elements that will entertain you for outdoor activities. There are many museums and memorial halls as well.
At this Misawa-shi, there will be a "Misawa Port Festival" at the end of the summer. There will be sales of seafoods such as fishes, boat races that can be applied for high school students or above, yosakoi, shell fishing game, and parades for harvest in the sea, etc. You can enjoy your last days of summer break here with you family here.
Furthermore, at night, there will be fireworks that will be held. You can enjoy the excellent works from each prefectures from the 2017 National Firework Competition Tournament that was held in Omagari here. About 5000 of fireworks will be launched. As these are the most excellent works from the competition, the artistry is high and awes many spectators. The festival is not only popular for the locals but there will be many visitors from neighboring prefectures such as Hachinoe. Since crowding is expected on the way back, you must be careful if you are taking major roads and transportations.
Schedule
September 3, 2017 (Sun)
Firework 19:00~20:00
Access and address
About 20 minutes by car from " Misawa "station on the Blue Forest Railway via National Route 338.
About 20 minutes by car from Shimoda Ikusa IC on second Michinoku Toll Road
Misawa city, Minatocho 2-5, Inside Misawa fishing port
Fee and reservation
Free
Reservation not required
Official Website
2.Senday Toshogu Kotto Aozora-ichi – September 24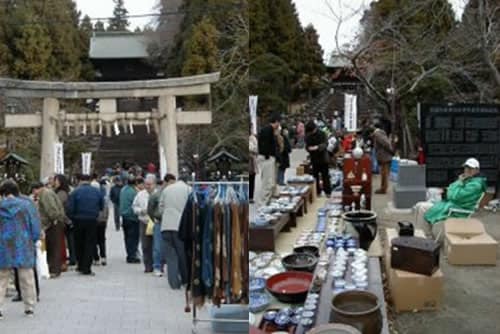 Source:仙台骨董青空市
Sendai Toshogu is located 2km north of Sendai Station, which was built in 1654 by the second-generation Lord Date Tadamune to show loyalty to the shogunate. As the ritual god Tokugawa Ieyasu took a rest in this area while watching around the Kasai Oosaki Ikki in 1590, this place was particularly chosen.
Five buildings including the main hall are designated as an important cultural property of the country.
The Antique market is held on the fourth Sunday of each month in the premises and its pathways to the Toshogu Shrine.
There will be about 20 shops in the market. There will be antique chests, ceramics, old cloths, kimono and daily antiques. Most of the items are daily necessities used by common people. However, there are some cases you can find* kattchu* and inrou.
There are opportunities to meet precious commodities that are not manufactured today, and there will be many people that will be trying pick out treasures in the market.
If you are able to find what you are looking for, why not negotiate the price with the seller? Negotiating is not what you can do so often in Japan. It will surely be something pleasant to remember.
Schedule
September 24, 2017 (Sun) AM7:00~PM3:00
canceled only in case of heavy rain
Access and address
3-min walk from JR
About 3 minutes on foot from "Toshogu" station on JR Sendai Line
Miyagi,Sendai-city,Aoba-ku,Toshogu 1-6-1 ,Toshogu Shrine
Fee and reservation
Free
Reservation not required
Official Website
http://www.kottouichi.jp/sendai.htm
3. Nihon Matsu Shrine Festival 2017 – September 2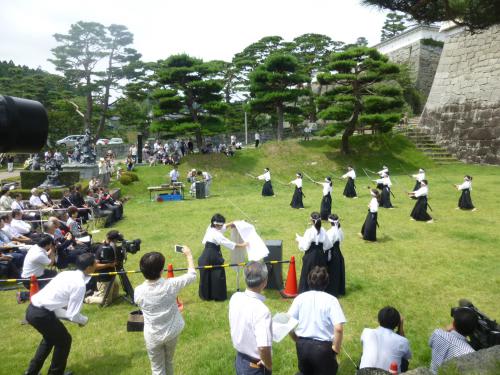 Source:CITY OF NIHONMATSU
The "Nihonmatsu Shrine Festival" will be held at the Ryusenji in order to deepen the bonds of the people. Every year there will be local performances of choruses and brass bands along with artists that will be invited to perform lives. This year the female taiko group that represent Nihonmatsu, American music band, Shimva, a diva from Fukushima, hula dances and gospels will perform as well. The lively performances stimulate people and give them courage and hopes. You can enjoy your day from 10AM to 4PM, as there will also be food, drinks, and goods booths at the venue. How about an exciting day at the Shrine Festival on a beautiful autumn day at Ryusenji?
Schedule
September 2, 2017 (Sat)  AM10:30 opened AM11:00 start
10:40~ 和雅美太鼓 雅
11:10~ 岳下小学校居合道部
11:20~ チームゆるゆる
11:50~ ANNA
12:20~ 二本松第一中学校合唱部
12:50~ Blues Cruiser
13:20~ 二本松少年隊
13:40~ 安達東高校吹奏楽部
14:10~ Shimva
14:40~ Hula ino Aloha♡
15:10~ ave
15:40~ Grace Inpact Choir
16:10 Shyiine Band 2014 ​ ShyiineBand2014
Access and address
About 15 minutes on foot from JR Tohoku main line" Nihonmatsu "station
About 5 minutes by car from Tohoku Expressway 'Nihonmatsu IC'
Fukushima-ken,Nihonmatsu-city,Niitaki,1-81 Nihonmatsuji Festival 2017
Fee and reservation
Free
Reservation not required
Official Website
Food Event
4.Yattemare Minitruck Market – September 24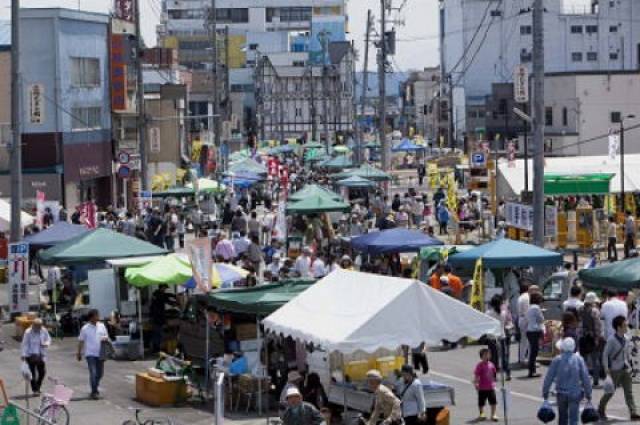 Source:APTINET Aomori Pref
As the 220m Tachinebuta street became a pedestrian zone, it became a mini truck market that sells fresh vegetables, fruits, seafoods that are stacked and lined up on mini trucks. It is known as the "Yattemare Minitruck Market", and many customers seek to buy fresh products here. About 70% of the products are vegetables, and amongst them are edible herbs that were taken by the sellers themselves.
Furthermore, there seems to be seasonal products such as mushrooms, vegetables, fruits such as apples and rice as well. There will also be mini trucks that sell fast foods such as okara donuts and meat skewers.
At the venue, there will be not only sales of goods but live performances of the Neputa Hayashi. The Neputa Hayashi incorporates Tsugaru's traditional Shishimai Hayashi and Iwakiyama Oyamasankei's Gezanbayashi merged with the shrine's kagura Hayashi.
In this event taking place in the Tachineputa street, there is the Tachineputa Museum. Here, in addition of storing the large scale Tachineputa for display, there will be hands on for creating the new Tachineputa along with Tsugaru crafts making and practicing the Goshogawara Neputa Hayashi. How about dropping by after shopping for their local gourmet? You should be able to understand the locals of Neputa.
Schedule
24th(Sun),September,2017, AM8:30~PM0:00
canceled only in case of heavy rain
Access and address
About 5 minutes on foot from JR Goken Line" Goshogawara Station "
Aomori Prefecture,Goshogawara-city,Omachi,21-1 , Takemori Square
Fee and reservation
Free
Reservation not required
Official Website
http://www.applenet.jp/~kita-nourin/
5. Onikobe Agricultural and Forestry Products Direct Sales "Yamaga Seasonal Market" – Every Weekend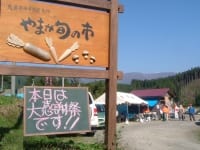 Source : Miyagi Prefectural Government
The "Yamaga Seasonal Market" with agricultural and forestry product direct sale will be held in the Onikobe Nakagawara district along the prefectural border of the national road no.108 and Akita. There will be signs and guidance signboards issued at the day.
Around the market, there are old fashioned houses, rivers, and mountains that will bring the atmosphere of the hometown.
The agricultural products sold in the city are Mizuya udo, urui, aiko, etc. There are plenty of seasonal vegetables, as well as processed products such as mushrooms, radish, blueberries, pickles, soybean and jam. Around the market blessed with rich ingredients, there is the Naruko Onsen-kyo (Naruko Hot Spring).
Naruko Hot Spring has a history of more than 1000 years; it was founded in 837. It is said that the Toriyagamori (Naruko Volcano) exploded which lead to the spout of the hot spring.
It is famous for Minamoto no Yoshitsune visiting Naruko whilst on his way to Hiraizumi being chased by his brother, and Matsuo Basho chose Dewakaido Nakayamagoe to pass through Naruko to Shitomae. There are many historical sites and old roads nearby related to Basho and Yoshitsune, so why don't you stroll around to feel the history?
Schedule
2nd, 3rd, 9th, 10th, 16th, 17th, 23rd, 24th, 30th of September AM9:00~PM3:00
Every Saturday and Sunday from the end of May to start of November
Access and address
It takes about 30 minutes from From JR Likuto Line "Naruko Onsen Station" to "Yamaga shun no ichi"
Nakagawara Narukoonsen Onikobe, Osaki, Miyagi Prefecture 989-6941
Fee and reservation
Free
Reservation not required
Official Website
Experience the Japanese history and traditional culture
6. Performing Arts Folklore of the Akita Locals (Neburinagashi-kan) Kantou period demonstration September 2-30
At the Performing Arts Folklore of the Akita, introducing various traditions and performing arts, there is a demonstration of Kantou by the Akitashi Kantou-kai.
The Akita Kantou Festival, along with the Nebuta Festival of Aomori and Tanabata Festival of Sendai, is designated as an important intangible folk cultural asset.
At the festival, the body of the Kantou is resembled as the ears of rice, the lanterns as the rice and puts in on the forehead, waist and shoulders to pray for good harvest. The festival's greatest seeing point is the demonstration of the technique of maintaining the balance of the kanto with the weights of the lanterns on the shoulders to hands.
The technique of easily holding the lanterns with the Kantou, which is about 50kg, weighted on the forehead, shoulders and waists enhances the energetic atmosphere and awes the spectators.
In addition to these skillful techniques, we recommend you to actually experience the Performing Arts Folklore of Akita at the Neburinagashi Museum. While it seems as if its light, the Kantou is quite heavy. Why not give it a try when you have the opportunity to actually feel them on your shoulders?
Schedule
2nd, 3rd, 9th, 10th, 16th, 17th, 18th, 23rd, 24th, 30th of September PM1:30~PM 2:10
Every Saturday and Sunday from the April to October
Access and address
About 1 minute on foot from "nabuta nagashikanmae" station on the bus line.
1 Chome-3-30 Omachi, Akita, Akita Prefecture 010-0921  Handicraft museum in Akita
Fee and reservation
Admission fee 100 yen
Common ticket with Red Brick Local Government building 250 yen
There is no need to make a reservation
Official Website
Events to Enjoy Nature
7. Lake Hibara Retro Bus Tour "Mori no Kumasan"

Source:裏磐梯観光協会
The largest lake located at the center of Bandai Kogen is the Lake Hibara. It was naturally made by the eruption of Mt. Bandai, in which the flowing mud blocked the valleys. Therefore, the shoreline is very complicated. The Goshokunuma, in which the colors appear different depending on the season and time is a must-see. Moreover, the surrounding areas is a camping area.
The bus that travels around such lake is the Lake Hibara Retro Bus Tour, "Mori no Kumasan (The Bear in the Forest)". The bonnet bus goes around the Lake Hibara quite slowly, so you can relax throughout the ride. The bus is used as a means of living and transportation by the locals and for tour from tourists around the Lake Hibara. Furthermore, it also is used as an access to each trekking courses.
The fuel of this bus is the car fuels that refined "tempura oil" collected from homes and pensions, and symbolizes ecotourism.
Carbon monoxide is not generated, fuel consumption is good, and is environmentally friendly. The retro atmosphere attracts a lot of attention, but its energy should be looked at more as well.
By the way, this bus goes around the Lake Hibara starting from the bus station at the enterance of the Goshokinuma Shizentanshouro, "Urabandai Kougen Station". It is operated between late April to early November.
There are 24 stops in total. It is free to get on and off at the stops, so you can enjoy the scenery of Tohoku during the autumn in your own pace.
Schedule
1st, 2nd, 8th, 9th, 15th,16th, 22nd, 23rd, 29th, 30th of September
Every Monday,Saturday and Sunday from the end of April to the beginning of November
Access and address
Approximately 40 minutes by car from "Inawashiro station" JR banestusai line
Approximately 40 minutes by car from Banetsu Expressway "Inawashiro Bandai Takahara IC"
〒969-3133 Fukushima-ken, Yama-gun, Kitashiobara-mura, Kitayama,
Fee and reservation
【Hibara Lake  trip ticket】 Adult 1000 yen, Child 500 yen
【Takara trip Ticket】 Adult 500 yen, Child 250 yen
Official Website
Contemporary Art Event
8. Yokoo Tadanori Towada Romance Exhibition POP IT ALL September 1st – 24th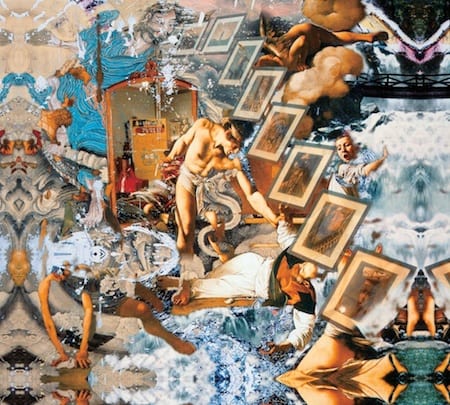 Source:Towada Art Center
Todawa Contemporary Art Museum exhibits artworks that are made by artists who are active both in Japan and overseas with request works that implement the concept of architectural works within the concept of space. Not limited to the exhibition room, it is an art museum that offers variety of artworks in every space of the premises, such as the courtyard, rooftop, staircase room etc. and provides "new experiences" to the visitors.
The exhibition held this time is the "Yokoo Tadanori Towada Romance exhibition POP IT ALL". Tadanori Yokoo is a producer of posters of the underground theatre in the 1906s with a design of natural colors whilst eros and mysteriousness. Since then, he has been receiving the spotlight as a leading designer of the Japanese culture.
In the early 1970s, Yokoo Tadanori traveled throughout Japan for two years and produced landscape paintings. Among the "Japan Original Scenery Travel" series, the "Lake Towada Oirase" (1973) drawn in Towada is included as well. The "Torrent of the Valley", also included, is said to be the roots of the representative theme "waterfall" of Yokoo, later becoming a painter.
In this exhibition, the masterpieces related to the "waterfall" theme is also selected. Along to those, there are masterpieces also exhibited regarding the technamation. Besides that, we also exhibit unpublished new artworks and early paintings. It is a valuable opportunity to enjoy both new and old works of Tadanori Yokoo, so be sure to check out the works of one of the leading artists of Japan.
Schedule
17th(Sat)June,2017-24th(Sun)Sep,2017 AM9:00~PM5:00
Last entry time: 4:30pm
Monday is closed
Access and address
5 minutes on foot from "Kanchogai-dori bus stop" where it takes about an hour from "Hachinohe station" by Towada Tourist Electric Rail bus.
〒034-0082 Aomori Prefecture, Towada, Nishiniban-cho 10−9 Towada Art Center
Fee and reservation
【Ticket for eventual temporary exhibition & permanent exhibition 】
1000 yen
【Ticket for only eventual temporary exhibition】
600 yen
【Ticket for under high school student】
Free
Reservation is not required
Official Website
9. Inakadatemura Rice Field Art – September 1st – 30th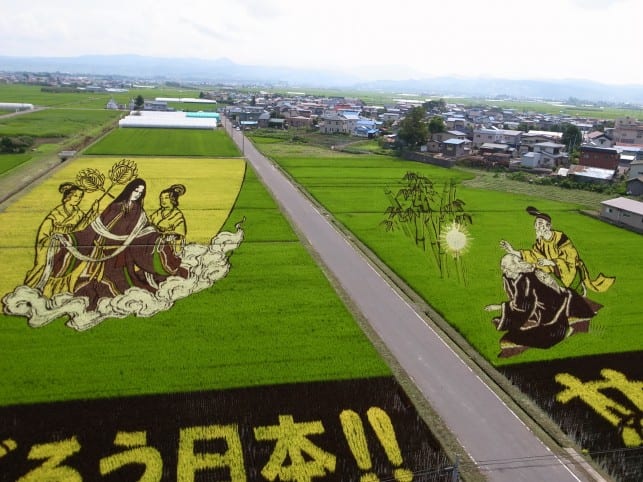 Source:AOMORI-MIRYOKU
"Rice field Art" are huge scaled art works using rice with different colors on rice field as a campus. It started with three colors of rice in Inakadate Mura in 1993, and technology has been improving every year to seven colors today. Due to its precision and high artistry, it is drawing attention from foreign medias as "Rice field Art".
In last year's rice field art, it collaborated with two works from the Japanese past and contemporary theme, but this year they will challenge two Japanese stories.
There are two venues in the rice field art. The themes are set for each venue. In the first rice field art, the climax scene of Susano-no-Mikoto against the Yamata No orochi from the famous story "Yamata no orochi Legend" is drawn.
In the second rice field art, the scene from the famous story "Momotaro" in which Momotaro brings his animals in order to slay the ogre it used. By subjecting famous fairy tales, it aims for children to adults along with Japanese and foreigners to enjoy the works.
The first rice art can be seen from the Inaka datemura observation deck in the premises of Inaka Datemura Yakuba. The Inaka Datemura observation deck is a platform of the government building and the cultural hall, designed to allow the entire building to be seen like a castle, enforced by the Sentoku Masatake who housed the country about 4000 years ago.
The second rice field art can be seen from the Yayoi no Sato observation deck on the premises of "Yayoi no Sato, where there are 7.5 hectares of land with fishery centers, restaurants, various playground equipments, putter golf courses, and facilities to interact with animals. It's a plaza where you can "yuttari kutsurogu (relax)", so it's perfect for taking a rest after viewing the rice field art.
Schedule
5th June, 2017 to 9th October, 2017
1st September, 2017 to 9th October, 2017 : 9:00AM-5:00PM
Last admission 4: 30PM
Access and address
About 10 mins from JR Kawabe staion by car
During the event,  free shuttle wagon that connects 1st rice field art and 2 rice field art is available everyday
Nakatsuji Inakadate, Inakadate-mura, Minamitsugaru-gun, Aomori-ken 038-1113
Fee and reservation
Free
No need to reserve
Official Website
http://www.inakadate-tanboart.net/
10.Ichinotogawa Tekkyou Light Up – September 16th – 18th
The Ichinotogawa river bridge between the Kitaka and Yamato is familiar as the "Iron Bridge of Yamato" in the Bannestusai Line.
The central part is the Baltimore Truss Bridge of the upper road. Baltimore Truss aims to reduce weight by inserting sub-materials into the diagonal of the truss, and it a type of a petit truss. Those of the bowstring truss are called "Pennsylvania truss", parallel strings are "Baltimore Truss" and has unique structural aesthetics. Its elegant structure is the must-see of this bridge as well.
Moreover, we want you to focus on the linking points (connecting points of the truss) with the big pins. This is called the "Pin truss", and is often found in old iron bridges.
The Bannetsusai Line was constructed as an important transportation road connecting Tokyo and the Niigata prefecture, and the Ichinotagawa Bridge was said to be the iron bridge that has the "biggest scale in Asia".
Currently the "SL Bannestu Monogatari" runs on the Ichinotagawa bridge and is a popular tourist spot. The sound of the iron bridge rattling enhances the Meiji Romantic era's atmosphere, and was selected as the sound scenery of Fukushima's "Itsukushima 30 sound landscapes". And now, the bridge, 100 years since it was constructed, will be light up. Enjoy the beautiful night view of the elegant, architectural and cultural bridge at this opportunity
Schedule
16th September,2017 – 18th September Sunset time-8:30PM
Access and address
About 15 minutes from JR "Yamato"station on foot
Yamatomachi Kofunaji, Kitakata, Fukushima Prefecture 969-4101
longitude : 37.641348 latitude: 139.787887
Fee and reservation
Free
No need to reserve
Official Website