Although Osaka and Hyogo are attractive tourist site on its own, various events to further the experience will be held throughout September. Transportation should be easy thanks to the trains so check out the events throughout the area. In addition, September is when the weather would start to cool down and is suited for outdoor activities. Enjoy the 4 seasons in Japan even during the transportation!
Events for families with children
1.Osaka Duck Tour (Regular Version) -September 1st – 30th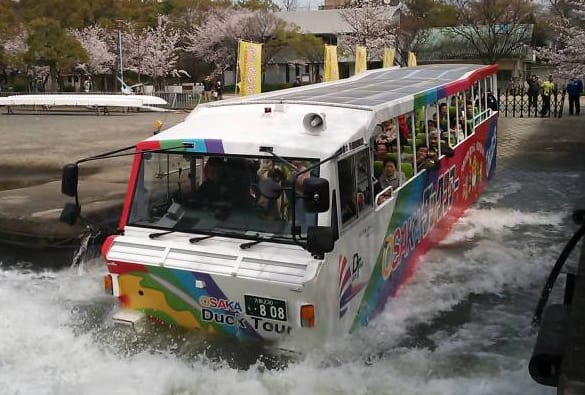 Source:ducktour
A tour to explore around Osaka in an amphibious bus!
At first, the bus will travel on land covering major tourist sites such as the city hall, Midosuji, and the Osaka Castle.
After, the bus will splash into the river from Sakuranomiya park's slope! The bust will make its transition to the water form. The moment of splash is filled with excitement and cheers so join in and enjoy the moment!
The bus will relaxingly travel around Osaka, occasionally passing under bridges revealing the unique view of Osaka.
The hour and half long tour will be guided by unique tour guides endlessly streaming out their stock of knowledge.
Schedule
2oth March – 30th November, 2017
【Departure time】9:15、11:15、13:15、15:15、17:15
Access & Address
About 3 minutes from "tenmanbashi"station
1-2 Kitahamahigashi, Chūō-ku, Ōsaka-shi, Ōsaka-fu 540-0031
## Price & Reservation
Adult 3700 yen
Children below elementary school age 2300 yen
Children under 2 years old 600 yen
Need to reserve
Official Site
2.Shitennou Temple Watsuka City – September 9th

Source:flickr
Shitennou Temple is located at Osaka City, Tenouji District. It is said that the temple is one of the 7 temples built by a famous figure known as Prince Shotoku. The mountain title of the temple is Mt. Kouryou. The temple worships Kuze Kannon Bosatsu thus the secondary name "The temple of Kon Koumyou Shitenou Daigokoku".
According to "Nihon Shoki", the temple's construction began around the first year of Empress Suiko's reign.
Areas around are named "Tennouji" is a short term for "Shitennouji (Shitennou Temple).
In the premises of Shitennou temple with such history, a market is held every first Monday of the month with a theme "Respect the 5 senses of human".
About 90 stores open at the West Sigekado square. Organic vegetables and handmade goods are sold attracting many people every month.
Schedule
First Sunday (excluding May and July) 9: 00-15: 00
Access & Address
About 12 minutes from JR "Tennoji"station
1 Chome-11-18 Shitennōji, Tennōji-ku, Ōsaka-shi, Ōsaka-fu 543-0051
Price & Reservation
Free
No need to reserve
Official Site
3.Naniwa Exploration Cruise with Comic Storyteller – September 1st – 30th

Source:flickr
There is a plan that will provide you a unique perspective on Osaka sightseeing and that plan is the "Naniwa Exploration Cruise with Comic Storyteller".
The cruise's characteristic of this cruise is not only being able to enjoy the seasonal view of Osaka, the city of water, from the river but also how the comic storyteller will introduce the history and significance with humor.
The ship is the latest model with AC so no matter the weather, its guaranteed to provide you with the best experience. As a little side-note, the height is rather short in order to pass under the low bridges in Osaka.
The cruise will take you to places only available at Osaka. The cruise will first leave the Minato City Docking Station then move towards Kyo Cera Dome near Kitsu River, proceeding to Nakanoshima at Dojima River, finally visiting Toyoko Horikawa Watergate via Toyosori River returning to the docking station via Dotonbori.
On the weekends (Friday & Saturday), night cruise will be available from 7:00 PM.
The night cruise will have its own attractions such as the Dotonbori lit in neon lights and Osaka City Central Public Hall's lightings.
When you want to feel the breeze, feel free to open the ceiling door and watch the city of Osaka pass by.
Schedule
7th April,2017 – 30th September,2017
【Departure time】PM0:00、PM2:00発、PM4:00(only weekend & holiday)、PM7:00(only Friday & Saturday)
【Duration】:About 90 minutes
Access & Address
About 5 minutes from "namba" station
1 Chome-3-1 Minatomachi, Naniwa-ku, Ōsaka-shi, Ōsaka-fu 556-0017
## Price & Reservation
Adult : 3000 yen  Child : 1000 yen
Reservation available
Official Site
4.One Yen Train Experience Ride -September 3rd

Source : flickr
After Akenobe Elementary School was abandoned, Akenobe Nature School was built using its facilities to provide children with opportunity to experience nature. There, a sightseeing truck train runs.
The said train connecting the Akenobe Mine and Mikobata Mill was initially used as a transportation for employees at the price of 1 Yen.
The line was abandoned in 1987 as Akenobe Mine closed but revived as sightseeing truck train in 2010. As its name suggests, the fee is still 1 Yen.
Ever since its resurrection, the train runs the short distance of 70m at a slow pace.
The body is still the same "Kurogane" that was used by the Akenobe Mine workers.
No reservation is needed and there will be a guide if interested in exploring the Akenobe Mine. There will be a tour on Sundays if interested.
Why not enjoy the time slowly passing by in the nature on the truck train?
Schedule
3rd September, 1st October, 5th November, 2017  PM10:00~PM3:00
Access & Address
About 1 minutes from "akanobe" bus stop by "zentan" bus ride
1184 Oyacho Akenobe, Yabu, Hyogo Prefecture 667-0436  Yabu Shiritsu Akenobe Natural School
Price & Reservation
1 yen
【Tour of tunnel】Adult : 1,200 yen  Child 600 yen(only held on Sunday)
No need to reserve
Official Site
5.Ashihara Bridge Up Market – September 7th

Source :flickr
A market event held every 3rd Sunday of the month with 3 venues around JR Ashiharabashi Station.
The first venue is at Station Plaza where around 20 stores of handmade goods open.
Followed by Saltvalley with over 20 gourmet places. Last venue is the Times where over 100 craft shops gather. Not only are there stores but there will be live showing of Japanese taiko and jazz for free.
The handmade goods ranges from everyday goods to accessory to leather works!
This event is filled with fashionable stores and you might find something you will fall in love with.
Now let's get out and start your way to Up Market where you can enjoy food, shopping, and live at once!
Schedule
17th September, 2017  AM10:30~PM4:00
*3rd Sunday every month
Access & Address
"Times"
About 2 minutes on foot from "ashibara"station on JR kanjo line
"Station plaza" & " SALTVALLEY"
About 2 minutes on foot from "ashibara-bashi"station on JR kanjo line
1 Chome-7 Naniwahigashi, Naniwa-ku, Ōsaka-shi, Ōsaka-fu 556-0025
Price & Reservation
Free
No need to reserve
Official Site
6.Mt. Maya Backpack Market- September 16th

Source : リュックサックマーケット@摩耶山
A backpack market held every third Saturday at Kikuseidai, Mt. Maya, since February 2006.
Kikueidai, the venue, stands on top of a mountain 702 meters tall.
Sellers are required to only sell goods they brought up the mountain themselves. In other words, if you can climb, you can sell.
However, because people can only sell what they can fit in a backpack, the market itself tends to have a rather relaxed atmosphere then that of an ordinary market.
If you're planning to sell food, application must be filled 3 months prior to the event. However, anything else has no application so feel free to stuff anything you don't need in your backpack and maybe replace it with your new favorite after enjoying the hike!
Things sold ranges from old CD's and clothes to original pieces of art. So as long as its not food and drinks, come join the party!
Schedule
3rd Saturday March – November , 2017   11:00 -16:00
Access & Address
"rokkoudo"station or "sannomiya" station on JR Kobe line
↓  take 18th bus
"maya cable shita"
↓ take rope way from "niji no eki"
"hoshi no eki"
2-2 Mayasanchō, Nada-ku, Kōbe-shi, Hyōgo-ken 657-0105
Price & Reservation
Free
No need to reserve
Official Site
Experience the Traditional Japanese Culture and History
7.Kobe 8 Shrines Tour – September 1st – 30th

Source : 神戸八社巡り
This tour covers the 8 shrines that Jingu Kougou is said to have visited when finding Ikuta Shrine. At each shrine, one of three goddesses and five gods who are the children of Amaterasu Okami and Susanoh Mikoto are worshipped.
From the old days, there is a tradition to go around the 8 shrines and wish for fortune. Even today, people keeps the tradition alive and the proof of visit becomes an important piece of memory for travelers.
If interested, there are sample course suggestions available online that covers all 8 shrines.
From us, there are 3 recommended courses.
The first course, Nankin City food tour, puts focus on visiting cities and finishes the long day off with rewarding all-natural Kobe hot-spring.
Second course is the "Relaxing Hiking Course". This course involves parks and observatory with picnic style lunch. This plan also finishes the long day with a refreshing hot-spring.
Café lunch Kobe sweets course is the last course and as its name suggests, its perfect for girls gathering. Stroll around Kitano in the morning and lunch at café with dessert and finish the day off at harbor land.
All plans will start going around the shrines from 9 AM and finish by 5 PM.
As it gets breezy in the Autumn, come over and enjoy the walk and visit the 8 shrines!
Schedule
held every year
Access & Address
About 10 minutes on foot from "san no miya" station on JR Kobe line
1 Chome-3-5 Yamamotodōri, Chūō-ku, Kōbe-shi, Hyōgo-ken 650-0003
Price & Reservation
200 yen
No need  to reserve
Modern Art Events
8.Scary Art Exhibit – September 1st – 18th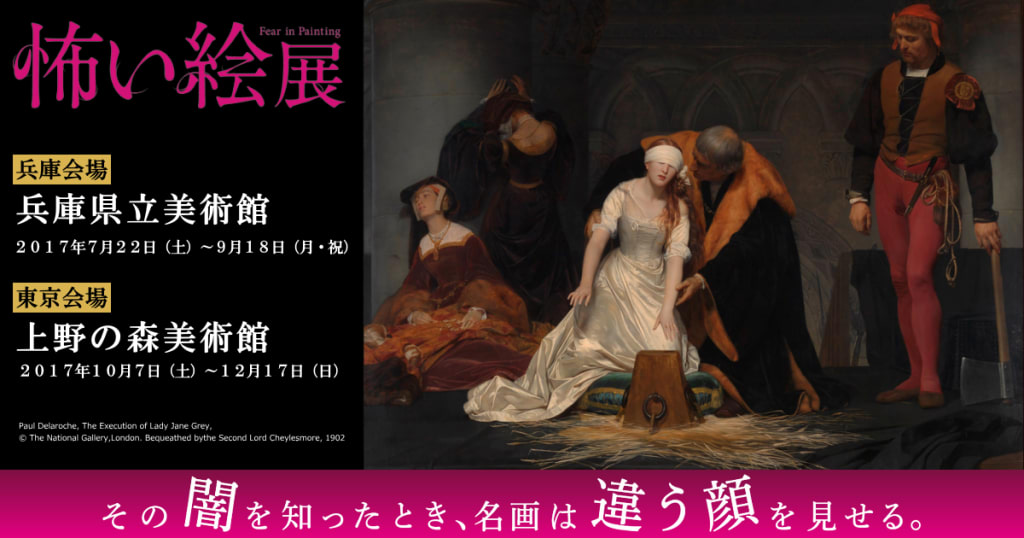 Source : 怖い絵展
Hyogo Prefectural Art Museum was designed by Tadao Ando in 2002 and currently is the largest art museum in Western Japan with over 8000 pieces stored.
Artists that are related to Hyogo such as Ryohei Koiso and Tadanori Yokoo's pieces are on regular exhibits on a rotation.
There are also free entertainments such as concerts and movie showings.
"Scary Art Exhibit" is to be held at the said museum.
The "Scary Art" is originally started from a book published by Kyoko Nakano in 2007 and its focus on scary arts and the history and story behind them brought attention becoming a bestseller. Later, it became a series and brought attention from various fields.
The exhibit is held to celebrate the book's 10th anniversary.
Not only does it cover the major pieces featured in the books but also involves new pieces selected for this event.
Piece that attracts the most attention is Paul Delarouche's "Execution of Lady Jane Grey" representing London National Gallery. It illustrates the last moment of a young queen who only sat on the throne for 9 days.
In addition, about 80 "scary" oil paintings drawn by modern European artists like Turner, Moreau, and Cezanne etc. will be on display.
Get ready to say farewell to the hot weather in September with the scary arts sending chills down your spine.
Schedule
22nd July – 18th September, 2017 AM10:00~PM6:00
Access & Address
About 10 minutes on foot from "nada" station on JR Kobe line
1 Chome-1-1 Wakinohamakaigandori, Chuo Ward, Kobe, Hyogo Prefecture 651-0073   Hyōgo Prefectural Museum of Art
Price & Reservation
Adult : 1400 yen   (elder person more than 70 years old : 700 yen)
University student : 1000 yen
Child below high school student : Free
No need to reserve
Official Site
9.Kobe Harbor-land, Illumination by the Gas Light Street – September 1st – 30th
Kobe Harbor-land is a redevelopment district in Chuo-ku, Hyogo Prefecture. It is one of Kobe's leading shopping and sightseeing areas that is located somewhat west of Kobe's downtown area and full of large complex facilities such as shopping, gourmet, movie theater and amusement space.
"Kobe night view" is known as a night view so beautiful its worth 10 million dollars, but especially in the Harbor-land and mosaic gardens of the Bay Area, you can enjoy the glittering night view based on orange color.
Among them, Illuminations of Kobe Gas Light Street are a must-see. The harmony of light with a night view with 100,000 LEDs decorated in 700 m of Zelkova trees and a flame of soft gas lamp is breathtakingly beautiful.
"Harbor wink" which turns off the lights once 1 minute before 20 o'clock, 21 o'clock, 22 o'clock and re-lights up at the time is also worth staying and watching.
It's all up to you on what to do prior and during the event. You can relax after shopping or watch it while eating dinner. Regardless of your choice, you will for sure to be immersed in a romantic and elegant mood. The memories of visited Kobe will be remembered in a beautiful fashion.
Schedule
PM5:00~PM11:00 every year
*Lighting time could be changed
Access & Address
About 5 minutes on foot from JR "kobe"station
1 Chome Higashikawasakicho, Chuo Ward, Kobe, Hyogo Prefecture 650-0044
Price & Reservation
Free
No need to reserve
Official Site
10.Kizu's Morning Market – September 9th, 30th

Source : flickr
Kizu market has been around for 300 years in Osaka. The official name is "Osaka Kizu Ouri Ichiba (Wholesale Market)" and is one of the largest scale market domestically with the motto of "Kizu Market builds bonds!"
Kizu Market is always filled with professional salespeople but to share the fascination with more people, the morning market started 200 years ago. It shares the same vibe as festivals with fresh and delicious food filling the sides of the streets.
Various events are held regularly. The most popular event is the auction tour. You participate in auctions held in butchers and fish stores presenting price while bargaining and can bid down products.
Other than that, there will be tuna dismantle show, lotteries, and events that children can enjoy as well so it is suited for families too.
In addition, if you subscribe to their mail service, the first 100 visitors can receive a present. Also, limited information such as lottery of "luxurious Kizu Market Selections" will be available so make sure to check their website before going!
While it is a large market comparable to Tsukiji, Kuromon and Nishiki markets, it is not well known throughout the country which makes it a great opportunity to meet delicious foods only available here!
When getting to Osaka sightseeing, wake up a little early and why not enjoy special deals and exquisite gourmet?
Schedule
9th & 30th September, 2017 AM9:00~PM0:00
*2nd & last Saturday every month
Access & Address
About 5 minutes on foot from "daikokucho" line on midosuji line
 Ōsaka-fu, Ōsaka-shi, Naniwa-ku, Shikitsuhigashi, 2 Chome−2−8
## Price & Reservation
Free
No need to reserve
Official Site
If this got you interested in experiencing deep local culture first hand, we, MagicalTrip provide unique night tours with a friendly local guide in Japan. You'll get to go to local Izakaya bars to enjoy authentic food and drinks, why don't you give MagicalTrip's Bar Hopping Food Tours.