Katinto is a deep-fried dough which is typically made from flour, sugar, water, salt, and baking soda. It has a peculiar Japanese sweetness that is made by coating the fried dough with brown sugar glaze. Yaki-Karinto Honpo is a karinto speciality store located at Yanaka Ginza shopping street. In this page, we'd like to show this store and its products.
Please look the page " Top 5 souvenir stores in Yanaka-Ginza" for other deserts and souvenirs from Yanaka Ginza.
Yaki-Karinto Honpo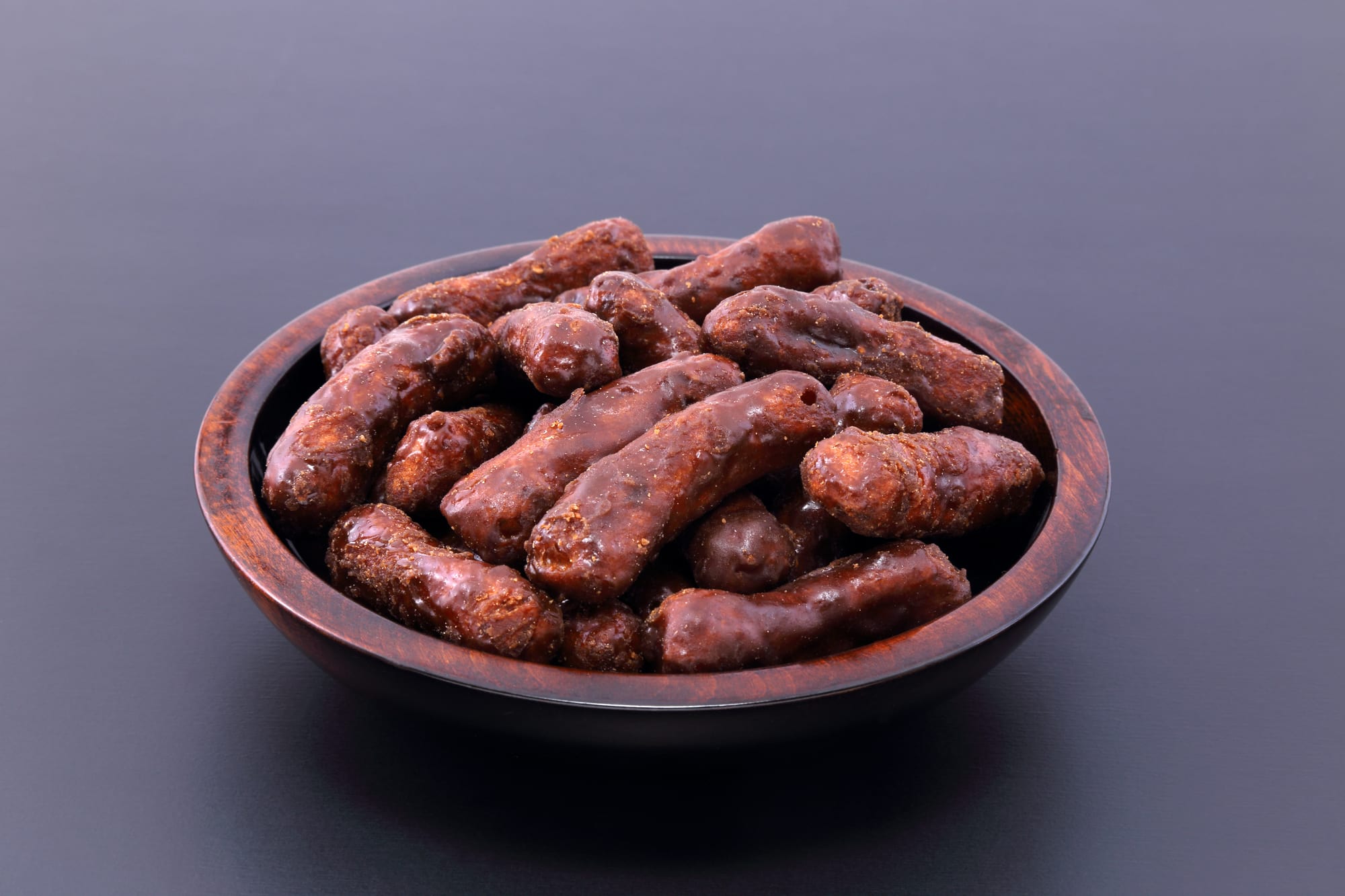 The Yaki-Karinto Honpo's Karinto is different from the typical one; it is baked instead of deep-fried. Traditional karinto is crunchy in texture as it is fried in oil; on the other hand, baking karinto creates a different texture that would be this shop's discovery . In addition, The original glaze using brown sugar from Okinawa gives it a taste that you cannot find at any other store. Some people seem to be addicted to this texture and taste of the baked karinto.

Source : 谷中ぎんざ
Yaki-karinto Honopo opened six years ago with the wish to make the people happy with the taste of their karinto. And it became a snack the traveler loved. Customers also love that it is not deep-fried, so the snack has less calories which quickly became popular among Japanese women. And nowadays, this baked karinto is one of the representative souvenirs of Yanaka Ginza. You can choose your favorite flavors and textures from various selections at Yaki-Karinto Honpo.
Baked Karinto; low calorie, healthy, and new texture.

Source: 谷中ぎんざ
What you absolutely cannot miss when you visit Yaki-Karinto Honpo is the baked karinto. You will enjoy a gentle sweetness from the brown sugar and texture from baking. This is  the quint-essential souvenior that gives you the feel of olf fashion Japanese sweets.
Outline of Yaki-Karinto Honpo
・Representative product
Baked Karinto
・Business hour
10:30 am to 5pm
・Closed on the third Wednesday and Thursday of the month
Access to the store
・Address
3-11-14 Yanaka, Taito-ku, Tokyo 110- 0001
・Phone number
03-5814-8200
・Access by Subway, train, and bus
Subway: 4 minute walk from Tokyo Metro Sendagi station
379 meter from Sendagi station
Train: 4 minute walk from JR Nippori station
・Required time from airports and major train station
48 minutes from Haneda airport
45 minutes from Narita airport
18 minutes from Tokyo station
・Website
Map
If you are interested in visiting Yanaka, please also see Nostalgic Town Walk Yanaka Tour.