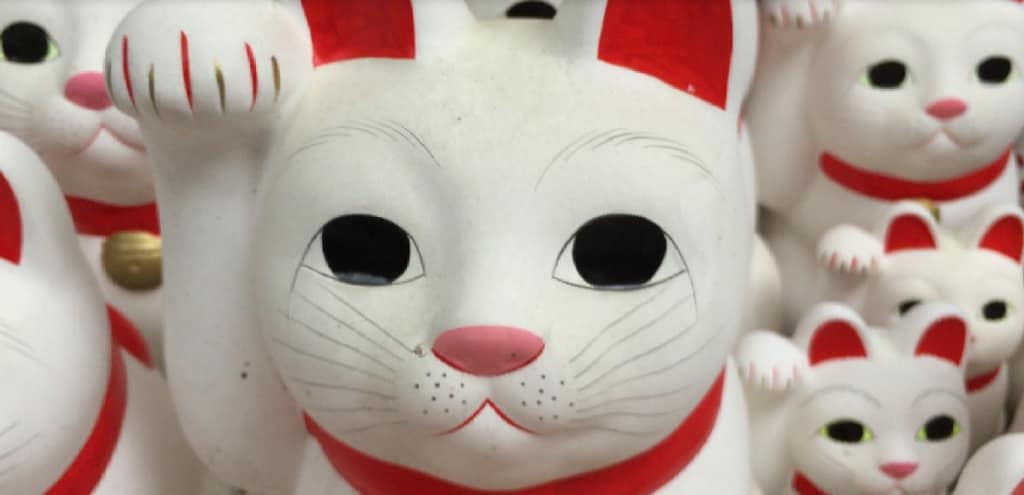 Have you heard about Maneki-neko(beckoning cats)? It is a famous Japanese lucky charm which is always believed to bring good luck to the owner. Maneki-neko is not a very rare item to see in Japan since it is almost everywhere, especially in profit-making places. However, huge amounts of beckoning cats appear in one place is not a very ordinary thing to see even among local Japanese people.
Story behind Beckoning Cats
Gotokuji Temple is located in a very quiet residential area of Tokyo. It is a well maintained temple with a beautiful garden full of greenery. The temple has an interesting origin story. During the Edo Period (1603 to 1867), a feudal lord was on his way home from falconry when he saw the temple's cat beckoning him to enter the temple. He decided to stop by at the temple and had some rest. Because of this unexpected visit, he could avoid hard thunderstorm which started during his stay there. Thankful, the lord decided to rebuild the neglected temple.
When the cat died, a temple for the animal was built on the grounds, and the animal was enshrined as a god called Shobyo Kannon. Also, there is a story behind this huge amount of Maneki-neko: in Japanese Shinto religious tradition, similar as other Shinto charms, people buy Maneki-neko for some specific wishes, and they return it to the Shrineas a gesture of gratitude after their wishes became reality, which is the reason why there are so many Maneki-neko–they actually represents the number of wishes come true!
Bring luck back home!
There are different sizes of Maneki-neko on sale inside the temple. Price varies from 300yen to 5000yen. How about getting one with you either for your own wish or as a souvenier for your friends? Maybe you will take it back in the next trip to Japan with you or your friend's wishes coming into reality!