Yokohama is a city in Kanagawa. It's easy to come from Tokyo. From Shibuya, it takes only 40-minutes by Tokyu-tokyoko Line. Yokohama is an international city since they opened the port to foreign ships 150 years ago. So the city has been developing under the influence of western culture. There are many things to see in Yokohama. For example you will find many historical buildings of the time of opening the port in the town, and you can enjoy nature at Yamashita Park, and there are also European style house. This historical city get along well with Japanese traditional clothes "Kimono". In this article we will introduce you to Kimono Station, where you can easily enjoy Kimono. How about visiting photogenic touristic spots with Kimono on?
If you want to learn more about Kimono, check >>Let's Go to Yokohama with Kimono on!
Yokohama Kimono Station
About Yokohama Kimono Station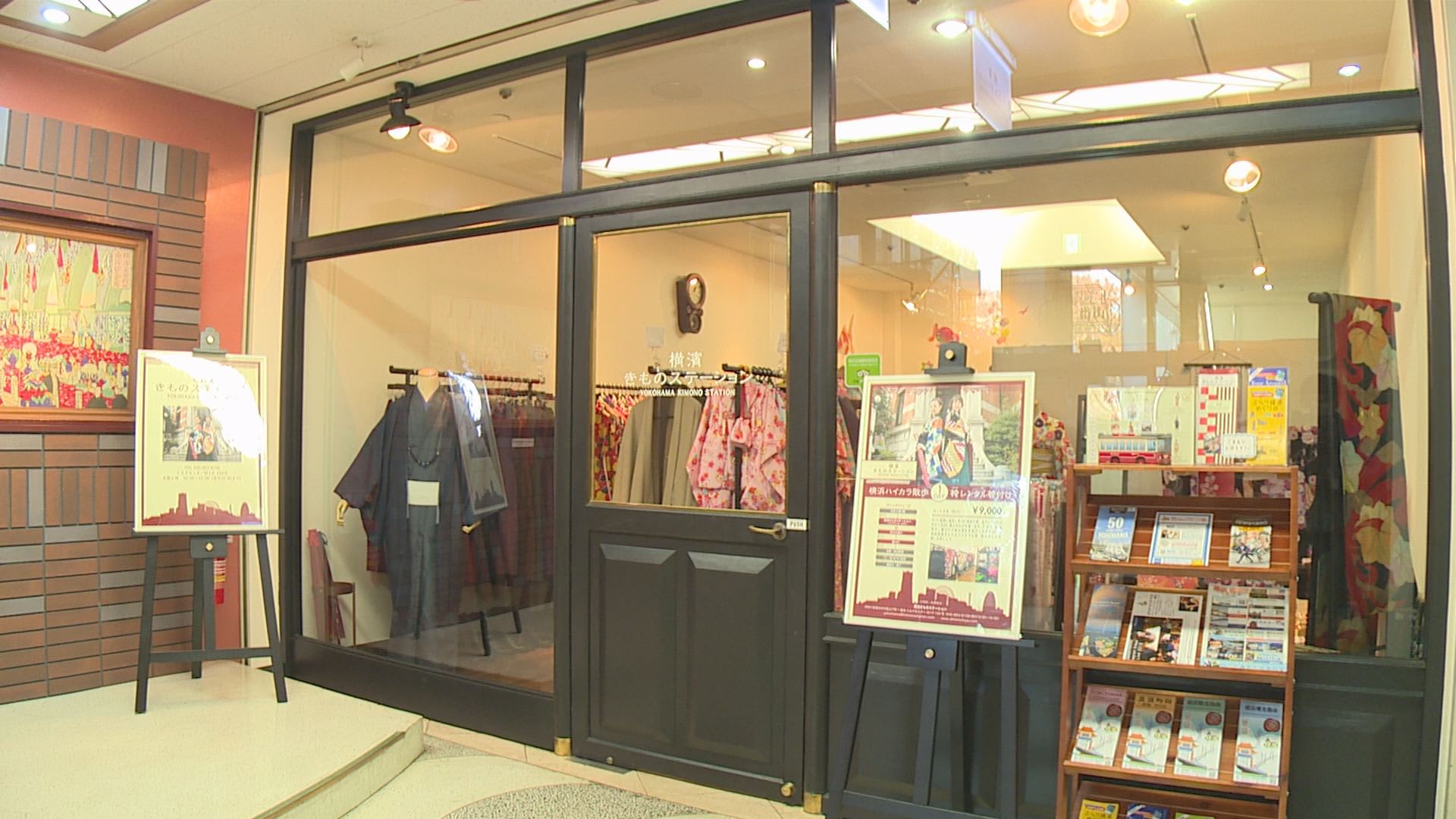 Source:YCV
Yokohama Kimono Station is a rental Kimono shop to enjoy sightseeing in Yokohama more. You can wear the Kimono in the morning, until 5:30 pm. From their various Kimonos, you can choose your favorite one and a professional Kimono teacher will kindly put you Kimono. You can go empty handed to the shop. The atmosphere inside the shop is so comfortable. Because even if you are tall, the teacher can adjust the length, the number of foreign customer has been increasing. Also there are many touristic spots that get along well with Kimono in Yokohama. From the shop, you can go many popular places on foot such as Dai-sambashi, Yokohama Red Birick Warehouse, and Yokohama Three Towers. So let's leave the luggage and go sightseeing!
The Various Kimonos They Have.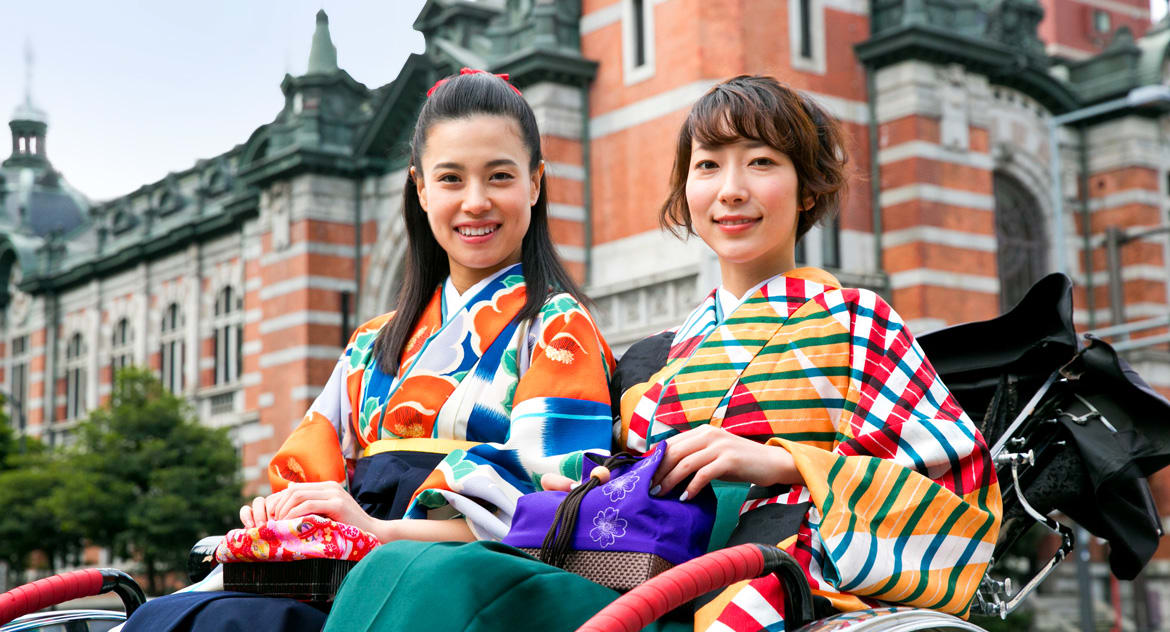 Source:Yokohama Kimono Station
They have various Kimonos. There are many Kimonos with different patterns and colors. You can choose from fashionable retro-modern Kimono, Furisode, a Kimono with long skirt and sleeves, to Yukata, a casual Kimono generally for the summer season. There are Kimonos not only for females but also males and children. Also you can choose many accessories such as broad sash, socks and bags. How about enjoying to coordinate them?
Access
Address: 134, Eichibankan, First floor of Silk Center M, 1, Yamashita-cho, Nakaku, Yokohama-shi, Kanagawa-ken
Opening hour: From 10:00 am to 5:30 pm (They closes at 6:00 pm)
Regular holiday: Wednesday
Access: 3-minutes from Minatomirai Line "Nihondai-dori Station" 3rd Exit
Let's Rent a Kimono in Yokohama!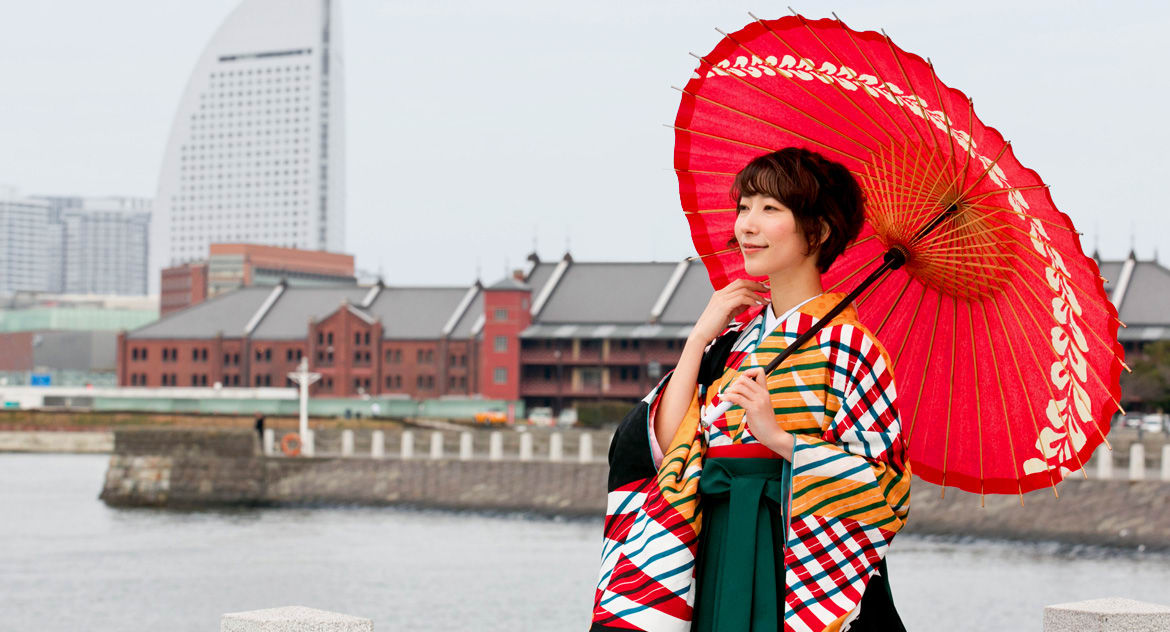 source: kimonostation
Japanese Kimono is so gorgeous and many foreigners love them. But there are not so many opportunities to wear them. If you want to wear the Japanese traditional clothes, it's better to rent than buy them. At Yokohama Kimono Station, you can choose your favorite Kimono and professional teacher will put the Kimono on you. Because there are so many touristic places that get along well with Kimono in Yokohama, it will be a good memory to go there and take some photos! Sankei-en or Western style house are a good places to go with camera and Kimono!
Access Information
From Tokyo Station
Take Keihin-tohoku Line train and get off at "Kannnai Station". It takes about 45-minutes.
From Shibuya Station
45-minutes to "Yokohama Station" by Tokyu-toyoko Line
From Haneda Airport
Take Keikyu-kuko Line and transfer at "Keikyu-Kamata Station" to Keikyu-honsen, and get off at "Yokohama Station". It takes about 30-minutes.
If you wish to wear kimono in Yokohama, this is also a good deal
Romantic Kimono Photoshoot – Yokohama Tour
Let's participate in a tour that let you take photos with Kimono on at some touristic spots of Yokohama! Enjoy sightseeing and Kimono at the same time! You can choose your favorite Kimono, and then the professional teacher helps you to wear Kimono. And the guide will introduce you to some touristic spots, so if it is your first time to visit Yokohama, you can enjoy Yokohama fully!