Cat's variety store「ねこあくしょん(Neko Action)」is in at a sacred place for cats Yanesen area. "Neko Action" is located from JR Nippori station 5 minutes on foot. Two cats welcome you. A comfortable place for cats lovers and pretty variety goods lovers.
If you like to know other cat spots, see「Yanaka-ginza for cat lovers – 6 places」
Cat's variety store 「ねこあくしょん(Neko Action)」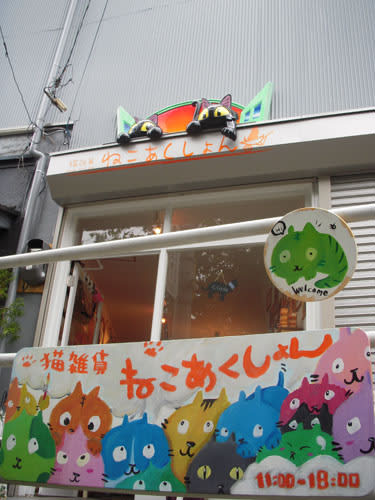 Source: 猫の雑貨屋「ねこアクション」HP
Cat's variety store 「ねこあくしょん(Neko Action)」is open on the the 29th of April.よい肉球の日(Yoi Nikukyu no hi – Day for the Good Cat's Foot Print)This day is not an official day.
Goroawase kinenbi – change the reading way of number to other woods.
For example 22nd of February (22-2) can be pronounced as "nyan nyan" (cat sound) Day of the Cat.

Source: 猫の雑貨屋「ねこアクション」HP
「ねこあくしょん(Neko Action)」is located from West Exit of JR Nippori station to walk up to the Gotenzaka-slope. You can have a nice experience by riding the 人力車(Jinrikisha. Jinrikisha is a human-powered transport, like a kind of rickshaw )There are many temples to experience Japanese culture. At the entrance of the shop, 2 black cats doll welcome you. Inside the shop, mainly white interior nicely decorated with a pleasant atmosphere. You can buy original variety goods related to cats.
The original goods of "Neko Action"
Source: 猫の雑貨屋「ねこアクション」HP
Neko T-shirts which have 3 types: Men's, Women's, Kids'. For Kid's designs are unique with a touch of humor. For Men's and Women's t-shirts – stylish cat's on.
Simple design and use of color for adults.
For souvenir! Original variety goods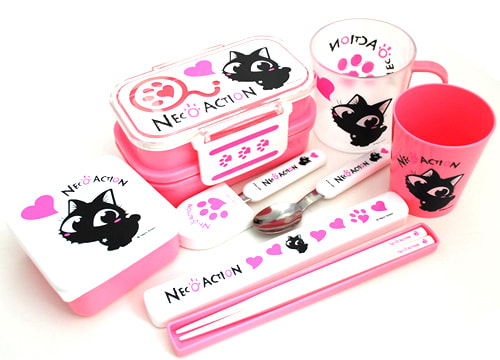 There are many kinds of souvenirs. A large variety of key holders and nail cutters with patterned images of cats or traditional Japanese lunchboxes with a cat print.
Souvenirs with the Black Cat , logo of  "ねこあくしょん"(Neko Action) are original and cute.
ねこあくしょん(Neko Action)Detail
・Typical Products:Neko T-shirts,  Kuroneko lunch series, Neko pattern key holder
・Opening hour : 11:00-18:00
・Closed on: Monday
Access to ねこあくしょん(Neko Action)
・Address: 3-10-5 Nishinippori Arakawa
・Tel: 03-5834-8733
・How to reach:
JR Nippori North gate West Exit 5 minutes on foot
・Travel Time from Haneda / Narita Airport, Tokyo Station:
From Haneda Airport about 40 minutes
From Narita Airport about 60 minutes
From Tokyo station about 30 minutes
・Official site URL  http://www.necoactionproject.com/neco.html
Map
If you want to go to Yanaka with the local person, you can also join our tour, "Yanaka Historical Walking Tour". The local guide will bring you to Yanaka shopping street and really good shops and cafe not many people know about.