"Kaidan" is a Japanese horror ghost story that comes with ghost or phantom. Usually Japanese people love to here horror stories in summer, but recently some of stories are on TV or published in winter. In this article we will introduce you to "A Peony Lantern (Botan Dourou)", one of the Japanese 3 most famous ghost stories.
≫You can see more articles about Japanese ghost stories at "Many Touristic Spots Are Related!  3 Most famous Japanese Ghost Stories".
What Is "A Peony Lantern?"
source: 東京都寺社案内
A masterless samurai Shinzaburo got to know a girl Otsuyu. Although both of them loved each other at first sight, their relationship met with strong opposition from her father. After all Otsuyu died being in love with Shinzaburo. After hearing the death of Otuyu, Shinzaburo was spending days praying to Amida Buddha. But one day, Otsyu appeared in front of Shinzaburo. Although Shinzaburo was taken aback by her sudden appearance, from that day Otsuyu came to his place with a peony lantern in her hand every night. But actually the figure of Otsuyu was a ghost. A Buddhist priest get anxious about Shinzaburo because he had got wasted day by day. The priest gave Shinzaburo a card and told him that you had to be inside home until a day of period. Shinzaburo followed what the priest said, but he heard Otsuyu calling him in sad voice because she could not get inside for the card. Finally at the last day he peeled the card taking priority over his life, and went out the house.
A Place Closely Connected to the Story; "Shinbanzuiinhoujuji Temple"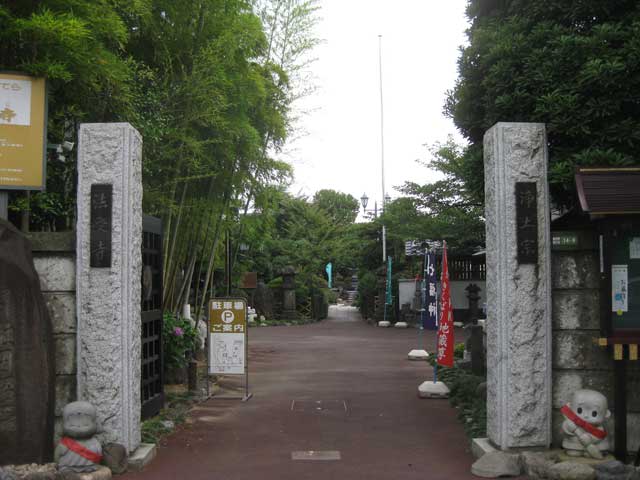 source: 東京都寺社案内
The ghost of Otsuyu was coming to Ogiwara Shinzaburo's house every night making a clattering sound with her wooden clogs. In the story they are buried at Shinbanzuiinhoujuji temple. To express the sympathy to them, there is a "Nurebotoke", an outside statue of Buddha. But the temple was got destroyed because of the Great Kanto Earthquake and it doesn't exist now at Yanaka, the scene of the story. The temple was built in Adachi ward in 1935. They build a monument of "A Peony Lantern" in 1995. There are tangible cultural properties such as the wooden statue of  "Gokukakusahouou" and a grave of the natural mother of the fifth Shogun Tsunayoshi, Keisho-in. This temple is dedicated to Hoteison, one of the Seven Gods of Good Fortune.
Access
Address: 4-14-8, Higashi-ikou, Adachi-ku, Tokyo-to
Access Information: 5-minutes walk from Tobu-isesaki Line "Takenotsuka Station"
GoogleMAPSのURL:
About Japanese 3 Most Famous Ghost Stories; "Yotsuya-kaidan", "Sara-yashiki", and "Botan-dourou".
There are 3 most famous ghost stories in Japan; "Yotsuya-kaidan" "Bancho-sarayashiki" and "Botan-dourou". Each of them is used as subject matter of art such as Rakugo, Kabuki and Kodan. Those 3 stories have something in common. That is the theme that a beautiful but unlucky girl got betrayed. Not only Japanese but also foreigner will be seized with fear when hearing this kind of story that a ghost comes back to this world with a deep-seated grudge.
Let's Participate in a Tour of Horror Stories at Asakusa, Where Myths Still Remains.
If you want to know more about Japanese horror stories, why don't you participate in a tour of horror stories in Asakusa? You can visit a haunted house at a amusement park"Hanayashiki", and a mysterious bar inside where a statue of Kannon is. You can try original cocktails with Buddhism-related names. Let's enjoy mysterious Japan!