Although Tokyo is one of the biggest cities in the world and plays big part of the economy in Japan, it has scenery of good old days. Yanaka-Ginza is a good example. It inherits retro Tokyo atmosphere and the people at the shops reminds us of the good old days.
This is the traditional Japanese art works. Shop of traditional shoes:  Hamamatuya

Zouri is one of the traditional art craft of Japan. Before Meiji era, people daily wore zouri not western style shoes. Geta may come to your mind when thinking of Japanese foot ware, but as Japanese style clothing, zouri is more high prestige wardrobe. Research recently proves that it has good effect on training your feet so may adapt to children at growth period. There are many types. The material mostly used is straw. Zouri made from straw is also called "waraji" and it used to be the shoes for workers. Today, number of people hand making cloth zouri and using them as a slipper inside the house is growing. Hamamatsuya is a kimono shop so you may buy zouri for souvenir.
Summary of shoes shop "Hamamatsuya"
・Signature product
Japanese traditional slipper such as zouri and geta.
・Open hours / Holidays
Winter: 10:00-18:00
Summer: 10;00-19;00
Closed on Mondays. May close on other days, too.
≫Find out more about shoes shop "Hamamatsuya"
Seeking for the best Japanese sake that goes with sushi: Echigoya honten

Thanks to the Japanese people appetite for fish, drink that matches with fish has developed. Echigoya, one of the shops at Yanaka-Ginza shoping streets has various Japanese sake and shochu. Japanese sake is alcohol made from rice, malt, and water. The beautiful drink cannot be found anywhere other than Japan. There are many ways to drink it. In the summer time, people tend to cool it in the refrigerator. On the other hand, in the winter, people warm it up. It is also nice to drink it with ice. If you like the taste, please help yourself with one for your souvenir.
Summary of Echigoya honten
・Signature Product
Japanese sake, shochu, wine
・Open hours / Holidays
Monday-Saturday: 10:00-21:00
Sundays and national holidays: 10:00-20:00
Open all year around
≫ Find out more about "Echigoya honten"
How about a handmade sweet made by shop opened in Taisho era? Goto-no ame
Source : http://qq3q.biz/Fq0t
Goto-no ame is traditional candy shop at Yanaka-Ginza shopping street established in 1922.Various flavors and kinds await you and you will sure find your favorite. Besides from Japanese traditional flavors like ginger, honey, and green tea, the most popular flavor is yuzu. Not only candy but also snacks called Karinto and Okoshi are famous. Please be reminded that it is only shipped to the shop on weekends and may be sold out before next weekend. Better purchase it if you find it. It is the chance to taste the sweet that has been appreciated for a long time. This will be a perfect fit for souvenir since its light and easy to carry.
Summary of "Goto-no ame"
・Signature products
Homemade candy, Karinto, Fried mochi, traditional snacks
・Open hours / Holidays
From 10:30-19:00
Close on Wednesday and sequence summer vacation
≫Find out more about "Goto-no ame
The place you can appreciate the Japanese sense of humor: Rakugo and Japanese small goods and accessories "Tamaru"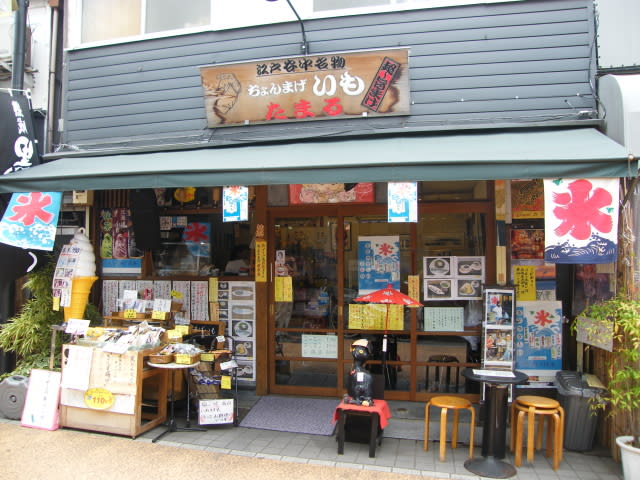 Source : http://www.yanakaginza.com/shop/tamaru2/
Rakugo is the traditional style of comedy in Japan. From Edo era to today, rakugo has been passed on as a traditional entertainment. Yanaka-Ginza is called a town of rakugo and is famous for producing many famous talents. This shop sells various original small goods suitable for souvenir aiming to communicate Japanese culture to the world. The most popular product here is "Chonmage-daruma". The figure is funny. The product is registered to the country and people buy them for souvenir of Yanaka-Ginza.
Summary of Rkugo and Japanese small goods and accessories "Tamaru"
・Signature product
Japanese small goods and accessories
・Open hours / holidays
From 11:00-19:00
Closed on Monday (If Monday is a national holiday,next day will be closed)
I dare you to buy the T-shirt! Fighting T-shirt shop Ito Manufacture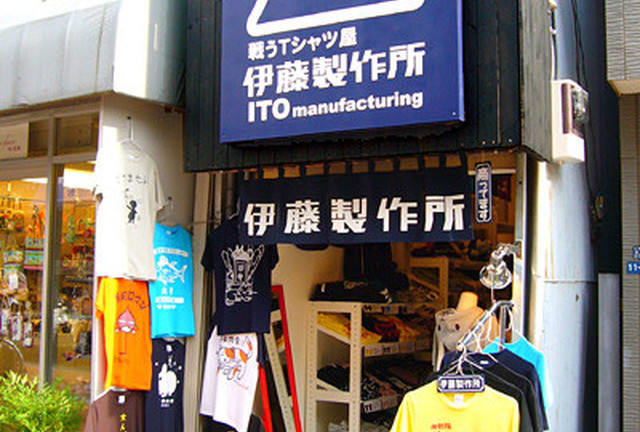 Source:https://haveagood.holiday/spots/271508
You cannot miss this shop when talking about the souvenir shop at Yanaka-Ginza. The shop sells many original T-shirts. They conduct from the design to manufacturing. The most popular product is a Kanji T-shirt with big letters written on it. By wearing this, it will be obvious that you are a tourist in Japan. Despite of the shop is not big, everyone without border can enjoy the atmosphere. If you're considering buying souvenir at Yanaka-Ginza, I recommend you to stop by.
About fighting T-shirt shop "Itou Manufactur
・Signature product
Original T-shirt
・Open hours / Holidays
From 12:00-17:00
Closed on Tuesday
≫Find out more about "Ito Manufacture"
Overview of Yanaka-Ginza
Access
・Address
3-13-1, Yanaka, Taito-ku, Tokyo 1100001
・Access (by subway or bus)
JR Yamanote line, Tokiwa line, Toeitoneri line, Shitetu Keisei line
5 minutes walk from Nippori station
Eidan Subway Chiyoda line
5 minutes walk from Sendagi station
Time required from Haneda / Narita airport and Tokyo station
From Haneda airport 48 min
From Tokyo station 22 min
・Official Website URL
Map
If you want to go to Yanaka with the local person, you can also join our tour, "Yanaka Historical Walking Tour". The local guide will bring you to Yanaka shopping street and really good shops and cafe not many people know about.