Kyoto is the center of ancient capital culture. You can find many old good things of the Japanese culture including people who wear "Kimono" in daily life. You may encounter "Geiko" or "Maiko" in beautiful "Kimono". There is a tourist scheme namely "Kyoto Kimono Passport" with which you can enjoy certain privileges at around 400 places if you visit there in "Kimono". It is a good value plan. Why not check it up before your visit?
To know other spots, please see the article "Traditional Japanese 'Kimono' Culture: Best 4 Tourist Spots to visit in 'Kimono'".
Let's Enjoy Sight-seeing in "Kimono" in Kyoto: 3 Best Spots to Visit!
"Gion Kawara-cho"
"Gion Kawara-cho" is a main traditional area in Kyoto. Since traditional architectures and "Kimono" are the best combination, people take photos in "Kimono". It is available for tourists that professional photographers take pictures of tourists in "Kimono". "Gion" reminds you of famous "Maiko" and "Geiko". The "Geiko" are women who entertain guests with songs and dances at Japanese restaurants or parties, and the "Maiko" are young trainees before becoming the "Geiko". There is a tourist plan that you can experience to be a "Maiko". In "Gion" there are restaurants where you can enjoy lunch in the Japanese room or experience the tea ceremony. Since there are many historical shops, you would feel the culture of Kyoto. Since the streets are paved by stone, you should pay attention to walk but you would feel a charming ambience, too.
Arashiyama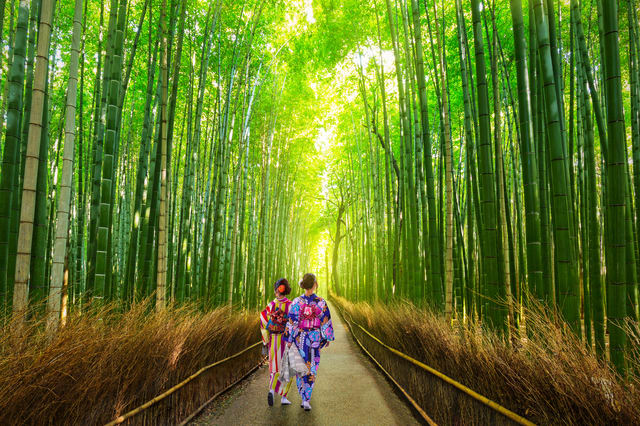 You will reach "Arashiyama" in 60 minutes by train from central Kyoto. It is also one of main attractions in Kyoto with plenty of greenery and an ideal spot to visit in "Kimono". When you visit there, "Arashiyama-Togetsukyo" (a bridge), temples, shrines and restaurants for "Yu-dofu" ("Tofu" in hot soup) are recommended places to see. Since it might be difficult to take a long walk in "Kimono", we recommend you to take "Jinriki-sha" (a rickshaw) pulled by "Shafu" (a rickshaw man). It takes approx. 30 minutes to se around "Arashiyam". No need to worry because some "Shafus" speak very good English. A must-see spots are "Togetsukyo", "Tenryu-ji" Temple listed as World Heritage by UNESCO, "Chikurin-no-michi" (a passageway in a bamboo forest).
"Yasaka" & "Kiyomizu-dera" Temple
A tour around "Kiyomizu-dera" Temple and "Yaska" is the most popular for sight-seeing in Kyoto. "Kiyomizu-dera" Temple was founded in 778. The main building sits on the stage 12m high, which makes a magnificent view both from the top and from the bottom. Nearby there is "Jinushi Jinja" (a shrine) very popular among young women because it enshrines a deity of marriage. "Yasaka Jinja" (a shrine) is very famous for "Gion Matsuri" Festival in July. In the area there are small passageways and sloping roads such as "Ninen-zaka" and "San-nen-zaka" where you can shop charming small articles and "Konpei-to" (a Japanese candy).
What is Kimono?
For further information about "Kimono", please see the article "What is 'Kimono'?: Traditional Japanese 'Kimono' Culture".