Must-see hot events held in Fukuoka for August, 2017 brought to you by MagicalTrip staff. We highlight the best events for anyone visiting Fukuoka in August, 2017 and wondering what to do.
Plan a trip around the various traditional events held in Fukuoka in August, 2017.
There are also lots of interesting festivals and events held in well known cities of Japan. Check it out!
1. Ariake Sea Fireworks Festa – August 27
This event is mainly hosted by the local youth, and you can enjoy the 8000 fireworks launched in the sky along with sales of local special products, Japanese drums and dance, and music lives.
Especially, the "Cho-Wide Starmine" is a must see. It is called the "Sky Niagara Yanagawa Special", and it was updated the world record of 3517.23m, and is also certified by the Guiness World Records.
Furthermore, you can enjoy BBQ while watching the fireworks, so we recommend for families and groups. The bleachers and the launching area is quite near, so you can enjoy the dynamic fireworks.
Schedule
Every Sunday AM5:00~9:00
Access & Address
Yanagawashi Gakudo Noen "Mutsugoro Land" (Hashimoto-cho, Yanagawa-shi, 389)
Price / Charge & Reservation
【Barbecue Corner】 1 set (for 5 people) 22,000 yen
Official Site
City of Yanagawa Official Website
2. The 55 th Nishi-Nippon Ohori Fireworks Festival – August 1
The "Nishi-nippon Ohori Firework festival" is one of the typical events that represents the summer of Fukuoka, held in the Ohori Park.
Because it is located in the Ohori park, you can enjoy the firework from 360 degrees around the park and there are many spectators every year. Although they can't launch huge balls of fireworks, they use the No.4, rapid fireworks, gimmick gireworks and the Niagara of about 6000 shots.
As the fireworks are launched from the lakes of the island, the reflection of the fireworks on the surface is also quite spectacular.
In addition, there will be seats available for extra charges in the Heiwadai athletic stadium, so it will be safe for families with children or couples to relax. The distance to the launch site is also near, so you will be able to enjoy the dynamic fireworks.
Schedule
August 1, 2017 (Tuesday) PM 8: 00 ~ 9: 30
Access & Address
Near Ohori Park, Chuo-ku, Fukuoka-shi, Fukuoka, Ohori Koen subway station
Price / Charge & Reservation
Charged seats available
Heiwadai athletics field stadium : adult 1200 yen · elementary, junior high, high school students 600 yen
Official Site
3. Iizuka Noryo Firework Festival – August 3

Source:flickr
This is a historical firework festival that continues from 1992. The gimmick fireworks are the largest in scale in the West Japan, and while there are lots of stalls in the venue, you can see the fireworks being launched in the riverbed of the Toka River.
The number of launches are about 6000. Amongs them, you can enjo the large scaled gimmick fireworks such as a Niagara, which is about 400m in total length. Also, there is an auto racing place, so there will be performances between the launches. There will be fireworks in shapes of riers, and also performances by people with fireworks on their bikes. The creative fireworks stimulate both adults and children.
Schedule
Wednesday, August 3, 2017 PM 8 – 9
Rainy weather: August 8 (Monday)
Access & Address
Iizuka-shi Ongagawa Nakanoshima
【Transportation Access】 It is about 5 minutes on foot from JR Shin Iittsuka Station and about 1 minute on foot from Iizuka Bus Center. )
Price / Charge & Reservation
Free
Official Site
City of Izuka sightseeing Official Site
4. Mojiko Retro Water Festival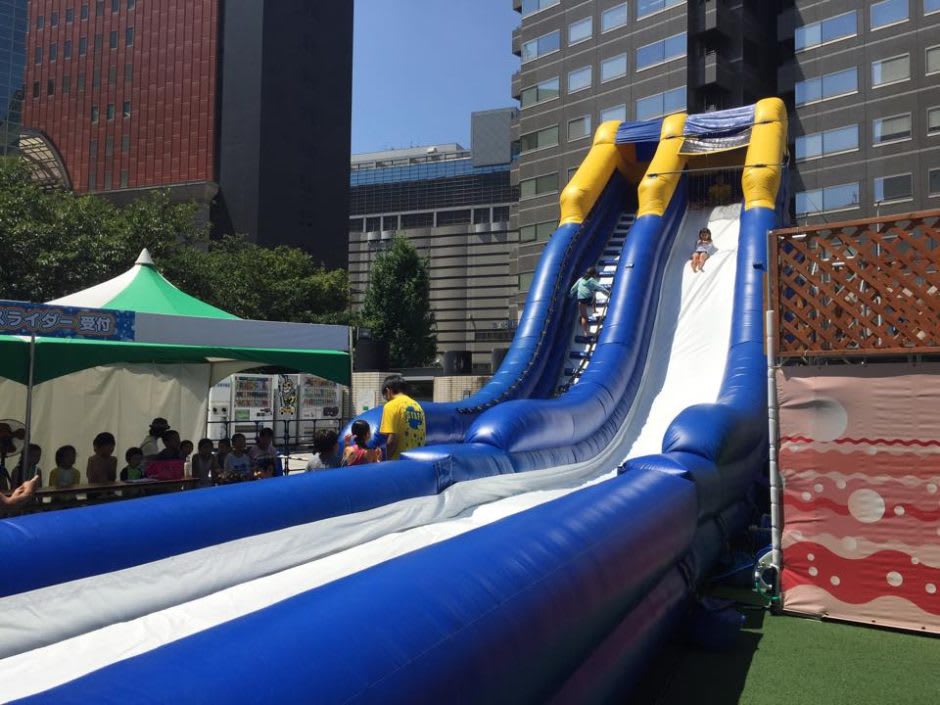 Source: Fukuu
Mojiko has the world's only Myanmar temple "World Peace Pagoda" for the purpose of praying for world peace and the memorial to soldiers who fought during the Second World War.
The "Mojiko Retro Water Festival" which arranges the festival which is carrried out by praying for harvest and health invarious countries in Southeast Asia, incorporating Mojiko style is popular amongs children using water guns, etc.
Simple changing rooms are also provided so feel free to join in. You can also bring water guns and play with water sliders, pools and bubbles. It is held at Mojiko Retro Central Plaza and it is free of charge, so why not make your summer memoriable here?
Schedule
August 19 (Saturday), 2017 ~ August 20 (Sunday) 2017
Access & Address
Kitakyushu-shi, Fukuoka, Mojiko Retro central plaza 【Transportation Access】 Near from JR Kagoshima Main Line "Moji-ko Station"
Price / Charge & Reservation
FREE
Official Site
5. Wasshoi 1 million Summer Festival  – August 5-6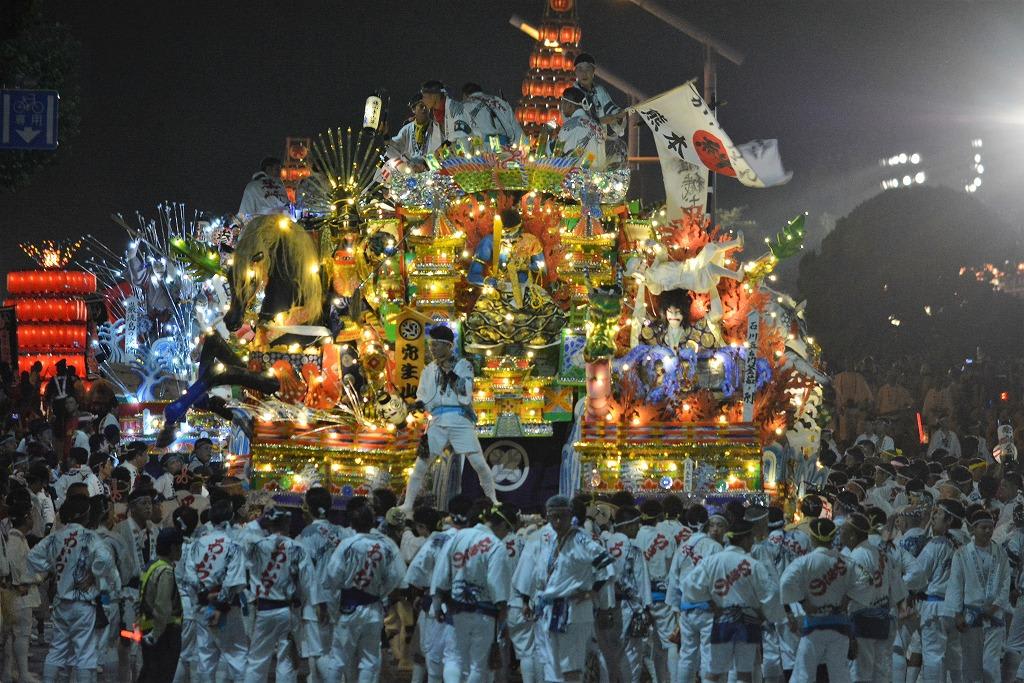 Source : 北九州市 時と風の博物館
Kitakyuushu's largest summer festical is held around the Ogura castle for two days. Starting from the opening speech on the first day, in addition to "Wasshori local gourmet and beer garden" in addition to 大里電照山笠, Ogura Gion Daiko and Kitakyushu's yamakasa, dashi and mikoshi will compete.
On the second day, there will be a "Hyakuman Odori" performed by about ten thousand locals, "Fireworks Light Down Ceremony" that addresses ecological consideration, and fireworks featuring sounds and lasers.
You can see the festivals that represent Kitakyushu at one, and the dynamic, professional "Yosakoi" is a must-see.
Schedule
August 5 (Saturday) 2017 – August 6 (Sunday) 2017
Access & Address
Kitakyushu-shi, Fukuoka, Ogakura-ku Jonai Katsuyama Park
【Transportation Access】 8 minutes on foot from JR Nishi Ogura Station or Kitakyushu Monorail Heiwa-dori Station, 10 minutes on foot from JR Ogura Station
Price / Charge & Reservation
【Paid seat】 Bleacher: 1,800 yen per person (500 seats).
Solg from July 1 (Sat) to August 3 (Thu). One day ticket costs 2,000 yen if it remains
Official Site
6. Come Along! Picture book museum 2017 – August 1 – 20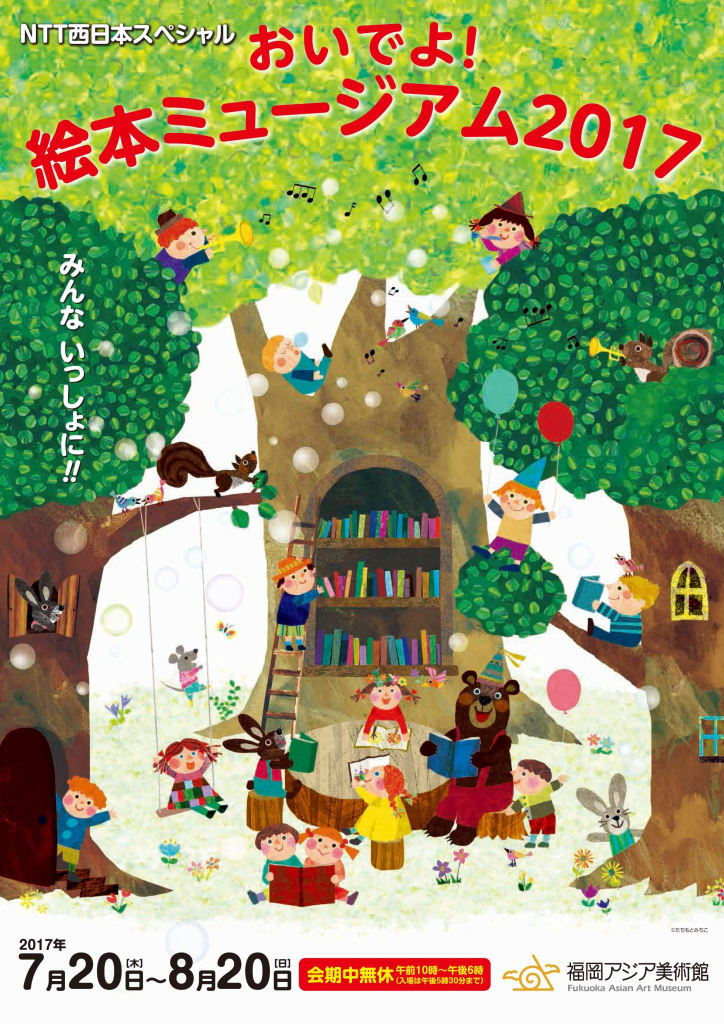 Source:博多リバレイン
"Fukuoka Asian Art Museum" is the only art museum in the world that collects and displays contemporary art items from 22 Asian countries regardless of genre.
In addition, in recent years as a cultrual project for the children during summer vacation, "Oideyo! Picture book Museum" is held with exhibitions and workshop where parents and children can experience the world view of picture books and stories.
Especially, there are lots of hands-on events by authors and announcers that infants and elementary school students can participate as well. The Exhibition of digital contents using the latest technology is also popular.
The greatest unique point is the fact that it will stimulate your creativity by not only viewing but developing ideas through the world of the picture books.
Schedule
August 1 (Tue) – August 20 (Sun) 2017
Access & Address
Fukuoka Asian Art Museum
3-1 Shimokawabata-machi, Hakata-ku, Fukuoka Riverain Center Building 7th and 8th Floor
Price / Charge & Reservation
General 1,000 yen (800 yen), high school students 700 yen (500 yen), elementary and junior high school students 500 yen (300 yen), free for younger children.
In parenthesis are fees for groups of 20 people or more · Advance fee
Official Site
Picture book museum official website
7. Disney on Ice Fukuoka Performance – August 25 – 27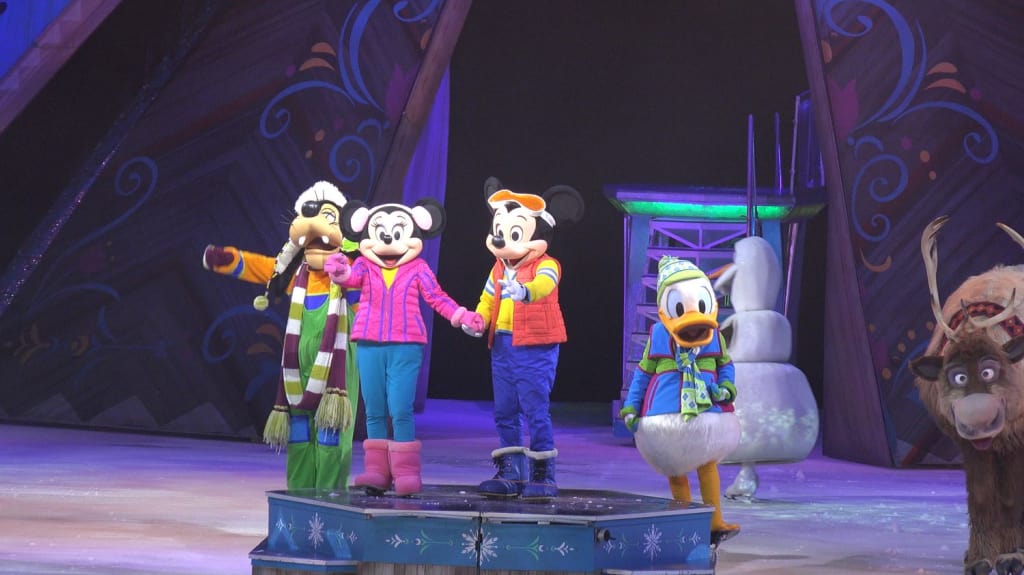 Source:私のメモ帳
Since its first appearance in 1981, it is a historical ice show that has continued for 30 years. In the past, there were performances of masterpieces such as "Aladdin" and "Beauty and the Beast", and in 2016 they performed a full story of the "Frozen" with number 1 audience mobilizer.
Every time there will be special projects, and this year there will be a special greeting by Mickey Mouse at the entrance in front of the venue. It is hard to meet with Mickey at Disney Resorts, so this is a must-see event.
Also, if you dress up as Disney characters, you will have the privilage to recieve presents. You can enjoy the show dressed up as Disney characters with your friends and families.
Schedule
August 25 (Fri) – August 27 (Sun) 2017
Access & Address
Marine Messe Fukuoka 7-1 Okihama cho, Hakata-ku, Fukuoka 812-0031
Price / Charge & Reservation
【S seat】 Adult 6000 yen, Child 5000 yen 【A seat】 Adult 3900 yen, Child 2,900 yen 【Premium】 Adult 8000 yen, Child 8000 yen 【Pair ticket (For S seat 2-seat set ticket / Friday /Sunday Night performance)】 Adult 11000 yen 【Group ticket (S seat 6 seats set ticket / partial performance)】 Adult 30000 yen
Official Site
Disney on ice official website
If this got you interested in experiencing deep local culture first hand, we, MagicalTrip provide unique night tours with a friendly local guide in Japan. You'll get to go to local Izakaya bars to enjoy authentic food and drinks, why don't you give MagicalTrip's Bar Hopping Food Tours.