Shinjuku Nishiguchi Omoide Yokocho (A street called Omoide Yokocho located in Shinjuku's West gate area) is a street filled with izakaya (Japanese style pubs). You can find hints of Showa era Japan from the appearance of the street. People come to this street to eat yakitori, which means grilled chicken skewers. Fukuhachi is one of the izakaya that serves excellent yakitori and that's what we're going to introduce to you today.
If you would like to know about other izakaya, check >> "5 Great Izakaya For Yakitori In Shijuku!"
About Fukuhachi

Source:flickr
Fukuhachi is one of the oldest, most successful izakaya in Shinjuku Nishiguchi Omoide Yokocho. The inside of this izakaya feel like a time slip back to the Showa era, when the owner and his wife started their business. The owner has a certain personality called edokko (often described as being assertive, straightforward and cheerful), while his wife is a very caring lady. Seeing this ideal couple is reason enough to come on down to this izakaya. Besides the food, sitting at the bar and asking the couple about old stories of Shinjuku Nishiguchi Omoide Yokocho is the best thing to do at this historical izakaya Fukuhachi. Unfortunately, these days many long-run izakaya have been closing one after another because their children are not taking over the business. Among them, Fukuhachi is one of the very few which is still surviving through this tragedy. It only has 16 seats and is often full. Please make sure to secure your seat!
Fukuhachi's Popular Menu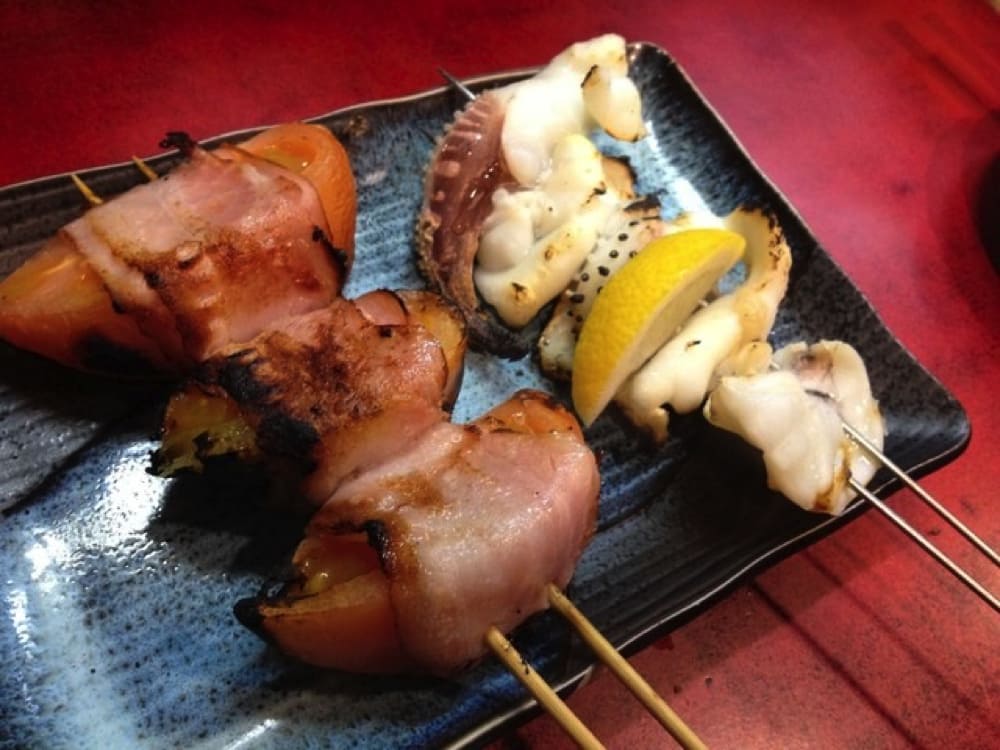 Source: tabelog
Fukuhachi mainly serves yakitori, which is grilled chicken skewers. We highly recommend their Grilled Tomato Bacon and Grilled Clam. With the Grilled Tomato Bacon, you can get a big piece of tomato wrapped with a sheet of bacon. This is a rare offering so you should try it. Even though you're not a big fan of tomato, we bet you can get over it if you eat it with bacon. The owner cooks the Grilled Clam. You can really enjoy the clam flavor by sipping the soup hidden inside the clam shell. This izakaya has various menu items that we want you to try such as Gesoyaki, which is raw squid, and Shitake mushrooms. If you want to dip into the world of yakitori, Fukuhachi is the best place to go.
Fukuhachi Information
Address:1-2-7, Nishishinjuku , Shinjuku-ku, Tokyo
Business Hours: 15:30~24:00
Closed on Saturdays and Sundays
Directions:
Approx. 3 minutes walk from Shinjuku Nishiguchi Station
Let's Go To An Izakaya In Shinjuku!
What is Izakaya?
An izakaya is a Japanese style pub where you can drink spirits and eat. Japanese people mainly use izakaya for drinking parties. Izakaya food is basically smaller dishes that go well with spirits but some dishes are big enough be a main course. It's said that izakaya culture in Japan, started from around 1200 years ago.
About Shinjuku
Shinjuku is the biggest downtown area in Tokyo. You can shop for various things there, from home electronics to high end brand items. It also has many izakaya streets including Shinjuku Nishiguchi Omoide Yokocho and Shinjuku Golden Gai where famous writers, TV related people, artists and scholars are often spotted. All the side streets are attractive and worth to visit.
Experience Barhopping In Shinjuku With A Guide!
In Shinjuku you can sign up for Tokyo Bar Hopping Nightlife Tour. These tours are mainly for the Shinjuku Nishiguchi Omoide Yokocho area and Ebisu Yokocho area. Even though you've never been to an izakaya before, with this tour you can enjoy visiting izakaya like Japanese locals do!