There are many skyscrapers in Shinjuku; they offer great observation platforms to enjoy night view. Tokyo night view would be shiny and beautiful. There are many bars and restaurants up there as well. In this article, you can read about Odakyu Manhattan Hills.
If you want to read more about night view spots in Shinjuku, check >>  the best 5 chosen night view spots in Shinjuku
Shinjuku chosen night view spots
Odakyu Manhattan Hills observation platform space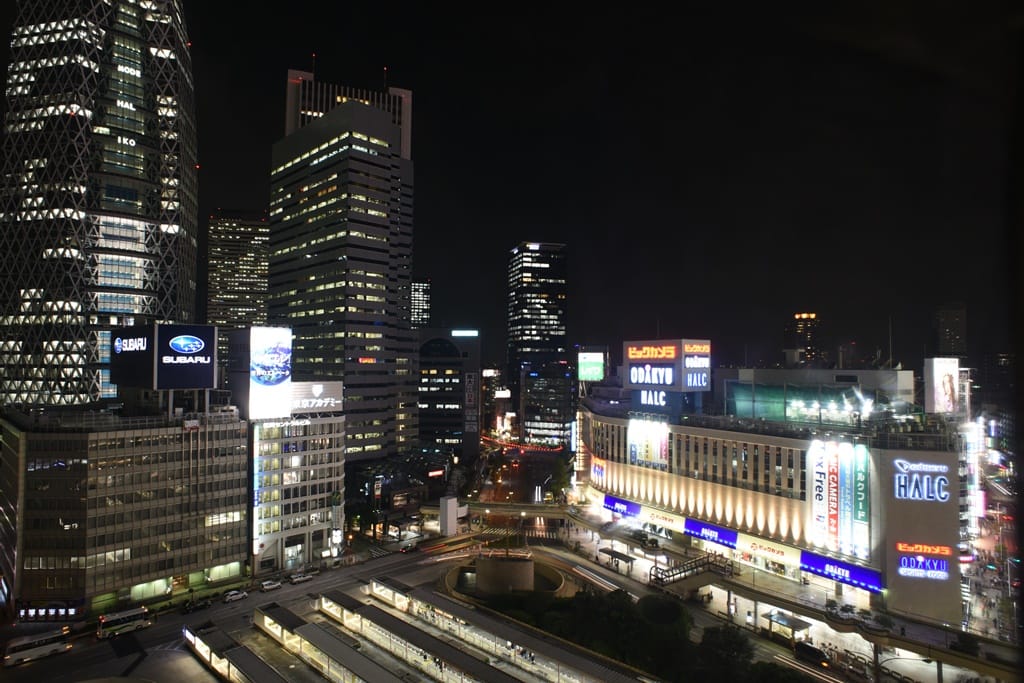 Source: Tokyo Nightfall 
Odakyu Manhattan Hills observation platform space is located on 12-14th floor of Odakyu Shinjuku station department store. Those floors are called Manhattan Hills; there are many restaurants. The observation platform is on 12th floor; you can see Shinjuku station west exit as well as beautiful night view including a beautifully designed building which is the home of Tokyo Mode Gakuen School. It's unusual for a skyscraper to offer a free observation platform that is great as this; they are open until 22:00. The best time to visit would be the sunset time during the week. Odakyu Manhattan Hills offers many different cuisines: Japanese, Chinese and Western. On 2nd to 11th floor, there are also casual cafes that you can have a rest while you shop around. You may want to enjoy this night view at the end of the day.
Recommended restaurant

Source: flickr
You can enjoy night view while you dine at Odakyu Manhattan Hills; there are many types of food places there: a casual and natural traditional sushi place Sushisho Ginza Fukusuke; a seafood specialist KINKAWOOKA and a casual café Canterbury Café. There are also cafes on shopping floors 12th -14th floor so you shall take a rest there too.
Access
address:1-1−3 Nishishinjuku, Shinjuku, Tokyo
business hour: Main building 13/14th floor  am11:00 ~pm10:30
12th floor:am11:00~pm 10:00
Googlemap URL:
Let's play in Shinjuku at night !
You can enjoy Karaoke, shopping and clubbing at night in Shinjuku. Most of night places are open until early morning; therefore, you can enjoy nightlife thoroughly in Shinjuku. There are various events at clubs like animation lovers and gay people. You may be able to find people who have similar interests with you. After you enjoy the night view of Tokyo from a skyscraper, why don't to venture out in this unique town. You would be able to spend a splendid night.
A recommended tour when you want to enjoy Shinjuku!
Tokyo Bar Hopping Tour at Japanese Local Taverns in Shinjuku
There are many Izakaya (Japanese bar) in Shinjuku; where people enjoy drinks and food as well as meeting people. There is a tour that takes you to selected Izakayas in Shinjuku; the guide would make all the necessary arrangements so you just join and enjoy the experiences. Check the detail of  Tokyo Pub Crawl Tour.