Trying local food is an important part of having a great trip. Especially, when you are puckish, yummy local food would make you feel satisfied. It's the same in Japanese culture; there are many affordable munching foods which amuse you as well as be kind to your wallet. (That is Japanese saying for cheap.)
1. The sweet fish pancake which brings you happiness. Yanaka Ginza, Manekiya
Source: http://livedoor.blogimg.jp/mao_mao_danpa/imgs/5/7/574f44f9.jpg
The shop was first opened at 12:12 and 12 second on December 12th in 2012. They love number 12. Japanese traditional sweet fish-shaped pancake which is normally in a shape of a fish but this shop's one looks like a cat look-like fish. The reason would be that a very famous cartoon artist Kenichi Kitami designed this particular shape. You can pick from many flavors, obviously there's a traditional red bean flavor, the custard cream, green tea etc…So please come and enjoy this unique-shaped traditional fish pancake.
about Maneki-ya
・typical product
fish pancake
・opening time
11:00~18:00 mon-friday
11:00~18:30 weekend and holidays
・closed on wed
・official website
http://www.manekiya-gurume.com/
・more info
Eating tour in the Yanaka Ginza area – Taiyaki "Maneki-ya" shop
2. cute cat-tail like doughnut  Yanaka shippo-ya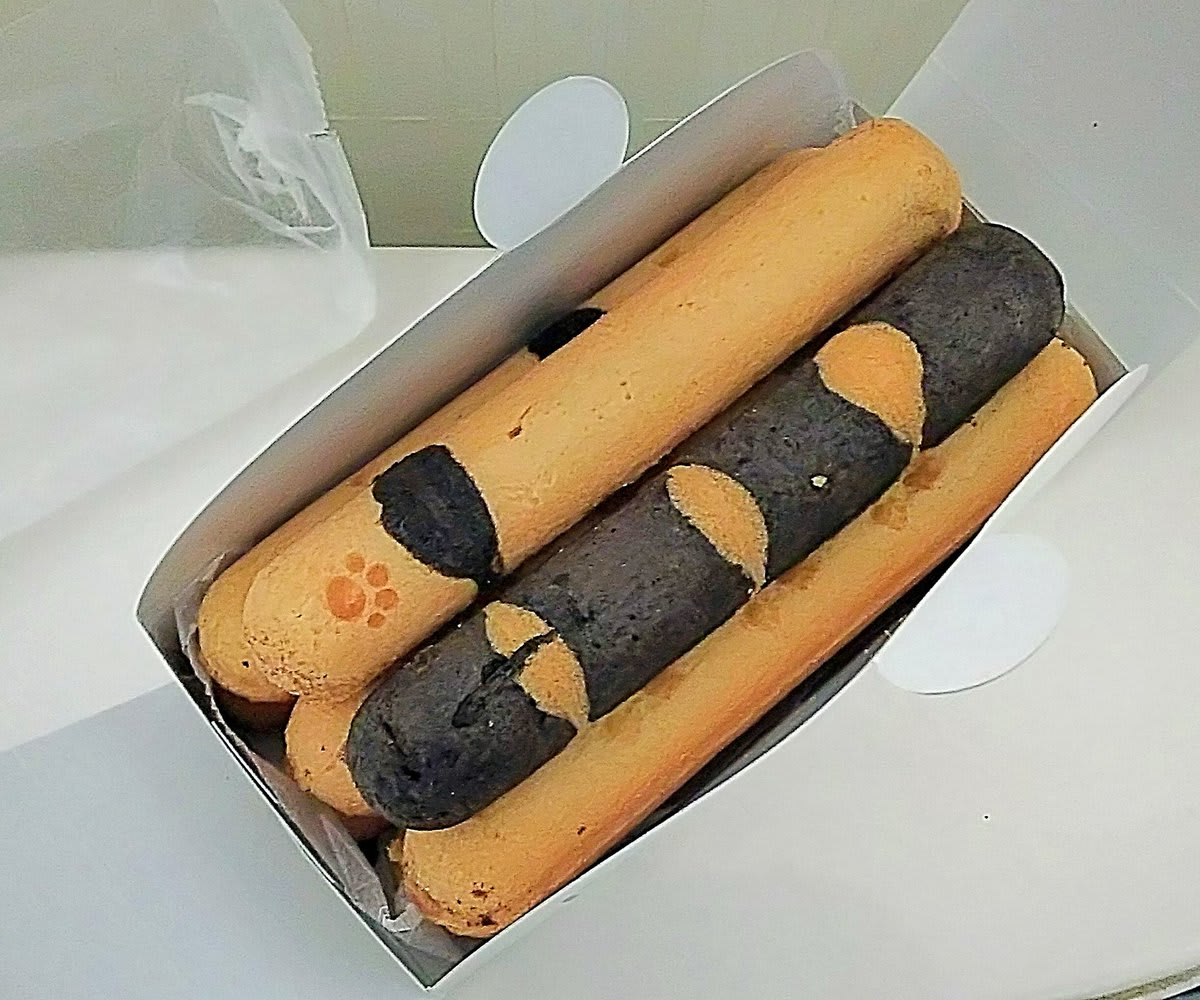 Source : http://urx.red/FsLH
In this downtown doughnut shop which is aiming to produce urban home-made sweets, their doughnuts are not just doughnuts. Normally a doughnut is a ring shape, however the doughnut you can get in the shop is designed as if a cat tail. It's really cute. You can only get them in this shop.  There are seasonal products as well as their regular ones so normally about 14 different types of doughnuts you can chose from.
about Shippo-ya
・typical products
doughnuts, baked products and soft ice cream
・opening time/closed
10:00~18:00 mon-friday
10:00~19:00weekend and holidays
open year around
・official website
・more info
Eat-and-Walk "Tabearuki" in Yanaka-Ginza – Doughnuts "Yanaka-Shippoya"
3. Healthy (non-oil) doughnut shop  Yanakamanten Doughnut
Source : http://urx.red/FsLT
You can find this particular doughnut shop by a red-orange sign. There are five unique points about this shop. Number one, they don't use oil to fry their doughnuts which make them healthier. Number two, you can have freshly cooked ones on site. Number three, there is a very cute gift wrapping option available. Number four, on the 10th of every month, there is a special sell. Number five, this is the original brand which was made by this shop. Finally, you can buy doughnuts as takeaway or there's a café on the upper floor you enjoy them sitting down and relax.
about Yanakamanten Doughnut
・typical products
baked doughnuts doughnut tower cake
・opening time and closed
11:00~19:00 everyday
Tuesday; closed
・official website
http://yanakamanten-donuts.com/
・more info
Eating a doughnut while walking in Yanaka Ginza  – "Yanaka Manten Doughnut"
4. Since 1933, the established butcher Mr Suzuki's ground pork Cutlet

From a long time ago in Japan, a butcher's croquette has been known to people as yummy and cheap food. Mr Suzuki's ground pork Cutlet is special because of the long history and the recipe evolved and improved time to time. The oil they use to fry the meat is changed for three times a day at least which makes the outside crispier and it gives great texture. The chef is keen to make the product better everyday, so you better try this traditional Japanese food.
about butcher Suzuki
・typical product
ground pork Cutlet, croquette
・opening time/closed
10:30~18:00 every day
Monday closed and occasional closing
・official website
http://www.yanakaginza.com/shop/suzuki/
・more info
" Niku no Suzuki": The famous street-food place in Yanaka Ginza, specializing in Croquette and Menchi-katsu
5. Try famous squid cracker and roast squid pancake Yakiya
At the main shopping street's entrance, there's a shop that sales roast squids and squid crackers. While you walk down the street you can munch them on go. Last five years, they are selling this unique crackers and roast squids which is not a real roast squid its more like a savoury pancake with squid pieces. The motto of the shop is cheep, fast and yummy. You can have a beer with it which is a great combination to each other. You can put special sweet-and-sour sauce and enjoy the texture. However you cannot take out the squid crackers so you have to eat them inside the shop.
about Yakiya
・typical product
squid pancake, pork pancake, squid crackers, beer, another alcohol and soft drink
・opening time and closed
10:30~19:30
open year around
・official website
http://www.yanakaginza.com/shop/yakiya/
・more info
Eating on the go in Yanakaginza – Grilled squid pancake shop Yakiya
Yanaka Ginza overview
access
・address
〒110-0001 tokyototaitokutani3chome13-1
・transport (bus and train)
JR yamate line, joban line, toeitoneri line, shitetsukeisei line
5 min walk from nippori station
eidanchikatetsu chiyoda line
5 min walk from sendagi
from Haneda airport / Tokyo main station
Haneda airport 48min
Tokyo main station 22min
・official site URL
map
If you are interested in visiting Yanaka, please also see Nostalgic Town Walk Yanaka Tour.