Shinjuku is a town where you can enjoy even at night. Not to mention Karaoke box and Izakaya, there are also host-clubs and gay bars around. You can also enjoy shopping anytime at Don Quijote that opens for 24 hours. Let's go to Shinjuku at night! In this article we will show you recommended nightclub Decabar Z.
If you would like to read about other club spots in Shinjuku, check >> 5 Recommended Nightclubs in Shinjuku Area
5 Recommended Nightclubs in Shinjuku Area
Decabar Z

Source: flickr
A new style bar "Decadance Bar" used to have much popularity for the concept that everyone can enjoy, but it has been renewed as "DECABAR Z" and got more interesting place! It's like a toy box of Shinjuku, and you can sing and dance there. This bar was produced by a French organizer who took notice of Japanese culture. Every night Japanese people on Gal, Lolita, and Fetish fashion cospray come and have fun. You can off course drink alcohol, but you can also play TV game and watch movie in the fantastic place. There are also many events held. You can also enjoy anime, events of the seasons and party there. They have many alcohols such as beer, vodka, gin, rum, shochu, malibu, tequila, Jägermeister, absinthe and wine. There are not only standard cocktails but also over 30 original cocktails. This bar opens from 6:00 pm everyday. So you can enjoy from evening. Also as a meeting place, this bar is a good place.
About Events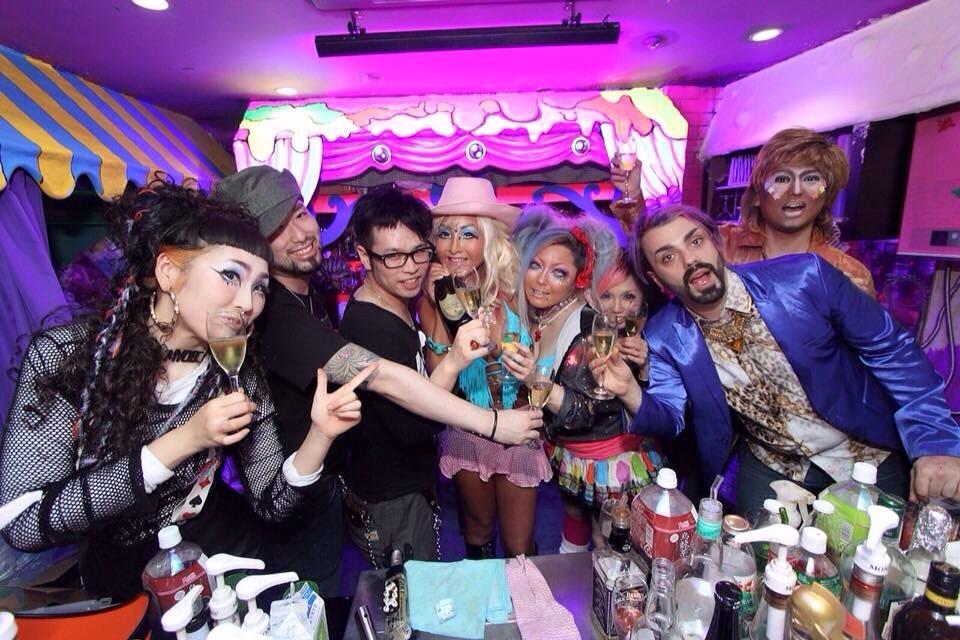 Source: TripAdvisor
There are many events held in DECAVAE Z. VR DAY is a event that you can enjoy anime hostess bar and the latest games. Buffed up guys appear as guests in Sexy Muscula Day. Also they have Christmas party, year-end-party and count down event and so on. Because you can enjoy cospray, let's visit this bar in your favorite fashion. You need to buy ticket at first and exchange it with drinks or food. You can use the ticket in another day. There is no entrance fee. You can buy the ticket at the counter. It costs 600 yen a ticket. If you buy 2 tickets, the price is 1000 yen. Almost all of drinks are available with one ticket.
Official Web Site
https://www.tokyodecadance.com/decabarz/
Access Information
Address: Shinko-building 5F, 1-2-13, Kabuki-cho, Shinjuku-ku, Tokyo-to
Opening Hour: 6:00 pm to 0:00 am (Sunday and Monday)
6:00 pm to 5:00 am (from Tuesday to Saturday)
MAP:
Enjoy "Night" in Shinjuku!
In Shinjuku, there are many Izakaya, Karaoke and nightclub that are open for 24 hours. The way of enjoying Shinjuku is various from drinking and dancing to singing. Also because Don Quijote opens for 24 hours, you can enjoy shopping anytime. Even if you spend a whole night in Shinjuku, you won't get bored. Especially in club, various events are held such as music and anime. You can check the event at web site. Let's enjoy Japan for 24 hours in Shinjuku at night!
Recommended Tour in Shinjuku!
Tokyo Bar Hopping Tour at Japanese Local Taverns in Shinjuku
If you want to know Shinjuku deeper, how about taking part in a tour? In this tour, a local guide will introduce you to some izakaya and bars that are not on guide books in back alleys. You can enjoy fully Shinjuku with this tour.Check the detail of Tokyo Pub Crawl Tour.