Have you ever heard of a type of grilled squid called ikayaki that is one of Osaka's local specialities?  Not only is it grilled squid but it then gets wrapped in a thin savory pancake.  Yakiya is one of a few restaurants that serve ikayaki in Tokyo.  You will love the flavour combination of squid and mouth watering cheese.  Let's take a closer look at Yakiya and its food.
Other souvenir shops popular in Yanaka Ginza will be introduced in the article of "5 best street food in Yanaka Ginza."
** **
Yakiya and its grilled squid pancake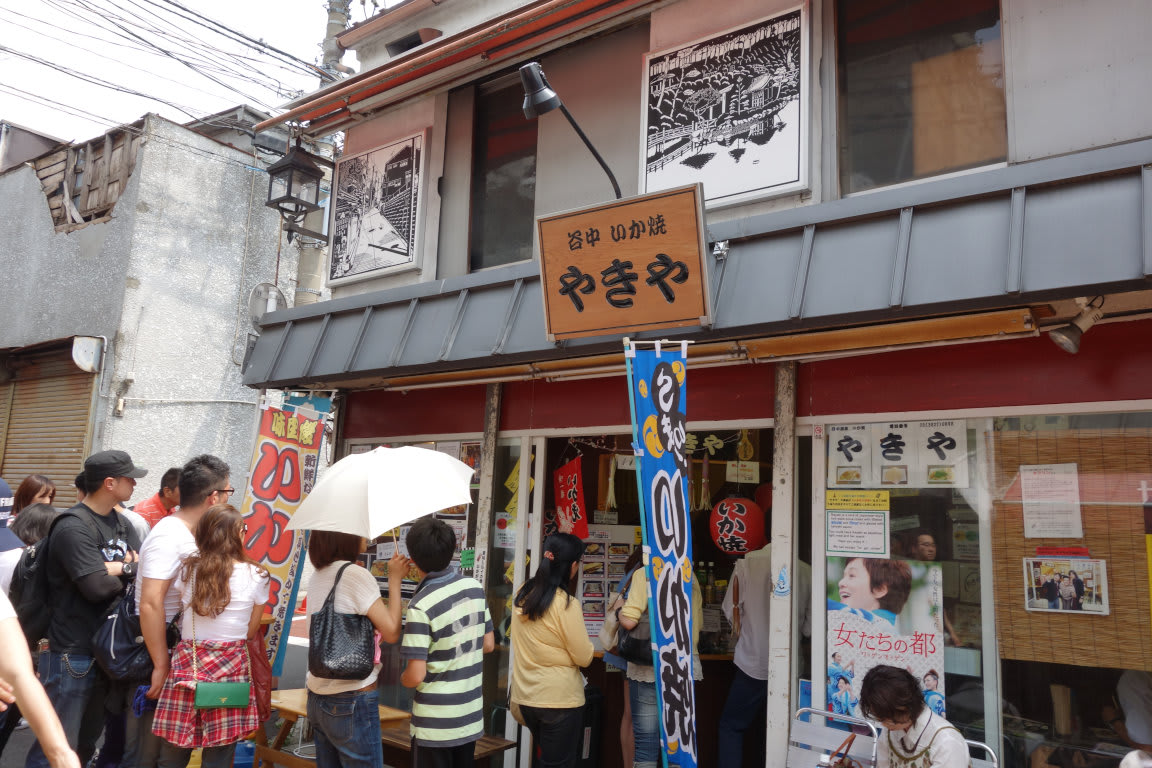 Source :http://blogimg.goo.ne.jp
Yakiya is an ikayaki restaurant located on a busy street in Yanaka Ginza.  The origin of ikayaki is from Osaka, however Yakiya's grilled squid is as awesome as the ones you can eat in Osaka.  They chop the squid into fine pieces, then grill it to perfection on a smoking hot grill until you can smell that smoky aroma.  The batter is made with a secret soup stock which gives it an incredible depth of flavor.
Even though Yakiya started its business recently, fans are always lining up to get a taste of their menu.  People also love another menu item from Yakiya called ikasen, which an ikayaki sandwiched between pieces of thin shrimp crackers which is only available for eat-in customers.

Source :谷中ぎんざ
Yakiya's most popular menu items are, ikasen (ikayaki sandwiched between shrimp crackers), ikayaki special tamago (ikayaki egg special) and ikayaki negi (ikayaki with green onions).  If you can't decide what to order, you won't be disappointed by choosing from one of these three menu items.
Yakiya's efforts in the pursuit of excellence in offering the lowest prices, quick service and making delicious food, made it one of the famous restaurants in Yanaka Ginza and is able to compete with shops that have been in business for generations.  Yakiya's food goes perfect with beer so you can sit back, relax and enjoy their food.
Enjoy the taste of Osaka with ikayaki negi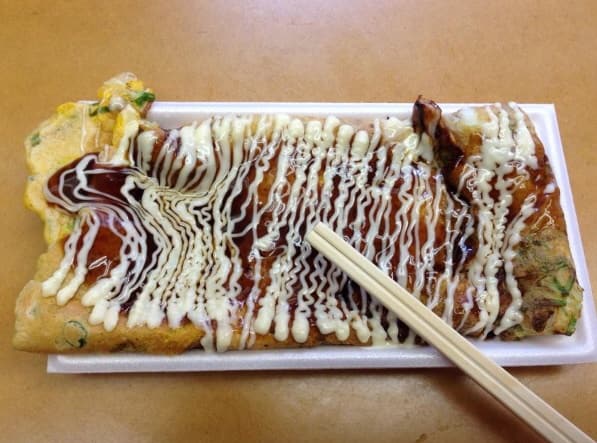 Source: 谷中ぎんざ
Ikayaki negi (ikayaki with green onions) is the purest form of Osaka ikayaki.  It combines lots of green onions in the dough so that you can enjoy the crispy texture of green onions and the chewy texture of the dough at the same time.  This ikayaki is like a concentrate of Japanese flavors including Japanese BBQ sauce and bonito stock.
Ikasen is like Japanese pizza!

Source:谷中ぎんざ
Ikasen is grilled squid with cheese and shrimp crackers.  Since ikasen has cheese inside, it feels like you're eating a slice of pizza.  This menu is only available for eat-in customers.  Enjoy this unique menu item, just like you're eating a hamburger.
About Yakiya grilled squid pancake shop
・Ikayaki negi, ikasen, ikayaki egg special
・Business hours: 10:30~19:30 (Sat, Sun and Holidays)
・At times, will close for the day..
Access & Address
・Address
3-11-15, Yanaka, Taito-ku, Tokyo
・Phone
03-3821-0898
・Direction
5 minutes walk from the Tokyo Metro Chiyoda Line, Sendagi Station
5 minutes walk from JR East Joban Line Yamanote Line or Tokyo Metro Toneri Line, Nippori Station
・Travel time
approx. 40 minutes from Haneda Airport / approx. 60 minutes from Narita Airport / approx. 11 minutes from Tokyo Station
・Official Site
http://www.yanakaginza.com/shop/yakiya/
Map
If you are interested in visiting Yanaka, please also see Nostalgic Town Walk Yanaka Tour.