" Niku no Suzuki" is famous for delicious menchi-kastu. Menchi-katsu is a hamburger patty covered with breadcrumbs. It is sometimes served for dinner or a snack while strolling along streets. The menchi-katsu that Niku no Suzuki cook is very delicious. Everybody can enjoy it without any sauce.
Why is it so special?
" Niku no Suzuki"
Source:flickr
Niku no Suzuki, which specializes in menchi-katsu and croquette, has been very popular since 80 year ago. It's well known as one of the attractions at Yanaka Ginza. It gets a lot of television coverage and has long queues of people waiting to purchase fresh croquette and menchi-katsu. Niku no Suzuki was originally a butcher shop but the third shop owner later changed it to a deli.
This famous shop is the one for street-food lovers! Don't miss it.
Source:flickr
Niku no Suzuki pursues the deliciousness of its products. It has tirelessly improved the quality of the taste in many ways, such as using fresh oil and seasonings. There is no wonder why it established the fame to draw lots of people to its doorsteps. It created "Genki Ippai! Genki Menchi-Katsu" which costs 230 yen. It could be a slightly expensive but is more than value for money, guaranteeing for a scrumptious snack. You must know how famous this shop is in Japan. It's popular to the extent which Niku no Suzuki was used for the TV advertisement of Tokyo Kanko Inc.
On top of that, no other restaurants in terms of the freshness can beat their homemade deli.
Why not try "Genki Menchi-Kastu"?
Source:flickr
The shop's specialty is "Genki Ippai! Genki Menchi-Katsu" which made of well-blended Japanese beef and Australia beef. When you bite it, rich and juicy gravy is coming out.  As the shop uses fresh frying oil, it doesn't churn in your stomach.
"Toro Toro Yakibuta" made with secret sauce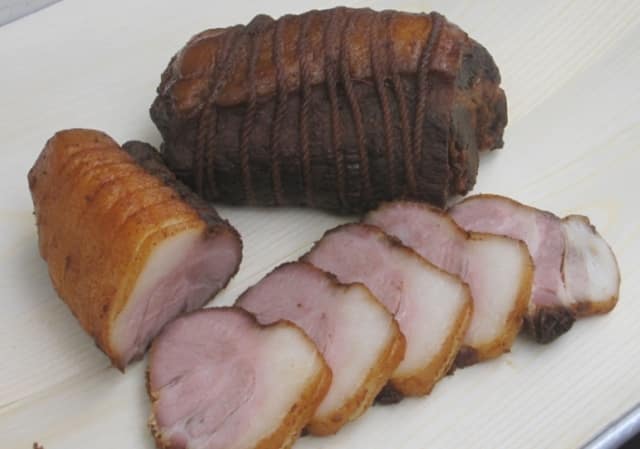 Source:「肉のすずき | 谷中銀座商店街振興組合」
" Toro Toro Yakibuta" made with a secret sauce is the all time favorite for the locals. The sauce has been passed on from generation to generation over 80 years since it was established. The Yakibuta is very tender to the point of melting in your mouth.  It's simmered for a long time until the meat becomes tender. How about getting this Yakibuta for your loved ones? It will be a nice souvenir!
Niku no Suzuki –Outline-
Specialty : "Genki Ippai! Genki Menchi Katsu" " Toro Toro Yakibuta" " Pork Shumai"
Opening hours: 10:30-18:00
Closed: Monday(occasionally Tuesday as well)
Access
Address: 3-15-5 Nishi Nipppori Arakawa-ku, Tokyo 116-0013
Telephone: 03-3821-4526
Access (Subway/ Bus): 5 minutes on foot from Sendagi station served by Tokyo Metro Chiyoda Line.  6 minutes on foot from Nippori Station served by JR Yamanote Line, Tokiwa Line, Toeitoneri Line, and Keisei Line.
Travel Time from Haneda Airport / Tokyo Station:
About 40 minutes from Haneda Airport. 11 minutes from Tokyo Station
Official site URL:http://www.yanakaginza.com/shop/suzuki/
Map
If you want to go to Yanaka with the local person, you can also join our tour, "Nostalgic Town Walk Yanaka". The local guide bring you to Yanaka shopping street and really good shops and cafe not many people know about, and you can try to take Japanese bath (Sento).