Tsukiji –shijō is world famous fish market of Japan. It's divided into two places 場内(jōnai)
– mainly for the wholesale market for the professionals and 場外(jōgai)- Tourists can easily pay a visit to this famous place. We'll tell you about the famous shop Maguro-no-Miyako at this location where you can eat delicious gilled seafood at Tsukiji- jōgai –shijō.
Do you want to know more other shops at Tsukiji –jōgai-shijō? See "6 food vendors to enjoy walk and eat at the Tsukiji outside market"
Maguro-no-Miyako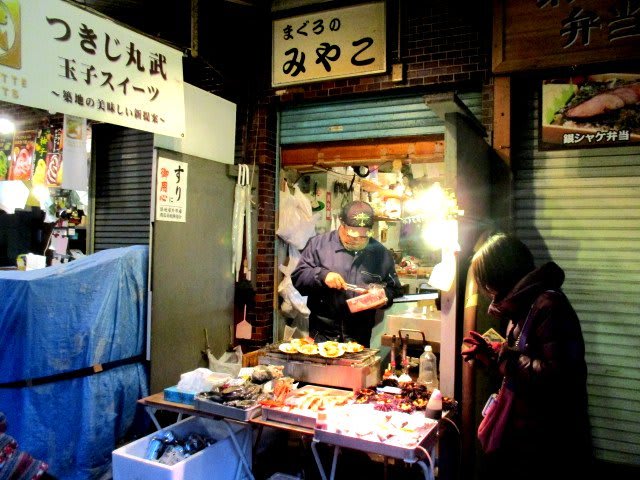 source: 食べログ
Maguro-no-Miyako is a shop where you can buy and eat specially Maguro (Tuna fish).This shop is famous for grilled seafood. They select only sea tuna with care.Grilled seafood is especially delicious with soy sauce and beer! One of the wonderful gourmets from Tsukiji –jōgai-shijō.
No1 dish of Maguro-no-Miyako  "Grilled seafood"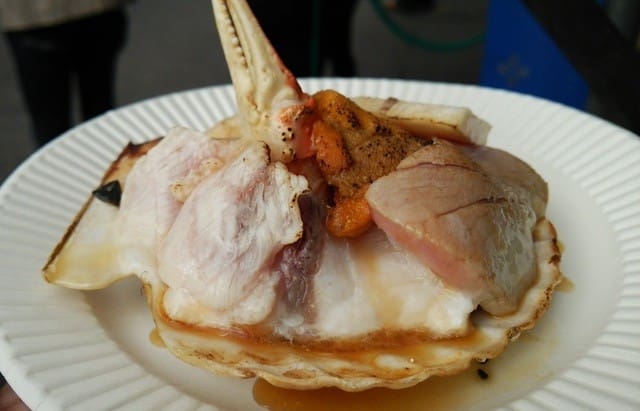 source: 食べログ
One of popular dishes of Maguro-no-Miyako is "grilled seafood".You can enjoy rich taste of sea urchins, scallops. The soup from scallop makes you mouthwatering. Very tasty!
Slices of tuna steaks- you can enjoy it at the shop or take it with you.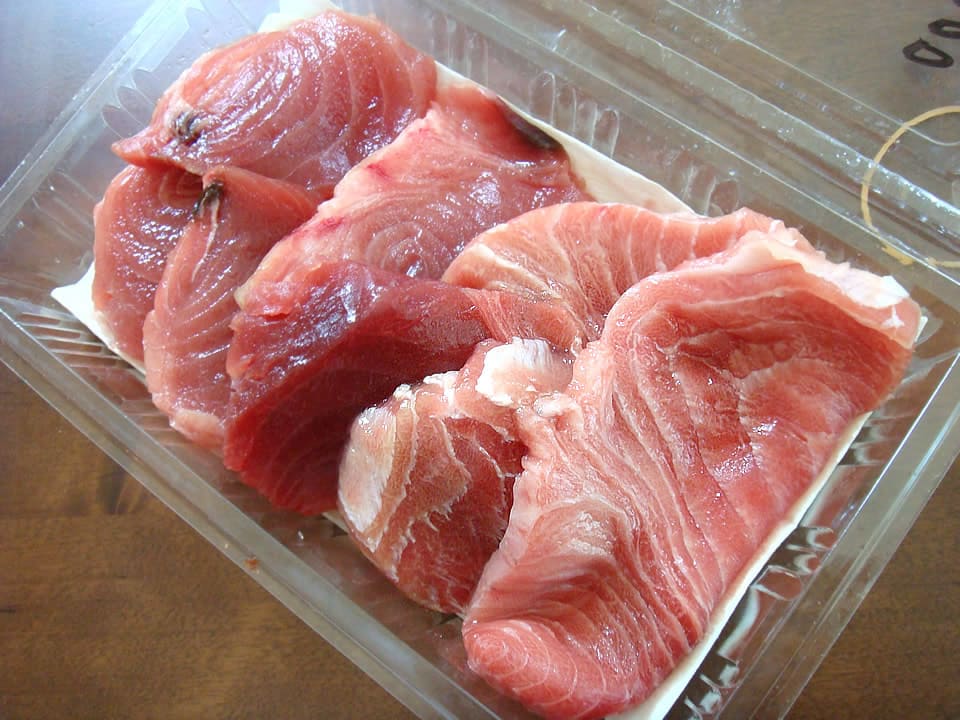 source: CYBER@GARDEN
Slices of tuna steak is besides grilled seafood also popular at this shop. You can eat slices of tuna as Sashimi. Or you can take it with you. So you can enjoy grilled tuna with soy sauce at your own place. Sashimi of- and grilled slices of tuna are both delicious.
maguro-no-Miyako detail
Grilled seafood, Slices of tuna steaks, Hamaguri(Common orient clam)
Business hours   6:30-16:00
Closed on Sunday & national holiday , when the Tsukiji – shijō is closed
Access
Address:  4-13-13 tsukiji Chūō-ku 104-0045 Tokyo
Tel    :  03-3547-6622
Official Website http://www.tsukiji.or.jp/search/shoplist/cat-a/cat-1/437.html
Map