Since "Shinjuku" is a town with many shopping places and amusements, it is one of most popular spots in Tokyo attracting many locals as well as foreign visitors. It is crowded even on weekdays. In particular, night life in Shinjuku is another attraction because there are many places of entertainment open 24 hours or some are open till morning. You can enjoy yourself through the night. In this issue we introduce nice spots to enjoy night views in Shinjuku.
Experience Shinjuku's backstreet bars, that are normally a little hard for Tourists to navigate – try this fun Tokyo Pub Crawl Tour
Visiting Shinjuku? Find out more cool nightlife places and things to do at night in Shinjuku
Top 5 Spots to Enjoy Night Views in Shinjuku
1. New York Bar

Source: flickr
"New York Bar" is located on the 52nd floor, Park Hyatt Tokyo in "Nishi Shinjuku". You can enjoy live jazz music and night views of the metropolitan as in New York. This is the place where the movie "Lost in Translation" was filmed and therefore many foreigners visit. The restaurant in the hotel offer unique and creative cuisines with the concept "Cuisines from all around the world as in New York". The wine cellar houses over 1,800 bottles in 140 kinds. Here you find the best selection of California wine in Tokyo.
<< Read more detail about  New York Bar
2. Hagoromo at "Nishi Shinjuku Nomura" bldg

Source: nomura-shop
"HAGOROMO" at "Nishi Shinjuku Nomura" bldg is situated 10 minutes walk from the west exit of "Shinjuku" Station or 5 minutes walk from "Nishi Shinjuku" Station. All seats are for couples and you can enjoy Shinjuku night view from every seat. It is recommended for special occasions such as birthdays and anniversaries. There are varieties of course menus for every occasion. The cuisines are nicely arranged for ladies with fresh vegetables and carefully selected seasonings with low calorie.
<< Read more detail about"HAGOROMO"
3. Private Rooms with Night Views: "Garden" of Shinjuku

Source: gnavi
The "Garden" is a restaurant with private room with a wonderful night view and located just 30 seconds walk from "Shinjuku" Station. The attraction is that you can enjoy night views. Relaxing private rooms are also available and good for dining in group or in couple. The cuisine is creative Italian. You will be satisfied with chef's skilled cooking of meats and vegetables. The prices are reasonable, for example a course menu with 6 dishes and all-you-can-drink in 3 hours would cost you Yen 1,980, between 12:00h and 16:00h. The all-you-can-drink is optional for all course menus. Attention! Don't forget to make a reservation before you go.
<< Read more detail about"Garden" of Shinjuku
4.The Observatory at "Odakyu Manhattan Hills"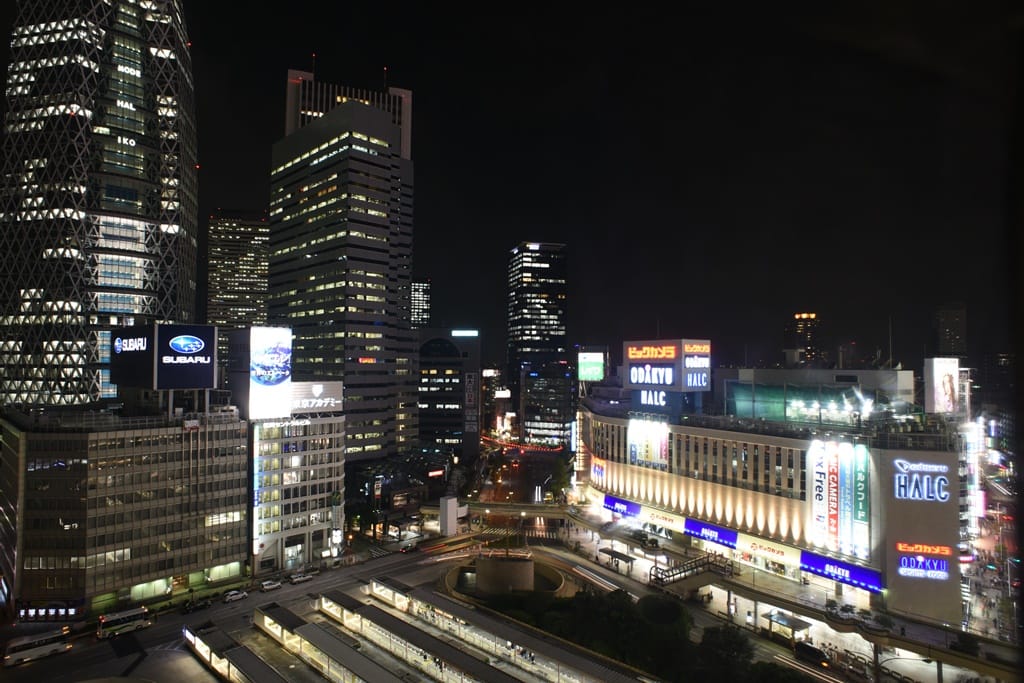 Source: Tokyo Nightfall 
There are several department stores around Shinjuku Station, one of the biggest terminals in Japan. The 12th – 14th floors of the main building of "Odakyu" Department Store are dedicated floors only for restaurants called "Manhattan Hills". On the 12th floor there is an observatory. It is rare that restaurants in department stores have a large observatory space. It commands magnificent night views of Shinjuku. Right in front of you, you can see the beautiful curvilinear building of the "Tokyo Mode Gakuen" (a school of fashion). It is open till 22:00h but if you want to enjoy better night views, it is recommended to visit early hours of the evening on weekdays.
<< Read more detail about"Odakyu Manhattan Hills"
5. The North Observatory at Tokyo Metropolitan Office

Source: flickr
The Tokyo Metropolitan Office Building is in a walking distance from "Shinjuku" Station and has two observatories i.e. North and South. Being open to public for free, the observatories are attractive place to visit. However, not both observatories are open on the same day, either the North or the South. Usually the North is closed on the 2nd and 4th Mondays, while the South is on the 1st and 3rd Tuesdays. Please check the days that are open before you go. There is a restaurant-bar in the North where you can enjoy a night view. Since security is very good there, ladies alone or couples can visit at night.
<< Read more detail about Tokyo Metropolitan Office
Night Entertainment in Shinjuku
The shops such as "Don Quijote" and "Bicqlo" are popular among foreign visitors and open late at night. "Shinjuku" is a town without sleep and many shops are open till morning and some are open for 24 hours. There are trendy bars for live music. You can also have fantastic time enjoying night views from top of the skyscrapers. Furthermore there are so many places for night life such as "Karaoke", "Izakaya" bars, host clubs, cabaret clubs and so on, that you will never get tired of the night in "Shinjuku". Why not enjoy yourself?
Entertainment Tours in "Shinjuku"
Tour for Tokyo Bar Hopping, Local Taverns in Shinjuku
If you want to enjoy a night life in "Shinjuku", why not join a bar-hopping tour. The tour will take you to "Omoide Yokocho" in Shinjuku, "Ebisu Yokocho" in Shibuya, etc. The guide will take you "Izakaya" in a small alley-way which you can hardly find yourself. Even they will arrange reservations for those places which are too crowded to get in. Check the detail of  Tokyo Pub Crawl Tour.