"Shinjuku West Exit Omoide Yokocho" is a perfect place to experience "Izakaya", which is a style of traditional Japanese bar that serves dishes to accompany alcoholic drinks. Here is the top five Izakaya recommended to International tourists at "Shinjuku West Exit Omoide Yokocho", all of which have a very nice 50's retro atmosphere.
Experience Shinjuku's backstreet bars, that are normally a little hard for Tourists to navigate – try this fun Tokyo bar hopping night tour in Shinjuku at night
Visiting Shinjuku? Find out more cool nightlife places and things to do at night in Shinjuku
About Shinjuku Omoide Yokocho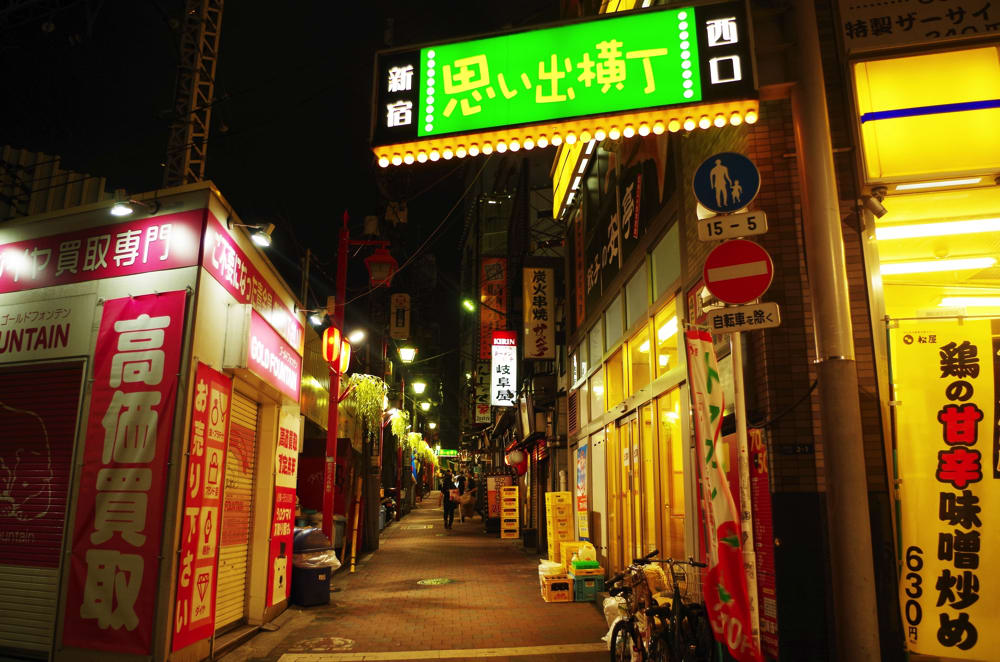 Shinjuku West Exit Omoide Yokocho established in 1946 has its root as in the post-war black market. Nowadays, the alley is full of yakitori or motsu-yaki bars and Izakaya. The typical way of enjoy the street is going bar hopping. If you come here, you will be able to experience the traditional way of enjoying drinking and eating in multiple Izakaya.
Let's Go Bar Hopping! Top Five Recommended Bars
1. Torien

Source: flickr
From yakitori to meat or fish sashimi, stewed dishes and fresh vegetables, it is a place where you can enjoy over 120 kinds of typical and delicious Izakaya dishes. You can also experience a unique Japanese food culture such as sashimi of horses and whales, which you cannot find in other countries. Torien offers standing bar on the first floor, and zashiki style seating, where diners sit on the floor at low tables. Since Saturdays and Sundays are open from early afternoon, it is also recommended to visit Torien as a good starting point for bar hopping on weekends.
<< Read more detail about Torien
2. Torobako

Source:flickr
"Torobako" is an Izakaya where you can enjoy Hamayaki-style cuisine using "Shichirin", a type of portable barbecue grill and eat fresh Japanese seafood.
Since you will grill the food on your own, it can be cooked to your preference. Besides their hamayaki style dishes, other fresh seafood dishes such as raw uni (sea urchin) or ikura (salmon roe) are also very good. Torobako has an atmosphere of a fishing port and the interpersonal distance between the customers are closer. If you are looking for a place to experience Hamayaki-style dishes and enjoy socializing with other customers, this is the right place to visit.
<< Read more detail about Torobako
3. Kabuto
Kabuto specializes in eel, has been open since 1948, only three years after the end of World War II. The eel is not offered in kabayaki-style, a cooking style recently also gaining popularity outside of Japan. Different eel parts including head, fin, tail and entrails are skewered on a stick like yakitori, and thereafter grilled using binchotan charcoal. It is rare to eat eel this way even in Japan. If you want to enjoy eating eel in a different way, make sure to add Kabuto to your bar hopping list.
<< Read more detail about Kabuto
4. Kameya

Source:flickr
Kameya is a small shop for soba noodles with only about 8 seats. The most recommended and popular bowl is "Tentama soba" that is said to be originated in this shop. Tentama soba is topped with tempura of mixed vegetables such as carrots and onions and a soft-boiled egg. The charm of the shop is that you can have some really delicious soba at a very reasonable price. Tentama soba is ¥400, while a simple kakesoba (without any topping) is only ¥290. Other than soba, side dishes such as udon noodles and onigiri are available too.
<< Read more detail about Kameya
5.Kikuya

Source:flickr
Kikuya offers popular and reasonable Izakaya menu such as sashimi, kushiyaki (skewered grilled food), deep-fried dishes as well as delicious alcohol drinks.
Kikuya has a retro and warm welcoming atmosphere with a kind friendly owner. The signature dishes are the motsu-yaki (grilled beef or pork innards on skewers) and motsu-nikomi (stewed beef or pork innards). Particularly, their motsu-yaki, which can be enjoyed in two ways: with a secret sauce that has been handed down for years or with an original salted taste are popular. The original cocktail "Shochu highball" pairs well with their dishes.
<< Read more detail about Kikuya
Recommended Bar Hopping Tour in Shinjuku!
The tour offers Tokyo bar hopping night tour of 2 to 3 hours from 7 pm in Shinjuku area. The bilingual staff will guide you through the authentic Japanese style Izakaya bars. The price is about $57 including food and drinks.