From early morning, "Tsukiji Inner Market" is busy for auctions and wholesalers."Uogashi -yokocho "was a restaurant area for the workers at Tsukiji Market..
Recently many tourists also visit here and getting crowded.You can enjoy delicious breakfast which use carefully selected ingredients.There are not only sushi restaurants, but also fish or meat restaurants and cafés. We'll show you 5 selected restaurants.
Breakfast at "Washoku Kato" for popular seasonal fish dishes!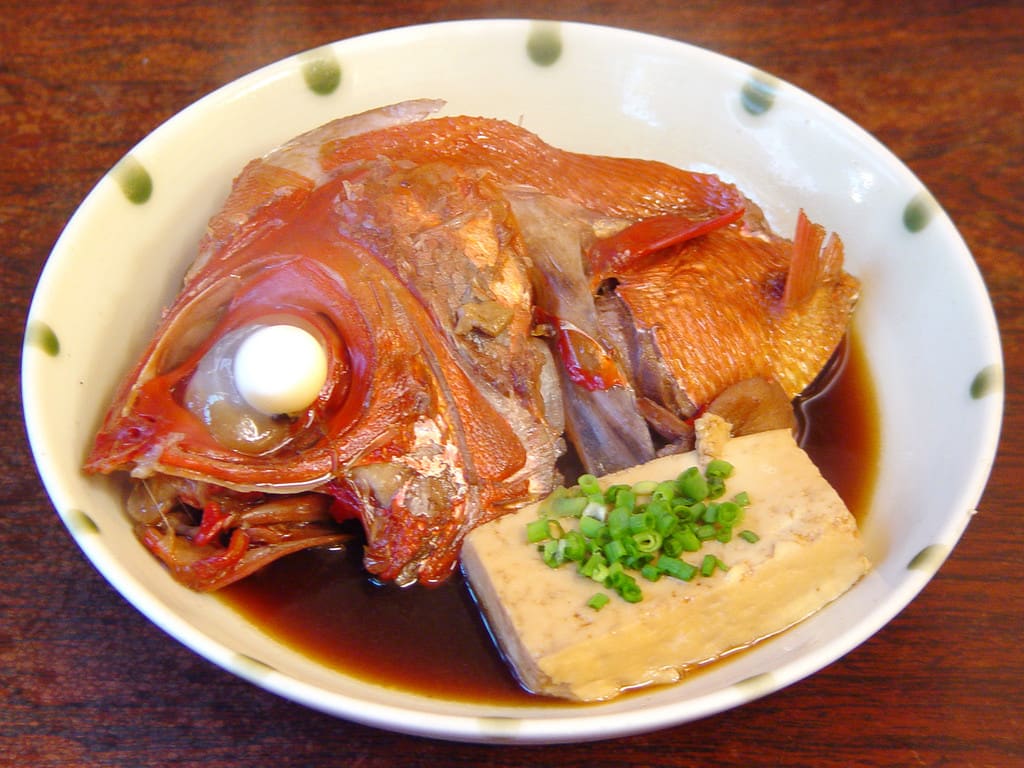 source: https://c1.staticflickr.com
"Washoku Kato" is located "Uogashi- yokochō "building 8. There always serve a choice of 20 seasonal fish dishes. For example sashimi, cooked fish and deep fried fish dishes. This restaurant has a bar with about 20 seats. They start preparing your dish when it is ordered so you can enjoy the taste of fresh made at any time. The popular dishes of "Washoku Kato" are grilled fish and cooked fish made with seasonal caught fish. You can also eat with rice, miso soup and nukazuke (Tsukemono/Japanese pickles) as a set menu.
About "Washoku Kato"
grilled sablefish marinated with miso paste
cooked well alfonsino
Business hours 4:30-13:30
Closed on Sunday
Delicious medium fatty tuna! "Iso zushi" for tuna sushi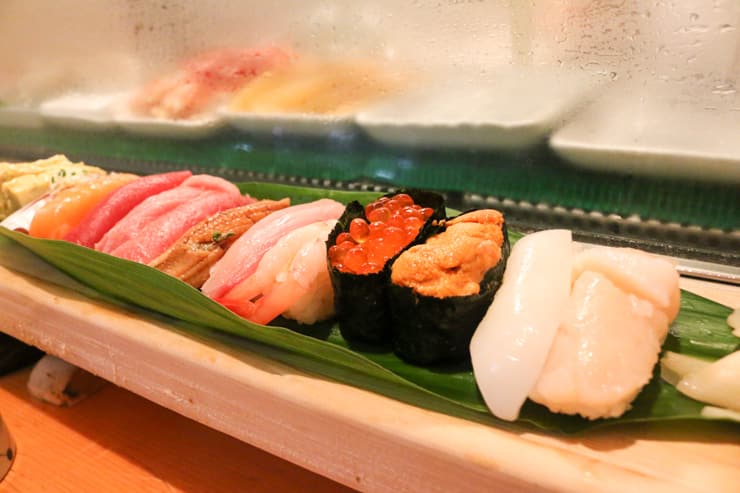 source: https:// gotrip.jp
"Iso zushi" is a sushi restaurant where you can eat sushi with special selected natural tuna or uni (Sea urchins), located at "Uogashi  yokochō" building 10. "Isono-ya" next to "Iso zushi" is a sister restaurant. The owner of the restaurant only buys fishes caught in the wild for 50 years. They usually buy whole tuna and directly use it for sushi. So it's very fresh. Specially selected deluxe sushi which included Fatty tuna (O-toro) and medium-fatty tuna are limited to only 30 dishes a day. They buy them directly from the Tsukiji market. So by that keeping the price low and the quality excellent.
About  "Iso zushi"
Sushi deluxe,  service-nigiri
Business hours  Weekday 6:00-21:00
Saturday 6:00-16:00
Closed on Wednesday & Sunday
"Tonkatsu Yachiyo" deep fried big fresh prawns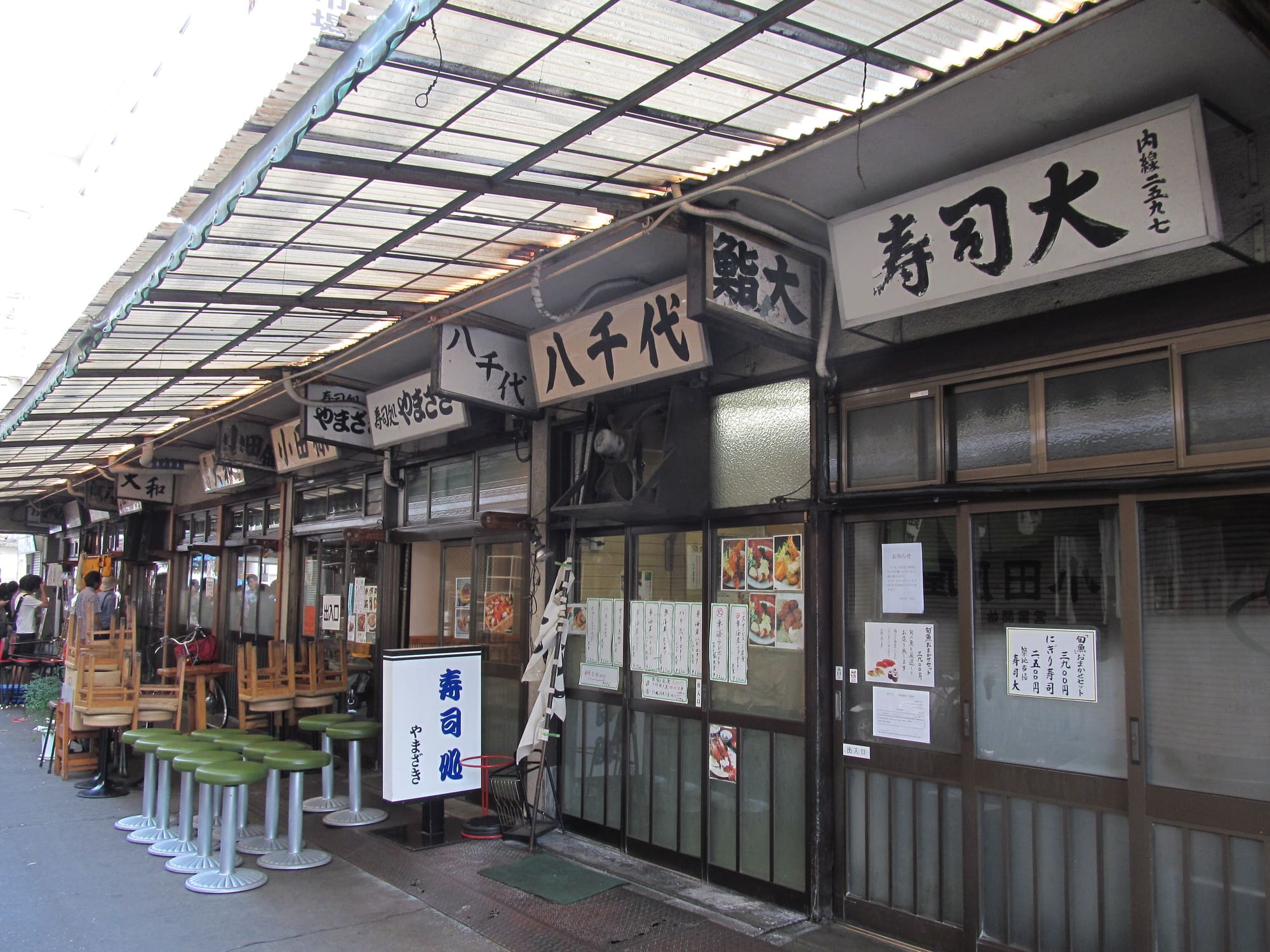 "Tonkatsu Yachiyo" is a deep fried foods restaurant located in "Uogashi yokochō " building 6. This more than 80 year's old historical restaurant is popular among experts of food who visit Tsukij Market. At this restaurant they use fresh ingredients which you can also eat raw. The most popular dish is a deep fried big and fresh prawn. This prawn is so big that it hangs over your plate. They use fresh bread crumbs. That's why the shrimp has a crispy texture. Other popular dish is Char-siu pork egg set menu on certain days of the week. 5 hours cooked char-siu pork is soft of structure and delicious rich taste.
About "Tonkatsu Yachiyo"
oyster, prawn, scallop set menu, Char-siu pork egg set menu
Business hours 5:00-13:00
Closed on Sunday & National holidays
Ankō Takahashi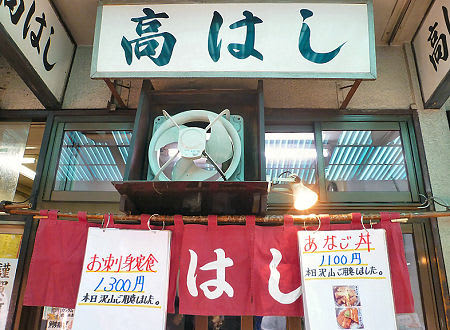 source: http://livedoor.blogimg.jp
There are more than 40 restaurants at "Uogashi-yokochō" in Tsukiji Inner Market.  Serving excellent food. One of them is more than 80 years historical restaurant "Ankō Takahashi" which is now owned by the 3rd generation of family. You can eat good dishes with seasonal fish. A nice restaurant for all those loving fresh fish. The bar with 10 seats are always busy. Every day they buy freshly selected seafood. The quality is of professional excellence. As an example they start preparing red rockfish when it is ordered.
About "Ankō Takahashi"
congealed congregate、cooked red rockfish and Pacific Bluefin tuna sashimi
Business hours 8:00-13:00
Closed on Sunday& National holiday
Coffee shop Aiyo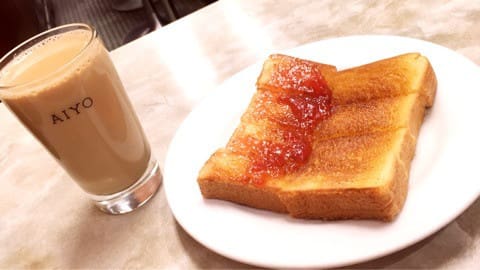 source: https://stat.ameba.jp
There are also cafés at Uogashi-yokochō in Tsukiji Inner Market. One of them is "Coffee shop Aiyo". It opens the first at 3:30 AM at"Uogashi yokochō". This shop plays a role as a resting place for people who work at Tsukiji market. The only dish they serve is toast. Of course it's the place to get a good cup of coffee as well. You can also order coffee float, milkshake. The milkshake they serve at Aiyo is a drink mixed with egg yellow, sugar and milk. The cute logo of "Aiyo" – in it you can see a cup and a glass.
About Coffee shop Aiyo
coffee, coffee float, milkshake, toast
Business hours  3:30-14:00
Closed on Sunday & Wednesday
≫See more about "Coffee shop Aiyo"
Tsukiji Inner Market detail
Tsukiji Inner Market starts early in the morning. The first shop is open at 3:30.
The auction and wholesale end in the morning. So many restaurants close at around 14:00. We'll recommend you eat breakfast at "Uogashi-yokochō". Most of the restaurants pay good attention to the ingredients and taste.
Access
・Address   5-2-1 Tsukiji Chuo-ku Tokyo
・How to reach
Ōedo Line Tsukijishijō Station 3- minute walk
From Haneda Airport about 40 minutes
From Narita Airport about 90 minutes
From Tokyo Station 20 minutes
・Official website http://www.tsukijigourmet.or.jp/index.php
Map