Want to enjoy the local night life of Japan during your travels? October is Halloween season, and various Halloween themed events will be held. I, Yasuko, the local guide and club worker will guide you through the highlight events in Tokyo.
【Shibuya】10/28, 10/31 Awa Halloween(Foam party)

source:club asia
In recent years, the "Awa-party (Awapa)" has become a famous foam party in Asia. Many young people come seeking this unique experience of dancing while being rained on by the foam (awa). The October Halloween theme is TRICK (mischief) and zombie dressed staff will cover you in foam. There are also Halloween themed suprises for you to enjoy. Be sure to dress up in a costume and enjoy partying with the local youngsters.
Genre:EDM / HOUSE / ALLMIX
PLACE:club asia
Web:awapa
DATE:
2017-10-28 SAT OPEN:22:00
2017-10-31 TUE OPEN:23:00
PRICE: M 3000yen F 2000yen (Adv.)
【Shin-Kiba】10/27~28 THE BEST #ageHalloween17 -MYSTICAL MAGIC-

source:w.ageha
The Halloween event at the largest club in Japan, Shinkiba ageHa will go on for two days. DJ KAORI's legendary party "BIG PARTY" will be on the first day and the producer of Kyary pamyu pamyu, Asobisystem's "ASOBINITE!!!" will be on the second day. In addition to a discount for those in costumes, be sure to be a part of the selfie contest. Shinkiba is a bit far from the center of the city, but shuttle buses go from Shibuya so access it from there!
Genre:ALL MIX
PLACE:Shinkiba ageHa
Web:ageha
OPEN:10/27 23:00 10/28 21:00
International Coupon (For All Foreign I.D Holders)
【Shinjuku Ni-Chome】10/20 FANTAST!C TOKYO

iFLYER
Don't be worried since there will be a Halloween party at the recently popular tourist spot, Shinjuku Nichome. In AiSOTPE LOUNGE, a "crazy circus" themed costume party will be held. Besides the DJ, GOGO Boys, drag queens, pole dances and comedian shows for you to enjoy! Make sure to go in a costume for the discount, and enjoy the atmosphere of Shinjuku Nichome.
For those who want to know more about Shinjuku Nichome, MagicalTrip has some recommended courses so be sure to check if you are interested.
PLACE:AiSOTOPE LOUNGE
〒160-0022 2-12-16 Shinjuku | St. Four Building 1F
Web: FANTAST!C TOKYO
OPEN:21:00
DOOR:3500yen(Excludes Costume Discount)
●【Shibuya】10/13 GIRLS FESTIVAL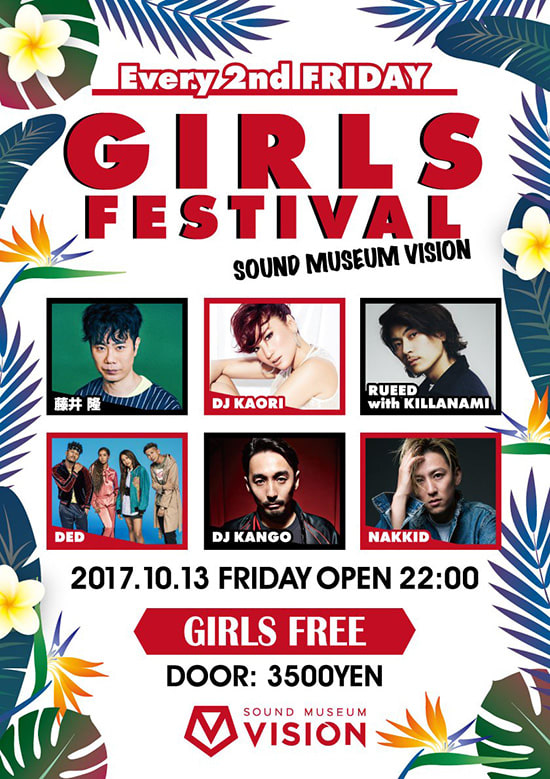 Popular party hosted at VISION located in Dogenzaka, Shibuya. Females have a free entrace fee, so many girls gather at this club. If you want to meet local girls, this is a must attend event! The most well known Japanese female, DJ KAORI and popular celebrity, Fujii Takashira will have shows for you to enjoy.
Genre:ALLMIX
PLACE:SOUND MUSEUM VISION
Web: vision-tokyo
DATE:2017-10-13 FRI
OPEN:22:00
GIRLS ENTRANCE FREE (Seperate 1 Drink Order)
¥3500 MENS DOOR
【Aoyama】10/20 Mika Ninagawa x Sofia Rodina at Bcc Fiesta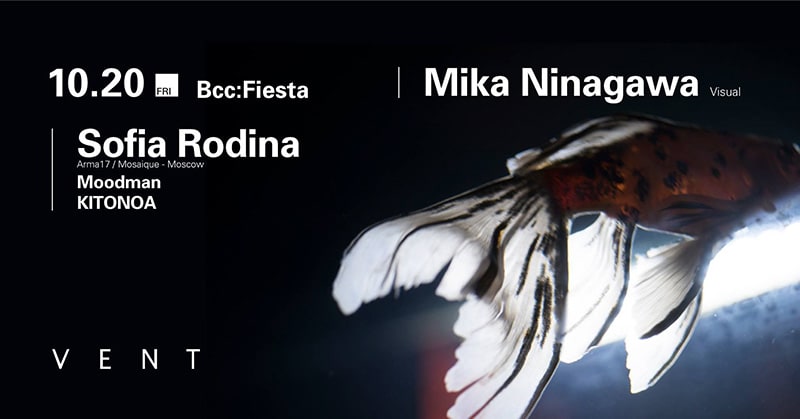 Japan's leading photographer and filmmaker, Mika Ninagawa known for her creative impactful pieces that use polar colors, will have a showing that utilizes music and hundres of photographs. A guaranteed valubale visual experience.
The DJ in charge of this event is from Russia, Sofia Rodina, a rising star who is creating a new wave of music. Be sure to enjoy the music that blends House and Techno with beautiful Japanese photos.
Genre:HOUSE / TECHNO
PLACE:VENT(Festa Omotesando Bldg. B1 | 3-18-19 Minamiaoyama)
URL:http://vent-tokyo.net/
DATE:2017-10-20 FRI
OPEN:23:00
PRICE:¥3,500
If this got you interested in experiencing deep local culture first hand, we, MagicalTrip provide unique night tours with a friendly local guide in Japan. You'll get to go to local Izakaya bars to enjoy authentic food and drinks, why don't you give MagicalTrip's Bar Hopping Food Tours.